2014 Ski-Doo GSX LE ACE 900 Review – Video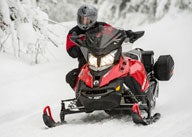 The Ski-Doo for your inner Lexus
If that "Hemi" rumble or the scream of a super sport street bike denotes performance for you, then stop reading now. Ski-Doo's 2014 GSX LE ACE 900 satisfies your inner Lexus, not your inner Harley nor your inner crotch rocket fantasies.
The Advanced Combustion Efficiency (ACE) 900 powered GSX ranks as Ski-Doo's most technologically advanced snowmobile. The key to this model is its all-new four-stroke three-cylinder motor that bases its heritage on the 60-horsepower ACE 600 twin. In simplistic terms, the ACE 900 adds half of that engine to give it an additional 300cc of displacement and 30 more horsepower.
At 90-hp, the ACE 900 triple finds minimal competition as most popular selling sleds utilize powerplants north of that number. That seems to be Ski-Doo's thinking: create a motor that can capture new market share in the 85 to 100 horsepower category where Yamaha's Phazer 500cc twin would appear to be the biggest player. There are some "dirty" 600cc carbureted two-stroke twins in this grouping, but nothing as "clean" as the Yamaha four-stroke. Ski-Doo's all-new ACE 900 should be the "greenest" of all thanks to its exclusive to snowmobiling throttle-by-wire, which Ski-Doo calls Intelligent Throttle Control (ITC). With its advanced combustion efficiency and new multiple driving modes, the ACE 900 qualifies as a clean enough sled to carry snowmobilers through Yellowstone Park.
One of those "new" sounds comes from the undercarriage. Track noises, although perfectly normal, seem almost troublesome now. Blame this new power plant for pointing it out. In the case of the top of the line Grand Touring ACE 900, Ski-Doo engineering created a new way to drive a redesigned track and lowered sound levels by incredible decibel amounts. That's not the situation here, although Ski-Doo engineering fits the GSX LE with involute drive for the 120-inch Camoplast Rip Saw track.
While we have debated the role of the GSX in the Ski-Doo model line, we find this sled to be nearly perfectly executed as meeting the needs of a very specific rider. In the past and even currently, we think the GSX should be more of an MXZ and less of a Grand Touring. Arctic Cat offers its ZR series as essentially one model but in a choice of two settings: Sno Pro with premium shocks for the aggressive rider and LXR for the high mileage type who likes groomed trails more than big bumps. Ski-Doo sees its MXZ riders as aggressive and its GSX owners more as cruiser types. For 2014 Ski-Doo makes no pretense with its LE ACE 900 version. This is definitely a serious long distance solo cruiser designed from the get-go to run at trail speeds from Ski-Doo's Valcourt, Quebec factory over to the Ontario trail network with nary a stop other than for an overnight or fuel. We concur that Ski-Doo nails it.
With 23-plus miles per gallon capability from its 10.6 US gallon fuel tank, this sled can achieve non-stop runs of 240-plus miles before refueling. We figure that's what the Ski-Doo crew foresees as the sled comes set up with the LinQ cargo system, which can handle accessories aimed at long distance "saddle bag" runs. A semi-rigid expandable tunnel bag comes standard. The sled itself reflects an evolution to the XS chassis, which was pioneered on the previous season's MXZ models. In addition the LE adds rMotion ride and tunability for 2014. Should your long day's ride take you to ungroomed stretches, a quick stop to adjust the rMotion settings will get you comfortably set to make more miles.
We really liked the fact that the 2014 GSX LE ACE 900 sits on the trail compliant XS platform. We found the sled readily turned into the corners and felt extremely nimble on the trails. Obviously, you won't push the sled as hard with the new 900 triple as you would with the 600 E-TEC and its 20-plus more horsepower. Yet, we did spur the 900 a bit on tight sections of our test trail and felt that the double A-arm front suspension and the rMotion rear package worked just fine for any riding style. In the past we've complained that we thought the GSX should have a more premium shock option, but the 2014 shock package is pleasantly adequate with coil-over-springing on the high-pressure gas front shocks. The rMotion's use of a Motion Control shock in the center and a gas shock for rear arm control works just fine and provided a compliant 15 inches of rear travel.
While that inner Harley can be set free on an MXZ, your inner Lexus can appreciate the subtle nuances of the GSX LE ACE 900. This is a quiet sled with wonderful drive away characteristics and very smooth midrange that gets you to "ticket-able" speeds quickly enough. It is very smooth handling on the trail and with its sporty REV XP saddle it's extremely comfortable for cruising or setting up to attack a series of esses.
Sporty and comfy, this GSX is also a standout for style, offered in Viper Red with a black painted tunnel, sporty windscreen and tasteful supporting accents. For mile-to-mile information, the GSX sports a nifty multifunction gauge with LCD screen. There's a comfortable aluminum-constructed handlebar design complete with curved ends for added control and a Brembo braking system. And Ski-Doo's ITC computerized throttle-by-wire arrangement adds the option of a "learning key," which can be programmed to control overall performance if you want to loan out your sled to an inexperienced rider.
If you are looking for the most perfect usage of Ski-Doo's all new 900cc throttle-by-wire four-stroke triple, you'll find it in the latest rendition of the GSX sports luxury cruiser. This is the most perfect blend of solo cruising luxury combined with a new smooth and quiet four-stroke designed to appeal to your inner Lexus. As we said, Ski-Doo's 2014 GSX LE ACE 900 nails it!
2014 Ski-Doo GSX 900 LE Specs
Engine
Rotax 899cc, liquid-cooled 4-stroke triple; double overhead cam; dry sump; EFI with 46mm throttle body; three engine modes with throttle by wire and "learning" key
Horsepower
90
Drive
Ski-Doo eDrive2 with QRS secondary
Brake
Brembo hydraulic
Front Suspension
Dual A-arm with HPG shocks; up to 9.0 inches of travel
Rear Suspension
rMotion parallel slide rail with Motion Control center shock and rear high-pressure gas shock; up to 15.0-inches of travel
Length
114.4 in
Width
47.9 in
Ski Stance
42.4 in
Track
15 x 120 x 1.25 RipSaw
Weight
501 lbs (claimed)
Fuel Capacity
10.6 US Gal (Regular Fuel)
Features
Mirrors, digital gauge, expandable tunnel bag, push button reverse, electric start
MSRP
US$10,599
Related Reading
2014 Ski-Doo Snowmobile Lineup Unveiled
2013 Ski-Doo GSX Series Review
2012 Ski-Doo GSX LE 600 Review
2012 Ski-Doo GSX LE 1200 Review
2011 Ski-Doo MXZ TNT 600 ACE Review