2015 Ski-Doo MXZ Sport 600 Carb Review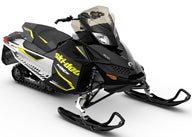 A true value sled for today's budget-minded snowmobiler
Polaris and Ski-Doo battle for dominance in virtually every sled niche. The sales success of Polaris' RMK "terrain dominating" mountain sleds faced a serious challenge from Ski-Doo's 2015 hyper-length Summit X with the innovative T-3 powder package. Then there are the 2015 Polaris AXYS models, which appear to be a direct response to Ski-Doo's rMotion MXZ and Renegade models. But what's going on in the lower-priced value sled niche?
Fast Facts
Engine Type:Horizontal In-line
Cylinders:2
Engine Stroke:2-Stroke
Valve Configuration:Reed Valve
Displacement:597 / 36.4
Starter:Pull
Turbocharged:No
View Full Spec
Those battles don't get the same attention in the fight for market dominance of the top-of-the-line models, but the battle exists. As opposed to Polaris, which has re-invigorated its Indy as a "value" line, Ski-Doo seems to downplay its anti-Indy challenge in the value sweepstakes. When you look at the sleds in the 2015 Ski-Doo line up, you see models that compete quite favorably with the Polaris Indys. One example is the carbureted 2015 Ski-Doo Sport 600. When we checked it out, we were impressed with the value you receive for its US$7,299 price tag. In a head-to-head value competition, the Ski-Doo comes off very well against Polaris' 2015 600 Indy.
On a price basis the Ski-Doo saves you US$500 against the Indy's higher US$7,999 retail listing. Power-wise the Indy offers a higher-horsepower, cleaner running 600cc fuel injected two-stroke twin. Other than that, we'd rate the Ski-Doo a better value overall.
Looking at the carbureted 2015 MXZ Sport 600, we see a heritage model that ticks all the right boxes for value. While not the latest REV-XS chassis, the Sport 600's aluminum-construction XP platform is a generation removed, and if you just have to have the XS platform, you can move up to a TNT or over to the Sport with the ACE 600 four-stroke. Of course, you add US$1300 or so for less power, but better fuel efficiency.
Staying in our budget-pricing mode, we look at what the carbureted Sport 600 offers. In addition to the REV heritage platform that effectively revolutionized the way we now ride, the Sport 600 features Rotax' pre-ETEC two-stroke twin. Rated at about 110 hp, the engine offers ample top end, better than average mid-range and consistent drive-away performance at its 3800 rpm engagement. True, we do prefer the modern easier starting and less finicky nature of the Rotax E-TEC motors versus the twin 40mm carbs of the Sport 600. But the added US$3600 for the MXZ TNT 600 E-TEC totally destroys our budget pricing. And, hey, for US$400 we can add electric start to ease the sled's starting sequence.
COMPARISON: Read our review of the 2015 Polaris 600 Indy Series
Consider that the 597cc Rotax twin hauls a trim version of the MXZ at only 420 lbs. That gives you a nifty power-to-weight ratio for sport riding.
In reality the carbureted MXZ Sport 600 is not a great hard-charging sled in the mode of an MXZ X. To keep costs in line for value pricing, the Sport does not include the latest suspension upgrades. The dual A-arm front suspension does not include the all-new RAS2. You still get reliable handling from the sled's nine inches of front suspension, but since that travel relies on non-rebuildable steel-bodied Motion Control shocks, you will be limited to how much big-banging you can do. These shocks are primarily designed for cruising groomed trails. We've found that Motion Control shocks fade quickly when pushed hard. You can probably upgrade the shocks, but if you're going to go to all that trouble, why not move up in the Ski-Doo line?
The Sport's SC-5 rear suspension is also a heritage component. With upwards of 15 inches of travel, the proven SC-5 design features Motion Control shocks as well. Good for trail cruising and occasional rough runs, the gas cell Motion Controlled SC-5 rear set-up has been a Ski-Doo stalwart for years, only now being surpassed by the rMotion design, which was based on the SC-5. The Sport's 15 inches of rear travel is actually above average for trail sport sleds. By comparison Polaris' 2015 600 Indy with a similar parallel slide rail rear suspension gives you only 13.9 inches of travel but does utilize aluminum-bodied, adjustable RydeFX MPV gas shocks.
Choices, choices, choices? What is the end result for price-oriented trade-offs in this category? Engines? Carburetors versus electronic fuel injection? SC-5 versus rMotion?
To us, if you are a value buyer, the carbureted Ski-Doo Sport 600 is a solid value. Face it; you are not getting the performance in engine or suspensions that an MXZ X or even a TNT 600 E-TEC offers. But the Sport is an excellent alternative on a dollar basis. Hey, the sled gives you a nice power-to-weight ratio for on-trail performance and the suspensions will be consistent and supple for long haul riding. And the Ski-Doo Sport 600 doesn't look cheap. Too often in the past sled manufacturers cheapened their budget sleds with boring lackluster, almost insulting styling. Not this Ski-Doo.
COMPARISON: Read our review of the 2015 Ski-Doo MXZ Sport ACE 600
The 2015 Ski-Doo Sport 600 with carbs has a nice, clean look to it. The bodywork in black uses flashes of bright Ski-Doo yellow that integrates with the XP-X seat. The handlebar is the upgraded aluminum bar that incorporates j-hooks for added handling capability. And the 15-inch tall mid-height windshield works to create a finished look for the sled.
Ski-Doo's pioneering heritage helps the Sport 600 stand as a solid value for the price. It gives you great style that combines with ample must have standard features, many pioneered or innovated by Ski-Doo:
• REV-XP aluminum ride-forward chassis
• Rotax 600cc two-stroke power
• Push button Rotax Electronic Reverse
• Italian-sourced Brembo hydraulic brake
• SC-5 long travel rear suspension
• Pilot skis
While we state that the Sport 600 is not an MXZ X in trail prowess, we don't want to shortchange the sled's on-trail performance. Ski-Doo expects Sport owners to challenge the trail and themselves. That's why you see a Brembo hydraulic brake listed as standard. There's that 120-inch Camoplast RipSaw track with full 1.25-inch lug profile for biting out of turns under full throttle. Actually this is quite a plus for the Sport versus the Polaris 600 Indy, which offers a track with a 0.91 lug profile. Ski-Doo didn't cheap out with the track, you get a top quality Ripsaw design.
When we looked at the 2015 Ski-Doo carbureted MXZ Sport 600, we saw a sled with excellent features for any level of snowmobiler, be it born-again 'biler, first-timer or veteran looking for a great deal. The plus for this sled is that it not only offers great features, it does so for a great price.
2015 Ski-Doo MXZ Sport 600 (Carb)
2015 Ski-Doo MXZ TNT 600 (E-TEC)
Engine
Rotax 597cc, liquid-cooled two-cylinder 2-stroke; Dual 40mm slide valve carburetors; double overhead cam; dry sump
Rotax 594.4cc, liquid-cooled two-cylinder 2-stroke; Rotax electronic direct injection
Horsepower
110 (claimed @ 8100 rpm)
120-plus (claimed @ 8100 rpm)
Drive
Ski-Doo/Rotax TRA III with QRS; 3800 rpm engagement
Ski-Doo/Rotax TRA III with QRS; 3400 rpm engagement
Front Suspension
Double A-arm with coil spring over Motion Control shocks; up to 9.0 inches of travel
Double A-arm with RAS2; coil spring over HPG Plus shocks; up to 9.0 inches of travel
Rear Suspension
SC-5 twin parallel slide rail with Motion Control shocks; up to 15-inches of travel
rMotion twin parallel slide rail with HPG Plus shocks; up to 15.5-inches of travel
Length
114.4 in
114.4 in
Width
47.9 in
47.9 in
Height
47.6 in
47.6 in
Ski Stance
42.4 in
42.4 in
Track
15 x 120 x 1.25 Rip Saw
15 x 120 x 1.25 Rip Saw
Weight
420 (claimed)
456 (claimed)
Brake
Brembo hydraulic brake system with braided stainless steel line
Brembo hydraulic brake system with braided stainless steel line
Features
Straight aluminum handlebar with "j"-hooks; Analog gauge with display; REV-XP seat with storage; push button electronic reverse
Optional: electric start, mirrors; storage bags
REV-XS platform; straight aluminum handlebar with "j"-hooks; Analog gauge with display; electric start, REV-XP X seat with storage; push button electronic reverse
Optional: mirrors; storage bags
Fuel Capacity
10.6 US Gal (87 Octane Regular fuel)
10.6 US Gal (91 Octane Premium fuel)
MSRP
US$7,299 – C$7,549
US$10,899 – C$12,449