2015 Ski-Doo Renegade Adrenaline ACE 900 Review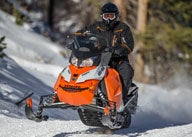 Ski-Doo blends its four-stroke 900 ACE with a nimble crossover chassis
Ski-Doo's Renegade crossover model with the 137-inch track length and rMotion rear suspension steps up its game in 2015. At the top of the Renegade food chain sits an all-new "Spring Only" XRS model with race-bred components and bold styling cues. Down the model line in performance, dollar outlay and available throughout the season hides the less compelling but more suitable for more buyers Renegade Adrenaline 900 ACE.
We were not smitten with the advanced combustion efficiency of Ski-Doo's 900cc four-stroke triple last year. But a year's worth of fine-tuning made us take notice of a better level of performance than we expected. The 900 ACE engine and eDrive2 definitely seemed more in concert than a year ago. Even when we flicked the multi-mode performance switch from Sport to Standard or ECO, the drive system responded adeptly. And, after a year, we've gotten used to the somewhat hectic shift-out of the Sport mode versus the more linear response from the Standard setting. If you want to run quick and get maximum pull off a corner, the Sport mode works best. But for us, at least, everyday livability comes best in the standard set up.
To really get a feel for the electronic mapping of each performance strategy, we took a 900 ACE down a very straight and very long trail section and got up to about 60-65 milers per hour. We ran up to speed in Sport. Then we slowed down about 10 mph to switch into Standard mode to return to our chosen top speed. Then backed off, switched back to Sport and full throttled back up to speed. And, then, being the naughty boy, we switched down to ECO just to see what happens. The engine immediately threw itself into downshift and sputtered angrily as it got down to its maximum performance settings in the 45 mph range. There was no full throttle return to 60 in this mode. But, we're sure we were getting the engine's maximum fuel efficiency of 23 miles per gallon at that point. So, now we know.
Read our review of the Ski-Doo ACE 900 Engine
As a performance sled, the 2015 Renegade Adrenaline 900 ACE falters by comparison to Ski-Doo's 600 E-TEC twin. But, again, that's to be expected. The Renegade 900 ACE is really much more of an occasional sport and off-trail sled. Its primary duty will be to carry you at trail speeds, sometimes elevated above legal limits, comfortably and fashionably for many miles at a time, upwards of a potential 240 miles before refueling.
The sled's 90-horsepower drivetrain will be smooth and should be problem-free as the Rotax triple stresses ultra low maintenance as a selling point. The engine comes with a very light throttle pull thanks to its throttle-by-wire "Intelligent Throttle Control." New for this year is a finger flipper. You simply rotate the throttle assembly and switch from a thumb push to a finger pull, which adds to easier riding. We are ambivalent about the feature, but then we aren't newbies with weak thumbs. The finger pull operation seems to be an answer to a question that only a Sea-Doo watercraft engineer would ask. Of course, that's where the 900 ACE, its multi-mode performance and learning key technology thrive. Hardcore snowmobilers? Not so much.
We will not decry the latest iteration of Ski-Doo's rapid action front suspension. Known simply as RAS2, the suspension works. The system raises the upper ball joint by less than a half-inch on the ski spindle, but in doing so, it minimizes camber change, causing the skis to effectively toe-out when banging over bumps. You get noticeably more control. In addition, the RAS2 effectively limits body roll in hard cornering. The end result is a sled that handles with greater precision with skis that want to stay planted. A side benefit to all of the handling pluses comes with the revised and very smart style of the front end. With revised forgings and the use of thin wall chromoly tubing, Ski-Doo engineers pulled off 1.76 pounds of unsprung weight. At the same time they designed in more style with cleaner looking flattened tubes and CNC machined ski legs.
The nine inches of travel from the RAS2 blends neatly with the rMotion's 16 inches of rear action to give the Renegade a very supple ride that can be fine-tuned very easily. The new front end is a winner. You won't be guessing where the front end might go when you land a big bump. The new setup is consistent and extremely predictable. And that was the case with every RAS2-equipped Ski-Doo we test rode.
COMPARISON: Read our review of the 2014 Yamaha SR Viper
You'll find that the Adrenaline series features a 15-inch by 137-inch Ripsaw pattern rubber track that gives the 900 ACE-powered sled ample grip for either on- or off-trail riding. On trail the longish track and suspension combination work for you in bridging those niggling ripples and cushioning those rutted out road and bridge approaches. This Renegade will be a very good all-around sled for club riders who like to make miles more than make off-trail adventures. There is enough torque from the 900 ACE to break trail after a moderate snowfall or venture off trail to play on an unspoiled hillside, but this is not a sled for the hardcore backcountry adventurer.
We found the 2015 Ski-Doo Renegade Adrenaline 900 ACE to be pleasant and very adept for the trails. In fact, we'd choose this sled over a short track MXZ with the same drivetrain. For us, it simply offers up greater versatility and more overall comfort. It's sporty enough as the longish 137-inch track sits inside a REV-XS chassis, which is noted for its good handling and premium ride-forward seating. The handlebars are lightweight aluminum and feature J-hooks to aid active cornering. The windshield, at 15 inches in height, deflects wind and snow clumps thrown up from sleds ahead. Add in an orange and gray color palette and you have quite a nicely styled sled.
Of course, the standard electric start, reverse and sporty REV-XP X seat, complete with some actual storage, help to make this 90 hp sled a keeper for quite a long time. If you will be keeping the Renegade 900 ACE for a while, know that it comes equipped to accept a full range of Ski-Doo's Linq accessories.
COMPARISON: Read our review of the 2014 Sea-Doo GSX LE ACE 900
Overall the 2015 Ski-Doo Renegade 900 ACE makes a good choice for a moderately powered trail sled that offers above average fuel economy, long-term reliability and minimal maintenance needs. The pluses come from the RAS2 and rMotion suspensions and its on-trail agility.
2014 Ski-Doo Renegade Adrenaline 900 ACE Specs
Engine
Rotax 899cc, four-stroke triple; double overhead cam; liquid-cooled; EFI with 46mm throttle body; 3 engine modes (Sport, Standard, ECO); "learning" key; tuned exhaust
Horsepower
90
Drive
Ski-Doo/Rotax eDrive 2 with QRS driven; mechanical reverse
Brake
Brembo hydraulic disc with stainless steel braided brake line
Front Suspension
Ski-Doo RAS2 dual A-arms with spring over HPG Plus gas shock; up to 9-in travel
Rear Suspension
Ski-Doo rMotion parallel slide rail with HPG shocks center & rear; up to 16-in travel
Length
122.4 in
Width
47.9 in
Height
47.6 in
Ski Stance
42.4 in
Track
15 x 137 x 1.25 RipSaw
Weight
503 lbs (claimed)
Fuel Capacity
10.6 US Gal (87 Octane Fuel)
Features
Standard: REV-XS chassis; aluminum handlebar with J-hooks; multi-function gauge; REV-XP X seat with rear storage; 4.5 riser block; reverse; electric start; 15-inch windshield
Optional: rearview mirrors; storage bags
MSRP
US$10,699