2014 Yamaha SR Viper – Real World Test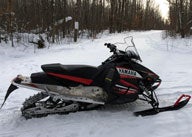 The production Viper meets our approval in every way
By now anyone interested in snowmobiling knows that Arctic Cat and Yamaha struck a deal that gives Arctic Cat use of Yamaha's Genesis four-stroke 135-horsepower, three-cylinder engine. In return Yamaha received use of the latest Arctic Cat chassis and tall spindle front suspensions for a series of all-new Yamaha Viper models. Supposedly the resulting Arctic Cat and Yamaha models are virtually identical. True and not true, as Yamaha sought to provide its Viper buyers with a degree of "Yamaha-ness" not found on the Arctic Cat ZR 7000 series.
During our week-long "impression" rides out in West Yellowstone, Montana, we came away preferring what Arctic Cat had interpreted in its joining of Yamaha power with the Arctic Cat platform. But, Cat engineers had at least three years head start getting the pieces to work before adding the Yamaha triple. The end result left us appreciating what Cat had done and confused as to where Yamaha was heading with pretty much the same pieces.
We say pretty much because Yamaha opted out of using Arctic Cat clutching, relying on its own familiar YVXC drive and driven. There are styling differences and a different nomenclature for essentially the same things. For example, the Cat's Arctic Race Suspension became the Yamaha SRV suspension. The slide-action Cat rear suspension became the Yamaha Dual Shock SR 129, although both actual suspensions work exactly the same way.
Now that we have a production 2014 Yamaha Viper in the fleet, we can tell you that Yamaha exceeded our hopes and delivers an excellent "base" model for trail riders who like the advantages of four-stroke power and enjoy rigorous on-trail riding. Let's also note that if our Viper is a base model, what does everyone else do for premium? The basic Viper comes loaded.
COMPARISON: Read our initial review of the 2014 Yamaha SR Viper
Right away we concentrated on the engine and clutching relationship, which had left us totally flummoxed during our initial test rides in West Yellowstone. That sense of confusion had nothing to do with the more than 5,000 feet of elevation difference between Montana and our Minnesota ride site. Back in March, Yamaha had yet to settle on its calibrations. Now it is final and it's spectacular!
Since the Yamaha Genesis triple powers various Nytro models and versions of the 1049cc motor are used in Vectors and Ventures, the engine remains a known quantity. It has proven stone cold reliable with excellent drive away, strong mid-range and surprising top end. All of those attributes just get better in the new 2014 base Viper.
The sled accelerates from zero to 50 miles per hour in less than four "Mississippi" – 1-Mississippisi, 2-Mississppi, 3-Mississippi, 4-Mississippi! But who's counting? You're hanging on. Our sled tended to torque a bit to the right upon full slam of the throttle trigger to the curved handlebar.
At 50-ish miles per hour on a closed and controlled straightaway another wide-open throttle slam got us to 85 quickly – and effortlessly. This powertrain rocks performance. When we were simply goofing off and feeling full of ourselves, we'd ratchet the power in at varying speeds and feel how the sled would react under full throttle. Even at 65 to 70 mph, we could feel the weight transfer as the powertrain surged.
Lest you think this sled is all sport performance, we did cruise AARP-style through a 10-mile twisting trail section where we ranged from 20-ish to 40-ish mph. It was excellent in throttle response, with nifty engine braking to slow us down. We only tapped the Hayes hydraulic brake occasionally when we messed up.
This engine braking "thing" represents a difference in philosophy between Arctic Cat and Yamaha. Like Yamaha, we prefer significant engine braking upon backing off the throttle. Arctic Cat likes a free-rolling off-throttle feel such as you get with a two-stroke sled. Neither way is better, simply preference. But with it you can essentially cruise up to those trail signs that warn of "Stop Ahead," back off the throttle and essentially be stationary by the time you reach the "Stop" sign.
Our Viper felt as though it were in some sort of direct drive. Push in the throttle, speed up. Back off the throttle, slow down immediately. Response is excellent. If you do need the brake, relax; it reacts instantly and positively, especially since Yamaha added a more rigid racing-style outer brace to hold the caliper.
COMPARISON: Read our review of the 2014 Arctic Cat ZR 7000 Sno Pro
That was one of the updates added to the Vipers since we rode them in March. Other changes include use of a new drive belt that better matches the drive clutch to drive center distance. Plus, it's only US$100. Other Viper updates include: extrovert drive cogs to reduce ratcheting; an aluminum cross brace added to enhance rigidity at the motor mount; aluminum tunnel protectors to both increase tunnel strength and reduce track slap; and, a new latch system for the seat, which got softer foam and a thicker seat pan.
The drive-ability of the base Viper is excellent. The powertrain works predictably with excellent response from your throttle thumb through the electronically metered triple 41mm throttle bodies. This set up is spot on.
Other aspects that make this sled such a delight on the trail for drive-ability are the attention to the rider's needs in seating, handlebar positioning, component accessibility and wind protection. As noted in our initial review of the Viper series, we feel that the seat and rider positioning is excellent. Even with the addition of softer foam, we found our Viper seat position firm and positive. The seat height from the perforated runningboards works well for us as it allows us to rise up from a seating position to react instantly when approaching moguls and potholes. Since the seat offers a narrow taper at the front, we can easily move forward or side-to-side to attack tight turns or hang out to accelerate through long sweepers.
The Viper benefits from Cat's racing heritage that led to the contoured handlebar, which makes the Yamaha especially easy to come to grips with while running hard or simply cruising. The throttle and brake handle access are rider-friendly. Unlike the handlebar-mounted heating controls on other Yamaha models, the Viper features rocker switches for finite high or low heat ranges. Maybe future Yamaha/Cat models will add the latest Yamaha handgrip heating elements with their many heat settings.
We found ourselves really enjoying the push button mechanical reverse. Most of the non-Viper Yamahas use a lever to engage reverse. Sometimes the Yamaha reverse gears can be tricky to engage. The Viper responds quickly to a push of the gray, indented reverse button. Of course, on one occasion the button failed to immediately pop back out. A little coaxing recovered it and we didn't have any recurrence, but it did concern us. After all, riding 20 miles back to the trailhead in reverse didn't seem like a good thing.
Since this is a base model the Viper has more cost effective pieces. Instead of air shocks, the base model comes with coil over springs to support its high-pressure gas shocks. While not top of the line, these front shocks are aluminum bodied and rebuildable. In a 90-mile plus cruise, the shocks on both the front and rear suspensions worked just fine. A real hard charger would prefer Fox Air Shocks, but that rider would opt for the Viper RTX SE anyway. Interestingly the rear suspension shocks are the same on all but the Viper XTX SE and we found the rear suspension works just fine and is quite easy to tune.
The standard windshield offers very good wind protection with side deflection and a top lip to flow air over you. You will get cold trail air coming at you, as the narrow cowl and nose shape tends to flow it back toward the rider, which seems to defeat the adequacy of the windshield.
COMPARISON: Read our review of the 2014 Ski-Doo GSX LE ACE 900
We also like the standard storage bag, which you don't get with the more expensive "SE" versions. Since storage space is at a premium, the tunnel bag provides a space for a cap, drive belt, etc.
The use of the Camoplast Rip Saw II track works very well with the engine's power characteristics. We especially appreciate the 129-inch track length as opposed to the 121-inch length common to many "600" class two-stroke sleds. That extra eight inches of on-snow length and the 1.25-inch lug height that is standard with the base Yamaha comes in handy when powering off a turn and also when breaking trail. This sled gave us excellent trail grip. When considering the strong bottom end torque of the Genesis motor, you want all the grip you can get.
As we rode the Minnesota trails and became more familiar with the base Viper, we became more and more impressed. The all-new 2014 Yamaha Viper has power that lets you go head-to-head with your buddies on their 600cc two-stroke hot rods. The SRV tall spindle front suspension bites well and can be adjusted easily to make it more or less aggressive, depending on your riding preferences. In our opinion, this sled, even as a "base" unit, is an excellent sport performance model. It has ample power. It is extremely fun to ride. Based on the full production 2014 Yamaha Viper that we've been riding, we figure this sled will satisfy snowmobilers ranging from sport trail riders to aggressive chargers.
As for complaints, we have none. Yamaha addressed all of our concerns from the initial impression rides in West Yellowstone. The clutching works very well and does not include that "spikey" hit you get from the Nytro series. The base suspension set up may not have the tricks of Ski-Doo's rMotion or Polaris' Pro-Ride, but it works and is easy to tune. The front end provides exceptional control. Ride ergonomics are simply wonderful for whatever style of sport riding you do.
If we had to complain about something, we'd say that we miss the deep-throated exhaust note like you get from the Nytro and we do kind of miss the many, many more heat settings available from Yamaha's proprietary hand warmers. As for that distinctive note, since Arctic Cat dumps the exhaust off to the side and ahead of the track, you can't get the same sound that comes from the under seat exhaust of other Yamaha engines. Still, the Viper manages to rumble a bit, but not with the same conviction of a Nytro or that banshee howl of the four-cylinder Apex.
Overall, we'll take the production 2014 Yamaha Viper as is. If this is a base model, what's left to add for a premium version? The base Viper has the goodies: new analog/digital instrument cluster that can be set to your preferences; standard tunnel bag; aluminum body, rebuildable gas shocks; push button mechanical reverse; automotive-type DC outlet; and proven Yamaha power. Yamaha got it very right for production.
2014 Yamaha SR Viper Specs
Engine
Yamaha Genesis four-stroke high-performance 1049cc; bore/stroke of 82.0mm/66.2mm; three-cylinder, liquid-cooled; 41mm electronic fuel injection system; dry sump lubrication
Horsepower
130+
Drive
Yamaha YVXC drive clutch with Yamaha driven
Front Suspension
Yamaha SRV tall A-arm with HPG aluminum shocks; up to 10.0-in of travel
Rear Suspension
Yamaha Dual Shock SR 129 parallel slide rail; aluminum high-pressure gas shocks; up to 13.5-inches of travel
Brake
Radial master cylinder hydraulic brake system with disc mounted on drive shaft
Length
118.0 in
Width
48.0 in
Height
48.8 in
Ski Stance
Adjustable 42-43-inches
Track
15 x 129 x 1.25 Camoplast Rip Saw II
Weight
N/A
Fuel Capacity
10.6 US Gal (Regular fuel)
Features
Heated seat, rear storage bag, digital gauge, push button reverse, electric start
MSRP
US$12,149