2016 Ski-Doo MXZ Sport 600 ACE vs. Polaris 550 Indy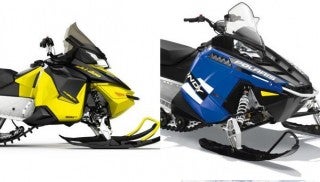 Old school two-stroke takes on new school four-stroke
Polaris' 550 Indy represents old school technologies combined with a smattering of hand-me-down modern features. On the other hand, Ski-Doo's MXZ Sport 600 ACE is newer, trendy and showcases a top of the line advanced combustion four-stroke engine. It's also US$2000 more.
Where Ski-Doo prefers retiring more and more of its fan-cooled two-stroke sleds in favor of its more environmentally friendly ACE (Advanced Combustion Efficiency) powered models, Polaris has embraced its last century 550cc air-cooled two-stroke as the fundamental power source for more than half of its 2016 Indy versions ranging from the 550 Indy to a fully touring-ready 550 Indy Adventure package.
Which sled maker is right? You can't fault the success of the Indy series, which gives Polaris a readily accepted value line of snowmobiles that seems to be selling extremely well across the world's snow belt. The Indy name speaks to long time Polaris riders who may have grown up in an Indy family. Its familiarity and value pricing works to retain Polaris brand loyalty. The 550 fan-cooled engine, which powers seven of the dozen Indy models, has a good reputation for durability in areas where Indy versions like the Voyageur, LXT and Adventure are popular. The 550 fan-cooled two-stroke works for the Indy.
COMPARISON: Read our review of the 2015 Ski-Doo MXZ Sport ACE 600
The Rotax-developed ACE engines work well for Ski-Doo, which offers them as a 600cc twin or 900cc triple option in a growing number of models. The rise in popularity of these clean and efficient four-strokes results in a decline of fan-cooled power in value sleds like the MXZ and Renegade Sport. The Rotax 550 motors on in models like the Expedition Sport and various Tundra and Skandic versions, but it has been largely displaced by ACE power.
When it comes to value sport sleds, you can go basic old school with hand-me-down newer features. At US$6,599, that's the 2016 Polaris 550 Indy, a solid performer with a last century drive train and a modern aluminum Pro-Ride chassis. Or, you can up your value-added by two-grand and opt for the 2016 Ski-Doo MXZ Sport 600 ACE with a trick three-mode advanced design four-stroke and REV-XS platform for US$8,699.
Based on price alone, the choice seems obvious. The Polaris 550 Indy offers quite an initial savings for a sled that will be as quick on tight trails and nearly 40 pounds lighter overall than the liquid-cooled four-stroke Ski-Doo. But, that extra US$2,000 buys a sled with an advanced engine design that offers substantially better fuel economy. And that doesn't even begin to compare all that two-stroke oil the 550cc twin burns in a day's riding compared to the change-the-oil-once-a-season 600 ACE. That's not going to add up to two grand, but it's a start.
The 600 ACE is very modern. Ski-Doo claims that the 600 produces 60 horsepower, a solid number in this value sport category. The mileage claims of an industry-best 29 miles per gallon may be based on best case testing, but the reality is that the 600 ACE probably doubles the per gallon range of the 550 fan engine.
Key components of the ACE engines include standard Intelligent Throttle Control (ITC), which we call throttle by wire. The ITC is tied into the engine's computerized control system and results in an incredibly light throttle pull, extremely quick throttle response and the option of adding various power control settings. Ski-Doo engineers decided on three distinct driving modes from full economy to an aggressive sport setting. Each of the three settings can be changed on the fly by simply pressing a dash-mounted control. If you want maximum mileage, you'll choose the ECO setting, which limits torque, top speed and acceleration rates to deliver a very relaxed, fuel-conserving ride. We prefer the Standard mode because it has limited torque up to certain speeds, which provides smoother, more controlled starts and linear acceleration. The Sport setting has no performance limitations and gives you full acceleration, but we view it as more herky-jerky and very throttle-sensitive.
COMPARISON: Read our review of the 2014 Polaris 550 Indy 144
Should you have newbie, less experienced riders wanting to ride, the Ski-Doo Sport with 600 ACE offers an exclusive Learning Key. Borrowed from Sea-Doo watercraft, this system can be programmed to limit top speed. Another novel concept available on the MXZ Sport 600 ACE is the finger throttle, which by merely flipping the throttle trigger around on the handlebar offers finger control.
The Polaris Fuji-built 550 fan-cooled twin comes with plain old Mikuni 34mm carburetors and a choke operation for cold starts. You can add electric start if you prefer not to yank on a starter roper. The Ski-Doo adds standard electric start and easier starting throttle body electronic fuel injection. Both drivetrain packages offer reverse gear. The Polaris includes an electronic reverse built-into the two-stroke engine design. The Ski-Doo features a mechanical reverse.
With modest power outputs, both sleds rely on drive clutching specifically suited to the engine's needs. The Ski-Doo comes with the eDrive2 drive clutch that was engineered specifically for these Rotax four-stroke motors. The Polaris 550 Indy transfers power via a CVTech PowerBloc 50 drive and a matched Invance driven. Although this drive system dates back to the 1970s, it is virtually maintenance-free and has proven extremely durable and efficient, especially when used in conjunction with engines like the Fuji twin. Prior to the switch to its eDrive, Ski-Doo had used a version of this drive system on its fan-cooled 550 twin under the name Bombardier Lite.
We find overall power comparable between the two sleds and performance seems to be a personal issue between riders. Having experienced and ridden old school fan-cooled two-strokes for decades, some of us are more familiar with the power characteristics and like them better. The new 600 ACE is very smooth and transitions into and out of corners a bit differently than the fan-cooled power, which seems quicker, but probably isn't really. The 600 ACE is very discreet compared to the harsh-sounding 550, but we found on-trail performance very similar overall. That is expected as the two engines have similar power levels.
COMPARISON: Read our review of the 2015 Arctic Cat Lynx 2000 LT
We admit to being advocates of the MXZ Sport's proven aluminum REV-XS chassis with its pioneering rider-forward position. Although the 550 Indy may be less expensive, it doesn't give away anything in REV-like ride positioning. It uses a Pro-Ride aluminum platform that bears an RMK mountain sled heritage, which means its 300 percent stiffer than previous Polaris straight tunnels.
The two sleds both feature double A-arm front suspensions with coil-over shock damping. The Polaris allows up to 7.1 inches of travel with the Ski-Doo giving you nearly two more inches of bump absorption. Both use gas charged shocks with coil spring assist.
At the rear, the Ski-Doo features the SC-5 suspension, which was the suspension of choice prior to the rMotion. It works fine and affords 15 inches of predictable and sporty ride action from the Motion Control shocks that are used on the rear and center suspension control arms. The Polaris 550 Indy utilizes a coupled design with RydeFX MPV shocks to control its 13.9 inches of travel. Both sleds will give you a good ride, but if you're used to the newer rMotion or AXYS type suspensions, these are not them! The suspensions front and rear are commensurate for the performance of these 60 horsepower models and in keeping with the sleds' value orientation.
Things that we appreciated on the Polaris 550 Indy included the use of the newer Pro-Steer skis, which used to be standard only on the 800 and 600 Indy SP versions. This budget sportster also benefits from an updated handlebar and 15-degree flatter steering post angle. The Indy Pro-Ride seat has a nice and wide spot right where you need it for cruising. Overall, it is a very consistent performer in ride and handling. As long as you don't expect 100-horsepower acceleration, this sled is a solid value. Since the sled is a very basic trail value at US$6,599, you have room to add custom features like a protective front bumper, electric start, ProTaper handlebar riser, storage options and so on.
The Ski-Doo MXZ Sport 600 ACE comes with a very comfy seat that gives you onboard storage. The straight aluminum handlebars have J-hook ends for sporty cornering. Plus, the Ski-Doo comes with a 1.25-inch lug profile on its standard Ripsaw rubber track. We definitely prefer this setup to the Polaris 550 Indy's no-profile Shockwave track. But, we doubt that the 550 Indy's power is over matched to this track, so not a big deal. But Ski-Doo recognized that it is nice to have a Ripsaw and we appreciate that.
When compared head-to-head, we still prefer saving cash and adding on options, which could easily get the 550 Indy into base price MXZ Sport 600 ACE territory. Simply adding electric start to the 550 Indy will get you halfway into the price differential. Plus, we suspect that the newer 600 ACE twin with its multiple performance modes, electronic fuel injection and so on justifies the extra cash outlay. The reality is that the two sleds are closer in overall value than the initial pricing may indicate. They both provide about the same overall on-trail performance and have many of the same features.
If you are old school, prefer lighter overall weight to toss around and hanker for the days when fan-cooled two-strokes ruled, you'll go for the Polaris 550 Indy and add on some accessories. But, if you like a quieter more fuel-efficient riding experience with similar on-trail performance, then the Ski-Doo MXZ Sport 600 ACE is your choice. The dollar difference isn't really that big an issue after all.
| | | |
| --- | --- | --- |
| | 2016 Ski-Doo MXZ Sport 600 ACE | 2016 Polaris 550 Indy |
| Engine | Rotax 600cc, four-stroke twin; double overhead cam; liquid-cooled; EFI with 42mm throttle body; 3 engine modes (Sport, Standard, ECO); "learning" key; tuned exhaust; 7250 maximum engine rpm | Polaris/Fuji 544cc, two-stroke twin; fan-cooled; cylinder reed porting; 2xMikuni VM34 slide carburetors; two-into-one tuned exhaust |
| Horsepower | 60-plus (claimed) | 55 |
| Drive | Ski-Doo/Rotax eDrive 2 with QRS driven; 2200 rpm engagement; mechanical reverse | CVTech PowerBloc 50 with Invance driven; electronic reverse |
| Front Suspension | Ski-Doo dual A-arms with spring over Motion Control shock; up to 9 in. travel | Yamaha telescopic strut suspension (TSS); up to 6-inches of travel |
| Rear Suspension | Ski-Doo SC-5 parallel slide rail with Motion Control shocks center & rear; up to 15 in. travel | Polaris Indy coupled parallel slide rail with RydeFX MPV shocks; up to 13.9 in. travel |
| Length | 114.4 in | 114.0 in |
| Width | 47.9 in | 48.0 in |
| Height | 47.6 in | 48.0 in |
| Ski Stance | 42.4 in | 42.5 in |
| Track | 15 x 120 x 1.25 RipSaw | 15 x 121 x 0.91 Shockwave |
| Weight | 459 (claimed) | 422 (claimed) |
| Brake | Brembo hydraulic disc with stainless steel braided brake line | RMK hydraulic disc |
| Features | Standard: REV-XS chassis; straight aluminum handlebar with J-hooks; flip throttle position; analog gauge with display; REV-XP seat with rear storage; 4.5 riser block; reverse; electric start; 15-inch windshield Optional: rearview mirrors; storage bags | Standard: aluminum Pro-Ride chassis; aluminum handlebar with 3.5-inch riser block; mechanical fuel gauge; Indy Pro-Ride seat; medium height windshield; analog speedometer; low oil indicator Optional: electric start; rearview mirrors; storage bags |
| Fuel Capacity | 10.6 US Gal (87 octane) | 11.5 US Gal (87 octane) |
| MSRP | $8,699 | $6,599 |