2015 Arctic Cat Lynx 2000 LT Review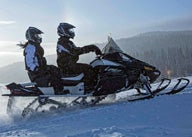 This fan-cooled touring sled is a great value for two
As snowmobilers, once we see a sled listed as a "value" model, we almost automatically write it off our list as a nice-to-have sled. We suggest that you not be too quick to dismiss the 2015 Arctic Cat Lynx 2000 LT if you are looking for a solid two-passenger carrying snowmobile. At a suggested retail price of US$6,999, the Lynx can fool you into thinking that its only redeeming value is its price.
Price is a good place to start as the Lynx 2000 LT retails for thousands less than the all-new Pantera 7000 Touring, Cat's next step up in its trail touring, passenger carrying models. Obviously those extra dollars for the Pantera get you an all-new model with a much more powerful Yamaha three cylinder, four-stroke engine. Don't despair; the Lynx 2000 LT is very impressive in its own right. Well, mostly!
The only weak point we see is the 565cc fan-cooled two-stroke engine. It's perfectly adequate, but at its claimed 65 hp rating, it pales compared to the next available engine series, Cat's 5000 C-TEC4 with a claimed 125 hp. So, what can you expect with the Suzuki-built two-stroke twin? Partnered with Cat's ACT tried and true Diamond Drive set up, you can count on smooth drive offs, which are what your passenger will appreciate. It will have excellent ramp up to accepted trail touring speeds of 35 to 45 miles per hour. It will, however, be pretty much tapped out before you reach 65 mph if you are carrying gear and a passenger. From drive-off to midrange, expect good performance, albeit a bit noisier than what a liquid-cooled powertrain would give you. But, hey, you're saving thousands, not mere hundreds, so it's a small price to pay.
COMPARISON: Read our preview of the 2015 Arctic Cat Pantera 7000
Yes, the Lynx 2000 LT is built on the older Twin Spar chassis and not the newer tall spindle design. Not a problem, quite the contrary to our thinking. The sometimes maligned Twin Spar platform established itself as a better than average touring and utility chassis. While it was fitted to various Arctic Cat sport and performance sleds over the past few seasons, it never was as good as the newer tall spindle ProCross or ProClimb platforms. Arctic Cat recognized that its newest chassis, while adaptable to two-up riding was not ideal. But, the continued use of the Twin Spar platform for an all-new Pantera and a basis for future touring and utility models wasn't likely. That's why you see the new ProTour chassis supporting the new-for-2015 Pantera. While it follows the ProCross engineering style, it still embraces features that touring and utility riders liked in the Twin Spar design.
The Twin Spar originated with the 2007 Jag Z1 and seemed destined to be a one-size fits all chassis that would accommodate the fan-cooled twin right up to a 177 hp turbocharged Suzuki four-stroke.
When we reviewed Cat's 2008 model line up we noted: "By and large the new sleds are heavier and slower than the models they replaced – especially the ones that replaced the Firecats. Those riders demanded speed, handling and lightness on the trail. The new versions supply little of that.
"Overall the new breed of Cat is actually among our favorites as everyday rides. The steering is smooth. The adjustability is incredible as you can fit virtually anyone to these Cats. We like the styling, though not all do. The fit and finish is very good and the overall ergonomics are pleasing."
If you were coming off Cat's Firecat and about to straddle an F6 Sno Pro, you would have doubts about this "refined" and too tamed Cat. But, moving to now, if you are looking for a smooth riding, easily adjustable every day sled for touring that is pleasant to ride for long distances – or simply to take the grandkids out on the lake for an afternoon of ice fishing – then the 2015 Lynx 2000 LT represents quite a bargain.
COMPARISON: Read our review of the 2014 Ski-Doo Expedition Sport ACE 900
When the Twin Spar chassis first appeared, we had issues with how it handled corners. It seemed to float and fidget back then. Once Cat's head engineering folks saw our concerns, they tightened up the grip and grab in corners. Indeed, the problem was solved and Twin Spar Cats became some of the best handling sleds we rode – until the current ProCross models. Excellent handling is a plus for this 130-inch long touring model.
Although Ski-Doo was first to introduce the "ride-forward" concept with its REV series, Arctic Cat sought to do better and conceived its Twin Spar chassis to better fit the driver to the sled. The riding position was moved upward and forward compared to the older Firecat models. Cat added more room for the driver's knees, as Cat designers felt that was a REV shortcoming. Ski-Doo did, too, as the next REV iterations increased knee and legroom.
The Twin Spar design features twin aluminum spars that are triangulated with supports for the steering and resulting in a very strong and rigid chassis that can easily handle end-of-the-day trail ruts and bumps.
COMPARISON: Read our review of the 2012 Yamaha RS Venture
The Lynx 2000 LT may not offer the latest tall spindle Arctic Race Suspension, but it will be hard to fault the ride and control you get from the well proven seventh generation Arctic Wishbone Suspension (AWS VII). With a stance of 43 inches to balance you through the corners, the AWS VII features a sway bar to control side-to-side motions and twin tube shocks with coil-over springs to soak up the front suspension's 9.5 inches of travel.
At the rear you and a passenger can count on the same basic Slide-Action suspension that is used in 2015 trail performance ProCross models. Accommodating a 144-inch long track with 1.0-inch lug profile, the Slide-Action suspension displaces 13.3 inches of travel that are controlled by a combination of hydraulic twin tube shocks, adjustable torsion springs, and a fiberglass overload spring.
Since Arctic Cat touring sleds are just now beginning to evolve with the ProTour chassis, the Lynx 2000 LT is still state-of-the-art for an Arctic Cat two-up model. It also promises nearly bullet-proof durability as, at this price point, we expect this sled will appeal to rental fleet owners who value low maintenance costs as much as purchase price. The benefits to 2015 Lynx 2000 LT buyers will be low initial cost, expected minimal maintenance, long term reliability and, oh, yes, pleasant ride and handling that has been the strength of Twin Spar models since they first appeared in the 2007 Jag Z1.
Ride and handling will be above average for a two-up. Overall performance will be good considering the 65-hp two-stroke power package under the hood. Ergonomics remain a strength with this Twin Spar sled. Plus, for the US$6,999 suggested retail price, you get electric start, push-button electronic reverse, two-up seating with a detachable passenger section, standard backrest and rear rack for added storage.
For 2015 the Lynx 2000 LT two-up fan-cooled trail cruiser packs a great deal of appeal into a tried and true design that guarantees very good long-term value.
2015 Arctic Cat Lynx 2000 LT Specs
Engine
Arctic Cat/Suzuki 565cc, fan-cooled, 2-stroke twin; 2xVM34 carburetors; oil injection; CD ignition
Horsepower
65 (claimed)
Drive
Arctic Cat 6-post rpm sensing drive with 10.4-inch diameter Arctic roller cam driven
Front Suspension
Arctic Wishbone Suspension (AWS VII) with hydraulic coil-over-shocks; 9.5-in maximum travel; plastic ski with dual carbide skegs
Rear Suspension
Arctic Cat parallel rail Slide-Action suspension; adjustable torsion springs and hydraulic twin tube shocks; 2-inch diameter rear arm shock; fiberglass overload spring; up to 13.3-inches of travel
Length
131.0 in
Width
48.0 in
Ski Stance
43.0 in
Track
15 x 144 x 1.00
Weight
NA
Brake
Axial master cylinder with disc on driveshaft
Features
Standard: Twin Spar aluminum chassis; push button electronic reverse; electric start; digital/analog gauge; electric gas gauge; curved handlebar; adjustable backrest; detachable passenger seat; rear rack
Optional: front sport bumper; varied height and/or colored windshields; hitch; passenger hand warmers; mirrors, storage bags
Fuel Capacity
10.8 US Gal
MSRP
US$6,999