2016 Ski-Doo MXZ TNT 1200 4-TEC Review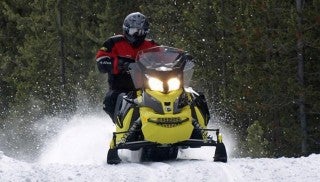 A narrowed profile and revitalized performance
If we hadn't ridden the MXZ Blizzard first, we'd be all over the 2016 Ski-Doo MXZ TNT 1200 4-TEC as one of the best trail sleds for next season. But we did ride the Blizzard and took a shine to the extra bite and bump bridging you get with its 129-inch track versus the standard 120-inch Ripsaw track on the TNT. Other than that, we were quite impressed with the new for 2016 TNT 1200 4-TEC.
The 1200 4-TEC entered the Ski-Doo scene housed in a series of 2009 models, including the TNT. It was a big deal for Ski-Doo as it gave them a triple-headed competitor to Yamaha's Vector and Nytro. While an important new engine back then, it was not Ski-Doo's first four-stroke, that was the V-1000 introduced in 2003 and followed by the V-800, which delivered nearly 25 miles per gallon and greenish emissions.
The first 1200 4-TEC targeted the 600 category of performance sleds as it produced a claimed 130 hp, which is near the accepted norm for that class of sleds. But the 1200 delivered more than power comparable to 600cc two-strokes; it also produced a very smooth power band with peak torque and horsepower coming in at lower revs. The Rotax-engineered double overhead cam three-cylinder motor had a horsepower rating of 125 hp @ 7800 rpm. Its torque was 112 lb-ft at 7500 revs. Clutch engagement of the current 1200 4-TEC is listed as 2200 rpm, which means you can expect ample low through mid range pull from this engine.
COMPARISON: Read our review of the 2015 Yamaha RS Vector
Actually, at our West Yellowstone test site, we felt the 2016 4-TEC had significantly improved low and midrange performance. That comes as a result of Ski-Doo and Rotax engineers tweaking the 1200 to accept Intelligent Throttle Control, which provides three levels of switch-on-the-fly performance. Initially built into the 600 and 900 ACE motors, ITC needed to be retrofitted to the 1200 4-TEC. In the process the revitalized 1200 got an updated intake and total revamped engine computerization, plus the lightness of throttle-by-wire control.
We have not been big fans of the somewhat gimmicky three levels of computer-actuated performance. We understand the concept and how it works, which, frankly, is simply and efficiently. But is it necessary? Tech lovers probably enjoy it and it is s-o-o much more preferable to tweaking a carbureted system. You have three choices: Standard, Sport and full-on Economy. A dash-mounted rocker style switch lets you make your performance choice as you ride.
If you want to win a bet as which sled gets the best mileage, opt for the ECO setting. It essentially shuts down aggressive performance, but does help meet Best Available Technology requirements necessary to make the sled legal in Yellowstone Park. The standard mode is a base setting; it gives you smooth, linear performance. The Sport mode spikes engine performance for maximum acceleration and such. Some of our test riders always set the 4-TEC to that setting while we backed off to the base mode. Admittedly the Sport mode is a personal choice, just not ours. Why not compromise and simply offer two modes: the Eco mode and a combined, more drivable, less herky-jerky mode?
Of course, we offer the same question to Yamaha, which also added multiple performance modes to its latest Vector triples. Interesting how both Ski-Doo and Yamaha made the same mode decisions in the same model year? Was NSA hacking and sharing their emails? (Just kidding NSA!)
Although the key feature for the 1200 4-TEC centers around its computer programming, some of that became necessary when Ski-Doo fitted a new, more compact and lighter weight exhaust canister. Supposedly none of these changes resulted in any increased power numbers, but the re-worked 1200 felt quicker and more responsive to us.
COMPARISON: Read our review of the 2015 Arctic Cat ZR 7000 RR + Video
By narrowing the engine package, Ski-Doo engineers were able to fit the drivetrain within the confines of the REV-XS platform and narrower bodywork. The older 1200 4-TEC used the now outdated REV-XR platform, which was one of three variants of the REV-X platform.
From that iteration of the initial REV chassis, Ski-Doo cleverly designed a modular frame that allowed three variants. The first variant was introduced in model year 2008 as the REV-XP and was 37 percent stronger than the old style REV. Two other variants, the REV-XR and REV-XU versions, followed in model year 2009. The XR, although based on the REV-XP, featured a different engine module to house the wider 1200 4-TEC triple. The tunnel section of the XU suited a wider 20-inch utility-oriented track.
At the introduction of the new chassis designs Ski-Doo noted, "The beauty of this system is that whether the vehicle is a ditch-banging MX Z, a high mileage luxury-touring GTX or versatile Expedition touring utility vehicle, they all share the same core benefits of the REV-X — incredible light weight, a more versatile riding position, mass centralization and better performance."
COMPARISON: Read our review of the 2016 Ski-Doo MXZ Blizzard 800
Move ahead to model year 2016 and note that the MXZ TNT 1200 4-TEC now shares the same style platform and narrowed bodywork as the two-stroke engine TNT models. From a looks standpoint, the new 1200 4-TEC appears slimmer and more sporty. Looks can be deceptive, as the 1200 TNT, at 505 pounds, weighs nearly 50 pounds more than its 600 E-TEC counterpart. While we might like to make a big deal of that fact, we won't as the 4-TEC can use its extra 10 to 15 horsepower and greater torque to nearly overcome the difference. Plus, you may get good mileage with the E-TEC but it won't be as good as the nearly 20 miles per gallon you could get with the 4-TEC.
Overall, the new for 2016 MXZ TNT 1200 4-TEC deserves praise. It's a much sportier sled than previous versions. The REV-XS bodywork lets you get into the corners more aggressively to take full advantage of the RAS2 front suspension grip and smooth action of the rMotion rear. Each suspension component features rebuildable, aluminum-bodied HPG Plus shocks. Tuned to the needs of the 1200 4-TEC, the suspensions adroitly balance out the desires of a sport rider with the realities of a long distance trail rider. Its 120-inch Ripsaw track offers proven grip for quick accelerating and a quick response for turning into tight corners. If long days are your forte, consider that its 10.6-gallon fuel tank, at 19 miles per gallon, could let you cover 200 non-stop trail miles.
At US$11,849 the 2016 Ski-Doo MXZ TNT 1200 4-TEC offers good value as its provides the latest technology, including a learning key that can be programmed to dumb down performance for new riders, and famous MXZ on-trail handling prowess. The sled is very comfortable to ride, offers aggressive handling when you want it, or cruise mode when you don't. With its newly revitalized four-stroke engine, the TNT 1200 gives you a durable, quiet and very fuel efficient snowmobile that can be counted on for many seasons to come.
2016 Ski-Doo MXZ TNT 12004-TEC Specs
Engine
Rotax 1170.7cc5cc, liquid-cooled three-cylinder 4-stroke; Double overhead cam; dry sump; Rotax electronic fuel injection with three performance modes and learning key
Horsepower
125 @ 7800 rpm; 112 lbs/ft @ 7500 rpm
Drive
Ski-Doo/Rotax eDrive2 with QRS; engagement @ 2200 rpm
Brake
Brembo hydraulic brake system with braided stainless steel line
Front Suspension
RAS2 double A-arm with HPG Plus aluminum bodied rebuildable gas shocks; up to 9.0 inches of travel
Rear Suspension
rMotion parallel slide rail with aluminum body HPG Plus shocks; up to 15.5-inches of travel
Length
114.5 in
Width
47.9 in
Height
47.6 in
Ski Stance
42.4 in
Track
15 x 120 x 1.25 Ripsaw
Weight
505
Fuel Capacity
10.6 US Gal (87 Octane fuel)
Features
REV-XS platform; gauge with LCD screen; REV-XP X narrowed seat with rear storage capacity; push button mechanical reverse; electric start; 4.5-inch riser block; aluminum handlebar with J-hooks
MSRP
US$11,849