1986 Yamaha Inviter Vintage Review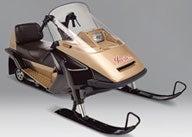 Yamaha invited snowmobilers to ride an innovative design
Anyone following Yamaha from a business perspective probably views the Japanese-based powersports vehicle manufacturer as conservative. But if you look at the company's snowmobile product history, the company has been anything but conservative.
When Yamaha first entered the sled business back in the late 1960s, the base SL351 appeared much like most sleds of the era. Peeking a bit closer revealed oil injection and slide valve carburetors — uncommon then but accepted standard equipment today. Aggressive pricing also helped Yamaha's acceptance back then in gaining a good stronghold. Of course, reliable performance and durability didn't hurt either!
When Arctic Cat fell into financial difficulty and went on hiatus until resurrected by the current ownership, Yamaha became the No. 1 selling brand, until supplanted by Polaris. During Yamaha's run as top sled maker, the company sought to create sleds that could help expand the market, which had shrunk due to low snowfalls, economic uncertainty and a strangely fluctuating oil supply. And you thought things were tough today?
Innovative Design
With market expansion on its mind, Yamaha looked to its engineering team to create innovative snowmobile designs. In addition to creative engineering ideas, Yamaha relied on marketing research to seek both an understanding of the "modern" snowmobiler and how he actually rode. Looking at snowmobile reality revealed that most trail speeds actually were between 20 to 35 miles per hour. That was the reality. The popular belief among riders was that they were much more aggressive and rode much faster. It also helped convince potential buyers that they needed higher horsepower models that could broach a triple digit top speed.
Here was the conundrum: snowmobilers believed they rode fast but reality showed that "fast" was an average of 30-plus MPH. Like the other sled makers, Yamaha sold performance all too well.
We say "too well," because when Yamaha tried to innovate with a "real" trail sled, the invitation to ride the way statistics actually indicated went unappreciated. Heck, despite its overwhelming positive attributes, the 1986 Yamaha Inviter was seen as slow and boring.
In reality the Inviter addressed the real market. Based on surveys, snowmobilers would state they wanted on-trail comfort, innovative features like liquid cooling, smooth suspensions and clever styling. But they weren't that interested in actually buying it in the form of the Inviter.
Legacy Design
In some ways Yamaha engineering actually borrowed from the very first Edgar Hetteen created Arctic Cat Trail Cat. This was the very first one. The one powered by a Briggs & Stratton four-cycle single cylinder engine and leaf sprung skis. Yamaha's 1986 design carried the Trail Cat's idea of "sit in" passenger compartment forward.
If you look closely at a Yamaha Inviter, you'll see the seat has a forward area curved inward to accommodate the rider's legs. Riding position was singular. You sat on a relatively plush (by the period) seat with padded backrest. You would reach forward to a butterfly styled handlebar set with simple right hand throttle and left hand brake grip.
The riding position suited groomed trails exclusively. The running boards offered ample foot room, but not enough to accommodate stand-up riding styles for pushing through off-trail powder. As comfy as it was on groomed trail, the Inviter could be a real handful off trail.
Retailing for US$2,699 in 1986, the Yamaha Inviter competed price-wise with the more conventional Arctic Cat Jag 440, Ski-Doo Safari 377 and Polaris Sprint. Those sleds proved more popular and offered greater versatility in all snow conditions.
Groomed Trail
Looking back at the Yamaha Inviter shows that this sled maker looked to innovation, even if not always readily accepted. The Inviter was actually quite good. But in 1986 snowmobile companies were not interested in creating too many niche markets. Move forward to the 21st century and things have changed. Indeed, for 2010 Yamaha makes sleds designated as GT for "groomed trail" and RT for "rough trail." In terms of today, the Inviter would fall into the GT category.
The seating position suited groomed trails as well as the powertrain. Under the angled rearward Inviter hood sat a nifty 293cc single cylinder motor. This Yamaha engine developed just under 30 horses, but offered stout torque for ample takeoff and midrange performance.
On the trail, the Inviter would putt along with the low-end chugging patter of a single-cylinder industrial motor. Where most Yamaha engines like to scream at high revs, the Inviter single was a low-revver that would let you flog it all weekend long.
To minimize vibration, Yamaha engineers set the engine on what was called "dynamically tuned engine mounts." That's just a cute marketing phrase for rubber engine mounts.
The Yamaha single power reached a 15-inch wide rubber track via all Yamaha drive and driven clutching, which was tuned for smooth takeoff to 30 miles per hour. Top speed would be 50-plus, but you could easily maintain 40-plus MPH on most groomed corridor trails. You would slow substantially in the twisted sections.
Ride & Handling
Because you sat back almost over the rear axle, you would find the Inviter tended to pitch a bit forward to rear, but suspension set up could minimize this effect. The rear suspension's five-inches of rear travel was controlled by three coil-over-shocks, one on the front arm and two on the rear arm. The rear shocks mounted to the chassis back of the footrest.
Yamaha's innovative telescopic strut suspension up front offered up to five-inches of travel. There would be a bit of controlled pitch and roll, but it was not offensive.
Designed for the trail, the Yamaha Inviter rider enjoyed good wind protection from the sweeping windshield styled into the sled's appearance. Even the odd-shaped butterfly handlebar melded into the design, seeming natural, although it felt unnatural when you first rode this sled. A few miles down the trail and you would adapt easily to the "feel." The Keihin carburetor offered a smooth and easy pull at the throttle flipper. The brake was a typical Yamaha scissors-style of the period. It was adequate, though not spectacular.
The Inviter should have sold better than it did. After all, Yamaha had done its homework. It should have met what surveys of snowmobilers said they wanted and it should have reflected the way real snowmobilers rode. But perception and reality frequently differ and this innovative trail sled soon disappeared. And Yamaha innovation continues. From the trail ready Inviter; Yamaha brought performance four-strokes to the sport. From the "sit-in" styling of the Inviter, Yamaha brought the innovative lightweight Phazer sport sled to the sport. And while not all of Yamaha's innovations have changed the sport, enough have made a difference that successors to the 1986 Inviter continue to move snowmobiling forward one new idea at a time.
1986 Yamaha Inviter
Engine
Yamaha 293cc, liquid-cooled, piston-port single cylinder, single Keihin butterfly carb
Horsepower
28
Drive
Yamaha drive & driven
Front Suspension
Yamaha Telescopic Strut; 5.0-in travel
Rear Suspension
Yamaha Slide rail; three hydraulic shocks with coil-spring; 5-in travel
Length
95.9 in
Width
40.4 in
Height
43.4 in
Ski Stance
34.6 in
Track
15-in wide molded rubber
Weight
384 lbs
Fuel Capacity
4.3 US Gal
MSRP
US$2,699
Related Reading
2010 Yamaha Apex GT Review
2010 Yamaha Venture GT Review
2010 Yamaha Vector LTX GT Review
All Things Yamaha on Snowmobile.com