2010 Yamaha Venture GT Review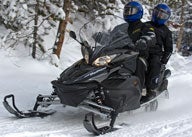 Yamaha's best ever 4-stroke powers the Venture GT
Last year Yamaha brought out its all-new Venture GT as the company's top of the line-touring machine. While it was all new, what we liked was how Yamaha engineering blended together proven pieces from its existing rider-forward models with a more sophisticated drivetrain to create a truly gifted luxury-touring sled. Because it was new last season and since sales of all sleds have been soft in general, you'll find that the 2010 Yamaha Venture GT is virtually unchanged from the past year's version. Well… there is the new graphics package for 2010 that brings a choice of Yamaha Black or Candy Red to potential buyers.
Fast Facts
Engine Type:Horizontal In-line
Cylinders:3
Engine Stroke:4-Stroke
Valve Configuration:DOHC
Displacement:1049 / 64
Starter:Electric
Turbocharged:No
View Full Spec
Keep in mind that the Venture GT didn't rock anyone's world last season as the company's introductory marketing spiel took a back seat to the more hyped and much better selling XTX crossover model. Admittedly the market for luxury touring models can't compare to hot rod models, whose ownership is certainly more vocal than the touring crowd.
We would state quite simply that Yamaha has done a disservice to its Venture GT, which is actually quite amazing when you consider its various pieces. Most obvious is its engine, which is now shared with some Vector models. The three-cylinder, electronically controlled fuel injected motor can be considered to be one of Yamaha's best ever. Yeah, yeah, we know everyone gets hung up on Yamaha's Nytro triple with its hard-hitting torque and testosterone-exciting rumble, but the Genesis 120FI can be construed to be a better power source as it's incredibly well suited for more realistic snowmobiling. It is what the Nytro motor would be if realism directed marketing instead of copy-writing hype that promotes bold adjectives attached to macho nouns.
Real World Motor
The reality of the Genesis 120FI remains that it is truly more versatile than the Nytro triple upon which it is based. If you could test ride the two sleds side by side, you'd find the throttle engagement of the Venture GT powerplant to be more predictable. Sure, you won't get the big kick of a sudden gulp of fuel exploding in the cylinders and firing a power pulse to kick you back to the end of the Nytro's saddle. If you want that, use a little Armor-all to grease your seat. What you will get from the less radically tuned Genesis 1210FI is a steady pulse of power that builds and holds torque to react quickly in bumps, pulling through fresh powder or grabbing speed out of a turn. The Venture GT engine feels less sporty than the herky-jerky Nytro motor, but we'd bet if the Genesis 120FI were the standard motor in the Nytro series, riders would find themselves enjoying the Nytro more.
Let's not fault Yamaha; the company knows its customers. The Nytro rider wants the "feel" of performance, which means he wants to get his arms yanked and he wants to feel the skis come up when he hits the throttle. He feels that makes him a sporty rider. Okay.
As a staid luxury-touring rider, we know that Yamaha put one of its best all-time engines in the Venture GT. As noted, the Genesis 120FI belies its heritage with that "120" nomenclature, which leads you to think that it's simply a fuel-injected version of the old carbureted 120-horsepower triple that can be found in the base Venture and, for now, in the base Vector. It's not.
What you are getting is a new engine based on the 1049cc Nytro triple, not on the older 973cc Genesis 120 engine. While it bears a strong resemblance to the slightly more powerful rough trail sport powerplant, this Venture GT motor comes tuned specifically for the touring sled. The fuel injection system features a programmed electronic engine mapping to deliver consistent low-end torque necessary for smooth drive offs with the added weight of a passenger. You get very good low end with excellent midrange performance. Top end is okay, but high speed running is not a premium consideration in a touring sled. What you will have is a sled powered to run at legal trail speeds all day long, all weekend long. The Venture GT's power delivery is one consideration for Yamaha's top line touring sled.
Touring Mode
With power tuned for touring, you'll find Yamaha understands the other criteria for making a market leading luxury-touring machine. Ride comfort has to be as important a consideration as power delivery. Here again we can point out how Yamaha blends its chassis configurations together to create both a top line touring machine and a top line sports sled. The 2010 Venture GT gets the upgraded rider-forward Deltabox II chassis used in the latest iterations of the Apex and Vector models. Moving the handlebar and seating position more forward brings the driver more into the sled's centered mass for greater all around ride comfort. It also allows the motor to be dropped lower in the engine bay to create better overall handling and cornering characteristics.
With the chassis change comes the ability to use Yamaha's second-generation independent front suspension with up to nine inches of front-end travel. Controlled by 40mm GYTR dual-clicker shocks, the Venture GT suspension design affords very precise and consistent steering.
For passenger ride comfort, Yamaha retains the polished ProComfort CK 144 rear suspension with its use of aluminum-bodied, 40mm high-pressure gas shocks. There's more than a foot of suspension travel available. Of course, the rear passenger gets the benefit of the king-queen seating which uses added comfort foam to keep the passenger properly positioned behind the driver. Heated handgrips on the passenger rests and raised footrests add to overall passenger enjoyment on long tours. Both riders derive the benefits of the tall and wide windshield.
The Venture GT rides on a 15-inch by 144-inch track with 1.25-inch lug profile for added traction in both groomed and fresh powder conditions.
Touring Fare
Standard equipment includes Yamaha's easy-to-read digital gauge with LCD readouts, dual-piston hydraulic brake, standard DC outlet and backrest. When you consider the fuel efficiency of the Genesis 120FI triple, you see that the standard 9.4 US gallon fuel tank is quite generous.
Over the seasons we have found Yamaha touring sleds to be not simply efficient, but extremely well thought out as to their intended function. Perhaps not as "trick" in gadgets as Ski-Doo's top line touring sleds, we'd bet the US$11,299 Yamaha Venture GT will perform exceptionally well on long distance tours and be one of the most trouble-free and durable over the long haul of many seasons. Yamaha has an excellent reputation for durability and we figure the Venture GT will raise that reputation and exceed ownership expectations. All the pieces from the new engine to the addition of the rider-forward chassis fit together for a very bright future.
2010 Yamaha Venture GT Specs
Engine
Yamaha Genesis 120FI; liquid-cooled triple; Digital electronic Mikuni fuel injection; 82mm x 66.2mm bore & stroke
Horsepower
120
Drive
Yamaha YVXC variable ratio drive and driven
Front Suspension
Yamaha double wishbone with long arm, short spindle; 9-inches maximum travel; 40mm GYTR dual clicker gas shocks
Rear Suspension
Yamaha ProComfort CK 144; 12.4-inches maximum travel; 40mm gas shock with compression adjustability on rear arm
Length
125.4 in
Height
54.3 in
Width
48.0 in
Ski Stance
43.0 in
Track
15 x 144 x 1.25
Weight
N/A
Fuel Capacity
9.4 US Gal
MSRP
$11,299
Related Reading
2010 Yamaha Venture Lite Review
2009 Yamaha Venture GT Review
2009 Yamaha Nytro XTX