2010 Yamaha Venture Lite Review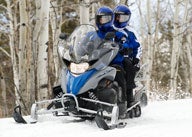 A Phazer-based touring unit with great upside
Based on Yamaha's "entry level" Phazer snowmobile, the 2010 Venture Lite blends Yamaha reliability with a practical touring expertise resulting in a snowmobile long on all-day comfortability. Heck, think of this sled as snowmobiling's version of "sensible shoes."
Fast Facts
Engine Type:Parallel Twin
Cylinders:2
Engine Stroke:4-Stroke
Valve Configuration:OHV
Displacement:499 / 30.4
Starter:Electric
Turbocharged:No
View Full Spec
Since Yamaha no longer offers any 2-stroke powerplants in its modern era of 2010 snowmobiling, the company can't do as Polaris, Arctic Cat and Ski-Doo. Namely, offer low buck snowmobiling powered by a base fan-cooled two-stroke engine. That also means that Yamaha's version of a low-priced touring unit has to be at least a couple thousand dollars more expensive than its competition's price-leaders. That's not all bad as those lower cost models come with older, lower horsepower, carbureted engines pinned to older style chassis and suspensions. With the 2010 Yamaha Venture Lite, you get a very modern high-revving 4-stroke engine with very sophisticated electronic fuel injection that delivers upwards of 30 percent more power than the competitions' base versions.
Plus, when you actually get out on the trail, you'll be sitting atop one of the most advanced lightweight touring sleds in the snow world. The Venture Lite remains uniquely Yamaha. This sled shares only within the Yamaha pedigree of Phazer snowmobiles. The aluminum frame is a stretched Phazer construction, which is both longer and wider than the base sport Phazer models. Measuring 15-inches in width and 144-inches in length, the Venture Lite sports the widest and longest track in Phazer-dom. The mountain running Phazer MTX shares the length but is an inch narrower with a full 2-inch deep lug, versus 1.25 profile for gripping groomed snow. Normal Phazer sport tracks only stretch out to 121-inches with a 14-inch wide footprint. The Venture Lite enjoys a very smooth ride and good on-trail manners thanks to its Camoplast Rip Saw track setup.
Trade Offs
There are some trade offs. The base Phazers are designed for sporty handling with quick reactions. Even though the Venture Lite comes with a similar double wishbone front suspension, the reaction is mitigated by the extensive track, making the touring sled prone to "pushing" as they would say in NASCAR circles. If you enjoy the Venture Lite as intended, this will be marginally noticeable as the 80-hp Yamaha twin is no handlebar yanker with two aboard.
While we constantly bellyache about our disappointment with the sport Phazers, we really took to this ponderous version. Dollar for dollar, we would rate this touring sled as one of the best values in the sport. It has enough motor to easily power through a 200-mile, daylong journey. The power distribution is seamless and the fuel injection system keeps the 500cc twin perfectly set for gliding along on trail with very smooth drive offs with two riders and all their gear stashed.
Easy Rider
We found the sled rode groomed trails extremely well. The seat is made up of two very comfortable "butt compartments." The rider forward front pilot seating allows excellent positioning as you sit upright with nice knee flex to address the terrain. There's a raised lip at the back of this portion to help keep you stationed properly. Right behind this lip is a slightly elevated passenger level that tapers slightly into a winged backrest. A passenger footrest platform and handgrips keep your passenger "locked" into the sled. Behind this is a storage area that uses the Venture Lite's chassis as a floor but adds an oversized tube frame rack to hold your gear and expand the base storage area.
As you would expect the rider controls come straight off the standard Phazer but have been modified for the touring pilot, which means there are rearview mirrors, a very large windshield mounted to the chassis and not the handlebars. That's a good thing because handlebar mounting would mean excessive flopping due to this screen's large dimensions. As it was, we had some movement, but less than we expected and certainly not the activity you'd get from those huge old Polaris and Arctic Cat touring-style windshields.
Info Central
The digital gauge sits centered so you quickly can read the large digital numerals as they flash your miles per hour. As a multi-functioning unit, the gauge pod can give you engine rpm, trip mileage and other key information. The engine is key start, of course, and there is a push button to engage the reverse, which can be a bit startling as it sometimes clunks into action. Yamaha could work at this a bit we'd guess. After all, the company's engineers spent a ton of man-hours revamping the hand warmers on various 2010 models. Maybe they could address this.
While we compliment Yamaha on its great Venture Lite touring seat, including the capability of detaching the passenger pillion for solo touring, we have to include kudos for the ProComfort rear suspension as well. Fitted with quite basic KYB gas cell shock absorbers, the rear suspension features a simple flip lever to vary torsion spring rates for enhancing ride comfort for a solo or two-up setting. This is not a uniquely Yamaha concept, of course, since Arctic Cat and Polaris have featured this idea in both utility and touring models.
Well Done
All in all, we find the Venture Lite to be exceptionally well designed, smooth on the trail, and extremely rider (and passenger) friendly. We can recommend this sled as one of the best touring buys in the sport for 2010. At US$8,999 the 2010 Yamaha Venture Lite is available in Candy Red or our as tested Topaz Blue.
2010 Yamaha Venture Lite Specs
Engine
Yamaha Genesis 80FI; 499cc, 2-cylinder, 4-stroke, liquid-cooled; 43mm Keihin throttle body electronically controlled fuel injection
Horsepower
80
Drive
Yamaha YVRC variable ratio clutch
Front Suspension
Yamaha wishbone; 7.1-in travel; KYB gas shocks
Rear Suspension
Yamaha ProComfort 144; 11.5-in travel; KYB gas shocks; torsion spring adjustments
Length
124.0 in
Height
54.3 in
Width
47.8 in
Ski Stance
42.7 in
Track
15 x 144 x 1.25 Camoplast Rip Saw
Weight
595 (estimated based on 2009 model year)
Fuel Capacity
8.7 US Gal
MSRP
$8,999
Related Reading
2009 Yamaha Venture GT Review
2009 Yamaha Phazer MTX Review
2009 Yamaha Phazer GT Review