2011 Yamaha FX Nytro MTX SE 153 Review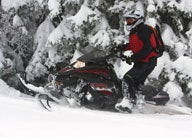 Early and sweet impressions
Yamaha is unlike the other snowmobile brands in that ALL Yamaha snowmobiles use four-stroke motors. Given that, Yamaha snowmobiles have much different motor underpinnings than snowmobiles that use two-stroke power. Those differences are specific to mounting a three-cylinder four-stroke in the snowmobile's belly, that is, how it mounts to its frame/sub-assembly, and how air intake and exhaust systems are routed. Beyond that, Yamaha snowmobiles, like its competitors, are track driven, ski-steered and gasoline powered.
Fast Facts
Engine Type:Horizontal In-line
Cylinders:3
Engine Stroke:4-Stroke
Valve Configuration:DOHC
Displacement:1049 / 64
Starter:Electric
Turbocharged:No
View Full Spec
For several years, we have walloped trail and mountain on several variations of the FX Nytro, those being, MTX for mountain-specific and XTX for crossover-specific. Of the four FX Nytros we've tested, three were the MTX, one an XTX. For season 2010-2011, we are recording miles on a 2011 MTX SE spinning a Maverick track that is 15-inches wide, 153-inches long with 2.25-inch lugs.
Last season we rode an MTX SE with a 162-inch track. This year we opted for the 153er because we believed the 162 hurt the 2010 Nytro MTX' ability to play in the powder and walk up a mountain's backside. Also, the 2010 162 tended to tail walk as it clamored up a steep hard packed ascent. But more importantly, when testing the prototype 2011 153 in West Yellowstone last March, we discovered the MTX 153 LE was a sweetheart and devoid of any bad habits.
For 2011Yamaha offered just two MTX variants —153 and 162. While the 2011 MTX SE is basically the same as the previous model, there are a few subtle updates. Here are our early impressions of our 153.
We took delivery of our MTX after the New Year's Holiday. After thoroughly studying the MTX's owner's manual, Test rider Kevin Allred began logging miles on it to get it broken in. He followed the manual's break-in schedule riding it between 35 mph and 45 mph hour until the requisite 300 miles was clipped off. After break-in we began taking it to the mountains in Island Park, ID and Palisades, ID, where the Nytro MTX LE, with its 130 horsepower (placing it in the 600cc to 700cc two-stroke class) gave us a pleasant surprise, confirming what we learned with the prototype in West Yellowstone.
When riding a Yamaha MTX, you must understand its operating window. Throwing the MTX into an 800cc gunfight will produce frustration, for Yamaha did not design the Nytro MTX to knock around with an RMK 800, M8 or Summit 800. However, Yamaha did design this snowmobile to be an all-around general snowmobile for the mountain rider who chooses to be multi-dimensional: trail, meadow, hill, ravine and deep-powder. The Yamaha MTX rider desires clean four-stroke technology, fuel and oil economy, electric start, and Yamaha's heritage for longevity. The MTX rider is not that concerned with power-to-weight, shooting the big bowls or being a freakish technical tree runner.
To that end, we kept the FX Nytro MTX SE 153 inside its design envelope and developed a good relationship with it. It has quiet and masterful torque that, from our early-season experience, keeps the track in check and the snowmobile moving forward. We have pushed our MTX to chase its competitors, our three 800cc mountain sleds, and while doing so, we drove smartly keeping the Nytro MTX snaking right and left to reach the peak; it makes old school driving exhilarating.
The MTX's FXG2front suspension with Fox FLOAT 2 shocks keep the ski stuck into a side hill when making the cut. But we have found the air shocks to be rather stiff on the trails, giving us harsh feedback through the bars. The superb MTX ski supports the vehicle in deep snow and allows it to make sharp turns in deep powder. In deep January snow, the front bumper and A-arms boiled up the snow in front of the vehicle and at times would almost lock up the MTX as the snow did not sweep away from the nose.
The Pro Mountain Air rear suspension uses Fox Float 2XV shocks instead of springs and control rods. Like the front suspension, we receive kickback when running the moguls. To that end, we felt we had to reduce air pressures on the front and rear suspension to give the MTX a softer, more rider-compliant ride.
The MTX's shallow 18-degree approach angle proves exceptional, gently lifting the MTX on top of the snow. The wide running boards give ample real estate for boot dancing. Conversely though, the boards held much snow.
We would like to see a larger capacity fuel cell, the 7.4 gallons shortens the day, as we've had to steal fuel from one of our 800s to make the trip home.
After riding the MTX hard and fast in the steeps and deeps, we came away impressed. It is sure-footed as compared to our previous season's 162. There are more than just subtle changes to the 2011.
2011 Yamaha FX Nytro MTX SE 153 Specs
Engine
Yamaha Genesis 1049, 4-stroke, three cylinder, 41mm Mikuni fuel injection
Horsepower
130
Drive
Yamaha YVXC variable ratio drive
Front Suspension
Yamaha FXG2 double wishbone with Fox Float 2 shocks and up to 8.5-in of travel
Rear Suspension
Yamaha Pro Mountain Air with Fox Float 2 shocks and up to 14.5-in of travel
Length
131.5 in
Height
47.0 in
Ski Stance
40.7 in
Track
15 x 153 x 2.25
Weight
N/A
Fuel Capacity
7.4 US Gal (Regular Fuel)
MSRP
US$12,499
Related Reading
2011 Yamaha FX Nytro MTX SE Review
2011 Mountain Sled Evaluation: Part One
2011 Mountain Sled Evaluation: Part Two
2010 Yamaha FX Nytro MTX SE 162 Review