2011 Yamaha RS Venture Review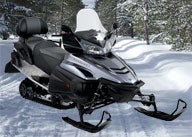 Trusted and reliable with unquestioned quality
You can expect Yamaha's 2011 Venture to perform flawlessly and reward your purchase decision with unquestioned value. But, that may not be enough if you compare the new "old" Venture to the new "new" Venture GT.
Fast Facts
Engine Type:Horizontal In-line
Cylinders:3
Engine Stroke:4-Stroke
Valve Configuration:DOHC
Displacement:973 / 59.4
Starter:Electric
Turbocharged:No
View Full Spec
The grand dame of Yamaha two-up sledding remains a fantastically built snowmobile that will give you many years of high mile riding. Despite its unquestioned quality, the 2011 Venture is aging into obscurity. We suspect that rental operators who need low maintenance and reliable sleds for their tourism business will opt for saving a thousand bucks or more per unit versus the newer model. Should you? Maybe not, but that is something only you and your bank account can decide.
The bottom line is that the 2011 Yamaha Venture remains a solid choice for two-up riding. Oh, it's not plush and fancy like a Ski-Doo Grand Touring or the latest Arctic Cat touring luxury ride. It remains a satisfying sled but we find it a bit difficult to weigh the difference between the carbureted tow-up and Yamaha's newer, fuel injected version — especially when the difference in suggested retain pricing is about US$1,100!
We won't dance around the engine issue. We've been impressed with the 973cc four-stroke triple. It works well. It has strong torque at start up and drives off smoothly with a passenger and driver. You wouldn't notice that it's a titch slow on the throttle thumb unless you compared it directly to the latest 'touring" motor — the down-powered Nytro triple measuring 1049cc and developing even more smoothness than the famed Venture/Vector Genesis three-cylinder motor. When Yamaha went for electronic fuel injection on the touring sleds, it opted to forgo updating the 973cc motor and trail-tuned the aggressive 1,049cc Nytro sport engine for improved drive-off torque and high-mile reliability. Heck, we'd prefer this version in the sport Nytro. You get all the rider-friendliness of the Venture motor plus more power and smoother EFI starting and running. Let's not sell the EFI short as it really adds to the pleasure of the new engine. The carbureted Venture works well, but the nearly instant-on starting afforded by the computerized EFI means you never think twice as you turn the key.
Of course, Yamaha knows that the Venture built up a strong following of fans simply because this two-up sled could be counted on day in and day out. This sled may be able to tour hundreds of miles in a day, but it isn't unusual to see the sled being used to simply cart the grandkids around on a weekend at Grandpa's farm or winter hideaway. Folks opting for a serious two-up sled aren't as concerned about weight as a sport rider. Having a sled that is ready to roll is important. Low maintenance is important to trail riders as well as rental operators. The Venture scores big in this regard.
The engine holds three quarts of oil that gets changed once a season. That saves a few bucks right there. The fuel tank tops off at 10.4 US gallons, and that's regular unleaded, nothing premium priced needed here. This is as close to start it and go as you'll get in the modern world of snowmobiling. Plus, since Yamaha pioneered 4-stroke engines across its model line, you get premium resale as owners know they — and their grandkids —won't smell like two-stroke gas when they wrap up their ride.
The 2011 Venture offers a very good ride as it enjoys a rigid chassis thanks to Yamaha engineering's Deltabox frame that was constructed to accept the mid-performance character of this Genesis engine. The front and rear suspensions work with the chassis to provide smooth travel over various quality trails. The double A-arm front end works with 36mm high pressure shocks to control upwards of nine-inches of travel. The ProComfort rear suspension gives the rider and passenger upwards of 12.4-inches of on-trail bump absorption from the gas shock controlled parallel skid rail.
The track measures 144-inches in overall length and measures 15-inches in width to provide good traction in varying types of snow conditions. The RipSaw pattern track comes with a lug profile height that sticks out 1.25-inches to grab loose snow.
Although this Yamaha two-up model pales a bit versus the ultra-plush likes of Ski-Doo's Grand Touring, you'll find a similar level of utility. The two-up seat can be quickly converted to single rider configuration — sans tools! This gives you extra cargo area to go along with the rear carrier. Ice fishermen and other winter sports enthusiasts will appreciate this feature. All riders will praise the tall windshield that deflects cold air off the handlebar ends and over the rider's helmet. The standard digital gauge is easy to read and in addition to the usual engine revs and ground speed it lets you keep tabs on the fuel level, thumb and hand warmer settings, plus engine temps.
Of course, as noted, this is the previous generation of Venture and its thousand dollar savings does cost you in features versus the most current version of Venture. In addition to the newer, larger and fuel injected motor, the Venture GT comes on the most current ride-forward platform and next generation front and rear suspensions complete with higher grade level shocks. While we accept the fact that the 2011 Venture is a solid and long-term winner at US$10,499, we have to admit that the newer Venture GT at US$1,100 more gives you commensurate value for the added dollars. Of course, in these economic times, you can most likely get a very good deal on the previous generation Venture, which will mean you win big time!
2011 Yamaha Venture Specs
Engine
Yamaha 4-stroke Genesis 973cc; bore/stroke of 79.0mm/66.2mm; three-cylinder, liquid-cooled; Three 40mm carbs
Horsepower
120
Drive
Yamaha YVXC drive clutch with Yamaha driven
Front Suspension
Yamaha A-arm with 36mm KYB HPG shocks and up to 9.0-in of travel
Rear Suspension
Yamaha ProComfort 144 parallel slide rail with 36mm KYB aluminum gas shock; up to 12.4-inches of travel
Length
123.4 in
Height
52.4 in
Ski Stance
43.0 in
Track
15 x 144 x 1.25 Camoplast Rip Saw
Weight
N/A
Fuel Capacity
10.4 US Gal (Regular fuel)
Features
Electric start, rear carrier, mirrors, reverse, backrest, LCD speedometer/odometer, one-year limited factory warranty
MSRP
US$10,499
Related Reading
2010 Yamaha Venture GT Review
2010 Yamaha Venture Lite Review
2008 Yamaha RS Venture Review
All Things Yamaha on Snowmobile.com