2011 Yamaha RS Viking Professional Review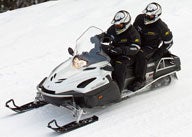 Yamaha engineers a rugged work mate for serious snow professionals
Serious snow professionals should look to Yamaha's 2011 RS Viking Professional for serious chores as it comes standard with all the necessary features to get any on-snow job done. Do you need to tow a sledful of wood to an on-trail warming hut? Do you need a snow vehicle that has to get a mechanic to a broken down groomer in the middle of the night? Are you a ski slope operator who needs a reliable vehicle to assist your ski patrol in getting injured skiers off the mountain? Are you a small snowmobile club that needs a nimble piece of equipment to help maintain narrow feeder trails to those on-trail restaurants that support you?
Fast Facts
Engine Type:Horizontal In-line
Cylinders:3
Engine Stroke:4-Stroke
Valve Configuration:DOHC
Displacement:973 / 59.4
Starter:Electric
Turbocharged:No
View Full Spec
Let's not pretend that the 2011 Viking Professional is new and bold. This vehicle has been around in various guises for quite some time. It just happens to get better and better every season as Yamaha engineering evolves this genre of sled. That evolution has taken the wide-tracked Yamaha utility model from fan-cooled two-stroke to its current 120-horsepower, one-liter four-stroke configuration. The 973cc Yamaha designed and built snowmobile engine uses three cylinders and a serious guttural grunt at low revs to mate with a transmission that offers two forward gears — a high and low range — and a reverse gear. Unlike the synchronized gearbox in some Ski-Doo work models, you must come to a stop in order to shift from one range to another in the Yamaha.
The entire Viking Professional powertrain rates as one of the most solidly reliable in the entire snowmobile business. The four-stroke triple features a hot firing digital electronic ignition to assure positive starts and consistent fuel burning. The intake relies on a threesome of venerable 40mm carburetors, which adds to the sled's reliable performance. This entire system of engine and tranny has been well tested on snow-packed job sites for a long time. It is virtually bulletproof and exactly what serious snow workers want.
The power gets fed to a huge snow paw that slaps 20-inches of width to the snow. The overall track length stretches 13-feet (156-inches) around a specially designed parallel rail slide suspension that features an articulated rear section. The ProAction Plus suspension gets great grip from the modified Camoplast RipSaw track and its 1.25-inch lug profile. But it also flexes thanks to the articulating action of the rear suspension, which minimizes the sled's trenching action when reversing in deep snow. This is a very good feature when you consider that this over-sized workhorse is the heaviest sled in Yamaha's 2011 model line.
Rugged construction comes from the use of a Deltabox front section that not only allows the drivetrain to sit low and behind the ski centerline, but functions as a rigid stress member of the sled. The tunnel, unique to the Viking Professional to accommodate the wide track and suspension, permits use of a long and wide riding area with cavernous under seat stowage. A removable passenger pillion comes standard, as does a generous rearmost cargo area.
The Viking Professional could seriously benefit from the just introduced Electric Power Steering used on the latest Apex, although we found the non-power assisted steering relatively light. That comes from the sled's good front to rear balance and use of wide "SUV" plastic skis and the latest Yamaha wishbone front suspension. The Yamaha-design combines short spindles with long, curved A-arms to deliver more than a half-foot of front travel from a caster angle of 23-degrees. You'll note that the front suspension arms are curved to help protect against catching hidden branches or other off-trail flotsam.
You might be a bit surprised to see a center strap sprouting from the Viking Professional's straight handlebar set. A fixture on mountain sleds, the center strap lets you hang off the wide runningboard to get your weight outward for maneuvering in deep or loose powder. Don't kid yourself, this sled will not layover like a Nytro MTX, but the strap can be handy nonetheless.
This sled is a heavyweight worker. A look at the industrial strength tow hitch is one clue. The high, wide and functional windshield is another clue to the nature of this beast. There is some distortion in the plastic screen, but it's minimal whereas its functionality is maximum.
The purpose of the 2011 Viking Professional is utility. It looks like a utility sled, all business from the front wrap bumper to the rear cargo deck. The "go-to" features like a hydraulic brake are top notch. This Yamaha designed brake features four-piston operation on a ventilated, lightweight rotor to haul in the sled and its cargo. The handlebar comes with heated grips for your hands and throttle thumb. The dual headlights have halogen bulbs to light up your pathway at night. Dual rearview mirrors come standard, as does an electric fuel gauge with low fuel warning light. There's a standard LCD display to give you trail speed, engine speed and distance traveled. There's even a DC outlet to power your GPS.
Ruggedly built to give you solid service for many seasons, the 2011 Viking Professional blends in a proven four-stroke powerplant with a Hi/Lo-range tranny and wide track snow print. This is a serious snowmobile for serious chores.
2011 Yamaha RS Viking Professional Specs
Engine
Yamaha 4-stroke Genesis 973cc; bore/stroke of 79.0mm/66.2mm; three-cylinder, liquid-cooled; Three 40mm carbs
Horsepower
120
Drive
Yamaha YVXC drive clutch with Yamaha Hi-Lo forward range and reverse gear box
Front Suspension
Yamaha A-arm with KYB gas shocks and up to 6.7-in of travel; SUV extra width plastic skis with carbide runner
Rear Suspension
Yamaha Pro Action Plus with articulated slide rail; KYB high pressure gas shock; up to 11.5-inches of travel
Length
128.7 in
Height
54.3 in
Width
47.2 in
Ski Stance
40.2 in
Track
20 x 156 x 1.25 Camoplast Rip Saw
Weight
NA
Fuel Capacity
10.6 US Gal
MSRP
$11,499
Related Reading
2009 Yamaha RS Viking Professional Review
2011 Yamaha Phazer RTX Review
2011 Yamaha FX Nytro XTX Review
All Things Yamaha on Snowmobile.com