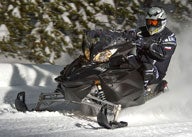 One of the sport's best performers
Take a serious look at the 2012 Yamaha Apex. Ride it. And then you'll understand why we listed this sled as one of our Model Year 2012 performance sleds of the year. This is a snowmobile designed to be ridden every day of the snow season for as many miles as its rider cares to go.
Fast Facts
Engine Type:Horizontal In-line
Cylinders:4
Engine Stroke:4-Stroke
Valve Configuration:DOHC
Displacement:998 / 60.9
Starter:Electric
Turbocharged:No
View Full Spec
Let's get serious here. Yes, there are snowmobilers who want to tweak their sleds. For them, playing with the sled's suspension setup is a part of their riding experience. They want to be involved, be interactive with their sled's mechanics.
Then there is the snowmobiler who wants to snowmobile, to ride, to make miles, to enjoy what the sled can do for him. This rider is every bit as serious as the tinkering rider, perhaps even more so as this rider searches for a sled that will allow him to ride when, where and whenever he wants. Not all sleds are created equally and this rider knows that, either through word of mouth or through personal experience.
When it comes to the serious everyday snowmobiler, the rider who counts on his sled to work as consistently as his tow vehicle, a snowmobile must be reliable and durable. But, because this rider is a snowmobile enthusiast, he wants all the latest technology. After all, at the end of the day when stories are swapped, he wants to let his buddies know just how well his sled works. Just how high-tech it is. And why he didn't need to tinker with it and why he could still accelerate away from his two-stroke buddies. That's assuming this serious snowmobiler rides a Yamaha Apex.
While Yamaha offers variants of the Apex, all you need to know about this model is contained in the base setup. The "base" Apex retails for US$13,999 while the Apex SE with its Fox Float shock package lists for US$14,949 and the Apex XTX with the longer 144-inch track retails for U$14,399. In reality, if you can handle the price of the base model, you could probably ante up the extra cash for either variant. That's up to you, of course. We'd stay with the base Apex.
In the past, so-called "base" models suffered with a lack of features that you'd want. The 2012 Yamaha Apex does not. All Apex models are essentially the same under the hood. The basic suspensions vary a bit, but the things that you really want are the same in each Apex version.
Two seasons back, Yamaha moved us off our persistent stance that the Vector was the best sled in the Yamaha line. We felt that its fuel-injected triple offered the best on-trail performance. It didn't feel as heavy to push through tight trails as the four-cylinder Apex. That and our opinion all changed as a result of two very different changes Yamaha engineering made in the Apex package — electric power steering and EXUP exhaust tuning.
As far as we are concerned the two changes go hand in hand, meaning that each upgrade serves to make each change beneficial to each other. Power-assisted steering certainly makes the Apex easier to ride at low speeds and when cornering. But the added width of the 998cc Genesis four-stroke's torque curve gives the rider greater flexibility for powering in curvy forest trails. Easier, lighter steering combined with easier to use power makes the Apex an absolutely fun sled to ride anywhere.
That EXUP power tuned exhaust gives you great low-end grunt, serious midrange and simmering top end. What you end up with is a sled that combines all that we liked about the Vector, plus the excitement of an Apex. What's not to like here?
As most Yamaha enthusiasts know, the Genesis four-stroke came to snowmobiling via Yamaha motorcycles, where the powerplant highlighted a series of world-class road bikes. The latest iteration of the one-liter Genesis quad has been fitted with Yamaha's EXUP exhaust system that virtually eliminates any flat spots in the engine's power delivery from idle to wide open throttle. While unique to snowmobile engines, EXUP has been a Yamaha motorcycle feature since 1987. In the top line Apex the computer-controlled EXUP uses butterfly control valves to maximize torque without sacrificing top end revs. The system results in a "greener" engine as it reduces emissions.
When Yamaha engineering decided to add the EXUP exhaust, other modifications were made as well. The entire exhaust saw upgrades including a larger 38mm 4-into-one titanium exhaust. The sled's rear frame had to be modified to accommodate a shortened muffler. While the exhaust side got updated so to did the intake side of the Genesis four-stroker. The air box was modified with new intake funnels. There was a revision of the intake cam timing. The intake valves' lift angle increased from 104-degrees to 109-degrees to accommodate the intake/exhaust valve changes required by the EXUP system. In addition, the engineers upgraded the pistons with a new dome shape for improved combustion. The new pistons reflect a lightweight forged aluminum construction that results in less vibration and quieter engine operation.
These resulting changes make for a sled that gives you the low to moderate operation that made the Vector famous with the straightaway speed of the Apex series. It's like having the best of both models.
Adding to that distinction is an upgrade in the Apex 128-inch Monoshock RA 2 rear suspension. Designed to accommodate the longer length 128-inch Ripsaw track, the parallel slide rail unit is said to offer improved anti-bottoming characteristics and a smoother ride. Although the update from the old Apex 121-inch track to a 128-in one doesn't seem like a big deal, the added inches of on-trail grip helps when you slam in the throttle on a 150-plus horsepower engine.
We've found Yamaha's Monoshock to be one of the more user-friendly suspensions to adjust. The standard 46mm KYB high pressure gas shock allows for a great deal of adjustability and can handle varied terrain with up to 11.6-inches of travel.
The Apex front suspension needed a revision to accommodate the electric steering assist. The new double A-arm design allows greater tune-ability that can be done with either the standard Apex ski or the addition of the optional Yamaha dual-runner "tuned" ski design. Either way, you'll notice that steering effort has been knocked back a lot. The EPS inputs more assistance at low speeds and backs off at higher speeds. The front end uses a sway bar to control side to side movement and 40mm aluminum shocks to handle the available 8.5-inches of travel.
All of the Apex models offer virtually the same travel front to rear, so you don't give up anything between models. While the SE adds Fox Float shocks, we're a bit lazy and can easily live with the base gas shock package and make the quick adjust rear suspension change, if necessary, during a stop to check the trail map.
The Apex enjoys a number of "quiet" features that make this sled more enjoyable as a trail partner. The drive features extrovert drivers and replaceable suspension wheel bearings. For greater durability you could opt to install Yamaha's all-new hyfax with DuPont's Vespel material said to provide greater resistance to heat and wear.
One of the features that puts the Apex ahead of the Vector for us is the new Apex seat, which actually puts your hips up about two-inches higher. Doesn't sound like a big deal but it really is if you want to ride all day. The seat design also allows for a rear storage area big enough for water bottles, spare gloves or goggles.
In general riding we find the Apex to be a very well rounded sled that can adapt to a performance rider or serious high mile snowmobiler. It has a very good wind-deflecting windscreen, a far cry from the flyspeck Yamaha windshields of old. You'll find DC outlets for a cell phone and an RCA-style outlet to accommodate a heated visor.
And, of course, the Yamaha Apex offers standard electric start, a mechanical reverse, hooked handlebars, high output hand and thumb warmers and the only four-stroke, four-cylinder powerplant in all of snowmobiling. When you push in the throttle and feel that four-stroke rush, you'll know why we picked this 2012 Yamaha as one of the season's best performers.
2012 Yamaha Apex Specs
Engine
Yamaha Genesis 150FI; 998cc, 4-cylinder, 4stroke, liquid-cooled; electronically controlled fuel injection; EXUP exhaust
Horsepower
150-plus
Drive
Yamaha YVXC
Front Suspension
Yamaha short/long arm wishbone; 8.5-in travel; 40mm aluminum-bodied high pressure gas shocks
Rear Suspension
Yamaha Mono Shock II RA; 11.6-in travel; 46mm KYB high pressure gas shock
Length
111.6 in
Height
47.6 in
Width
47.2 in
Ski Stance
42.8 in
Track
15 x 128 x1.25 Rip Saw
Weight
575 lbs (est)
Fuel Capacity
9.4 US Gal
MSRP
$13,999
Related Reading
2012 Yamaha RS Vector EPS Review [Video]
2011 Yamaha RS Vector GT Review
2011 Yamaha Apex SE Review
2010 Yamaha Apex GT Review