2011 Yamaha Apex SE Review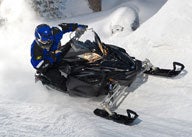 Top-of-the-line sled offers plenty of extras
Forgive our lack of humility when it comes to the "premium" line of Yamaha snowmobiles. Not so long ago Yamaha seemed to be a struggling snowmobile company looking for an identity, which we thought was incredibly obvious and sitting right under their corporate nose. Quality. Premium pricing justified by exceptional overall quality, which translated into overall long-term value. Why didn't they see it. It was obvious to us.
Sometimes our compact snowmobile industry tends to look inward a bit too much. We worry what the competition is doing and let it dictate what we do. That is logical to a point, but it is important to view where the differences lie. To be a leader is not to always be a follower, letting your competition decide your program. Seemingly Yamaha had fallen into that trap, even if they didn't believe it.
4-Stroke Commitment
When Yamaha made the decision to focus on 4-stroke powertrains, the company knew it would be beaten up over weight and complexity. In the short run that has been true, but as government emissions regulations come into force now, Yamaha looks pretty darn good. The Japanese-based powersports manufacturer has created a very strong line of quick, quiet and high quality motors that are incredibly easy to maintain — an oil change once a season isn't too hard, is it? The engines consistently power intrepid Yamaha enthusiasts to high mileage records. And there's that intangible simply known as quality.
Yamaha now finds a way to promote its quality. Using a well-known auto and motorsports third party to verify its claim, the Kelley Blue Book verifies that Yamaha 4-stroke snowmobiles have exceptional resale value — bred from overall quality.
Even before Yamaha switched focus to 4-strokes, the company differed from its competition. Heck, we used to poke fun at Yamaha for how careful it was when testing and proving new models. Few snowmobile companies that we've known in our years of writing about the sport ever took research and testing to the lengths we see Yamaha do it. Out of that prolonged effort came sleds with incredible quality.
Top Of The Line
For 2011 the latest top of the line Yamaha Apex SE not only offers exceptional value but a level of real sophistication not fully appreciated by even the most diehard Yamaha enthusiast.
At our initial introduction to the 2011 Yamaha Apex, we were actually under whelmed. As we've learned more about the 2011 Apex, we've become more and more impressed. At literal "face value," the 2011 Apex doesn't seem all that different from the 2010, even when you place the two model year sleds side by side. But in reality, the 2011 Apex is virtually all new by comparison. Yes, the body appears the same, but look carefully, the 2011 parts won't readily fit a 2010. The 2011 seat seems familiar, but it raises the rider's hips for better seating, greater comfort and improved ergonomics.
Under the hood the base Genesis 4-cylinder motor appears the same, but it gets a major performance upgrade that gives you linear torque from off idle to fully open injectors. The new EXUP power assist runs off computerized programming that creates the best of all possible performance worlds. You get smooth drive away, solid midrange with exceptional pull and improved top end in the plus-10,000 rpm range.
Power-Assist Steering
Then there is the electric power assisted steering which uses computerized programming to deliver more steering assist at slow speeds and light assist at top end. The result is a 4-stroke performance sled that motors as easily and lightly as a two-stroke 340cc in the slow going, twisted forest trails but comes with steering bite when you push in the throttle for some aggressive trail action. The power-assisted steering effectively takes away the argument of the Apex feeling heavy and tiring. It may weigh the same as ever, but the power-assisted steering renders that effect moot.
With a light feel and strong power on tap, you'll want a ride to match, here we admit to ambivalence. The standard dial suspension works just fine and that's what you get with the base Apex. It's tried and true and easy to set. But, if you want to maximize the Apex ride, you will have to earn that superior ride found with air shocks in the Apex SE. Since barometric air pressures change from weekend to weekend, you'll want to make an adjustment by increasing or decreasing air volume in the Apex SE air shock front and rear.
The Apex SE is fitted with Fox FLOAT 2 shocks on the front A-arm suspension with the new Fox Mega-FLOAT controlling ride characteristics on the Apex SE MonoShock II RA128 rear slide rail design. Adding air is as simple as adding air to road bike tires, simply use the air pump to set the pounds per square inch to where you like it and cap it. You'll want to play around with the settings the first ride or two, but you'll find your preferred ride setup. Make a note and add it to your "favorite" settings.
The air suspension Apex SE is the top of the line and is priced like it at US$14,949. But it is a high quality snowmobile with all that you'd expect from Yamaha — power, easy assist steering, exceptional ergonomics, ease of operation, which means you'll be out on the trail riding and not parked. No, Yamaha has always been a quality operation, but it hasn't been until the past few seasons that Yamaha decided to play on its quality as being one of the things that sets its snowmobiles like the Apex SE apart from the competition.
2011 Yamaha Apex SE Specs
Engine
Yamaha Genesis 998cc, 4-stroke, four cylinder, Digital 39mm fuel injection with EXUP power exhaust
Horsepower
150-plus
Drive
Yamaha YVXC variable ratio drive
Front Suspension
Yamaha double wishbone with Fox Float 2 shocks and up to 9-in of travel
Rear Suspension
Yamaha MonoShock II RA 128 with Fox Mega-Float and up to 11.6-in of travel
Length
111.6 in
Height
47.6 in
Ski Stance
42.7 in
Track
15 x 128 x 1.25 Camoplast RipSaw
Weight
N/A
Fuel Capacity
9.2 US Gal (Regular fuel)
MSRP
$14,949
Related Reading
2011 Yamaha Snowmobile Lineup Preview
Yamaha Unveils Electronic Power Steering
Inside Yamaha's EXUP Exhaust
2010 Yamaha Apex GT Review
2010 Yamaha Apex MTX Review
All Things Yamaha on Snowmobile.com