2013 Yamaha FX Nytro XTX 1.75 Preview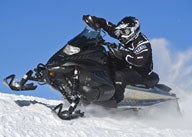 A sled designed to satisfy two worlds of crossover buyers
Whatever you may think of Yamaha, never underestimate the company's capacity to research its customers and the products they want. Case in point is the new for 2013 FX Nytro XTX 1.75. It comes with all the solid virtues of the Nytro plus an evolved rear suspension and, more importantly, the track that spins around it.
The reason this Nytro carries the "1.75" label comes from the usage of an all-new Camoplast-supplied rubber track with a 1.75 lug profile. Yamaha and Camoplast have worked together in the past to help evolve the world of snowmobile traction. The Ripsaw track appeared on Yamaha sleds first. The two companies worked up ideas for getting up tall mountains and running through deep powder. Now the two companies have combined talents to rethink what crossover riders really need.
Based on some serious research of snowmobiling's end users, Yamaha found that crossover buyers opt in for various reasons, but one of the biggest ones centers around the versatility that this snowmobile offers. The elongated track hits a sweet spot between hot rod short trackers and too-long mountain tracked sleds. In Yamaha's case, the new 2013 Nytro XTX 1.75 comes in a 144-inch track length. Now that's a bit longer than the more common 136-inch sizing. But Yamaha always got around that by kicking the rear of its suspension rails up just a titch to give riders the handling of a shorter track combined with the flotation they expected from the longer track.
Using that thinking, Yamaha goes one better. Enter the Yamaha-specified but Camoplast-built Back Country track. It measures 15-inches across. Standard fare. It stretches out 144-inches, a little longer than some crossover tracks. But it splits the call between a 1.5-inch lug height and a two-inch plus height. Yamaha feels that the 1.75-inch lug height is a perfect balance as it is easy to control on groomed trails, but affords good traction in fresh powder. Or, as Yamaha will tell you. You can ride the weekend in flatland terrain and a few days later can off-load in a mountain park and ride at 11,000-feet powder altitudes with confidence.
In its corporate research, Yamaha saw that 2-inch or taller lug profile tracks work well for powder riders, but not all crossover riders work much powder. By the same token, the standard profile lug trail height of 1.25-inches works well for groomed trail riders, but lacks grip when taken off trail. The compromise that seemed to suit the masses and offer the greatest versatility was 1.75-inches. And it satisfies a product demand in a consistently growing sales segment by offering just one model that is more adept for a larger number of riders.
Yamaha feels that the XTX 1.75 will satisfy the needs of core crossover riders. In a 2009 survey Yamaha discovered that only half of the crossover riders used their sleds for off-trail riding while the other half were content with on-trail excursions. So, instead of offering a sled that would make 50 percent of the rough trail riders and 50 percent of the groomed trail riders happy, Yamaha figured let's make 100 percent of Nytro XTX buyers happy!
This 2013 Yamaha will come with a "new" label, but it is more an evolution than something that is all new. From a Yamaha fanatic's view this is good. That means the XTX 1.75 retains the more aggressive version of the 1049cc four-stroke drivetrain. Versus the milder Vector triple, which shares much of the same basic engine, the Nytro motor has programming, clutching and internal workings that make it hit harder when you slam the throttle flipper to the bar. Its powertrain is designed specifically to give the big bump rider a feeling of on-the-throttle control. It is tuned to pick up the skis on a full hit of fuel as its entire fuel injection bong pumps the juice in a different flow than what the slightly more laidback Vector rider wants. Nytro riders want quick action. They want to skid back in the saddle and stand tall over deep moguls.
The Yamaha Nytro XTX 1.75 not only gets the new track but also adds the Tuner dual-keel skis as standard equipment. So, now you can see that the recent additional options announced over the summer and early winter were pre-planned to make you wish for a sled that came with the new goodies. Here it is. And it also adds in a top notch high pressure gas shock package, an auxiliary heat exchanger for increased cooling capacity and a specially tuned Dual Shock CK 144 rear suspension for the new track to spin around.
Because the company's rider survey data shows that crossover riders may have traded in a shorter-tracked sport trail sled, it would be wise to give them a sled that blends in what they liked about their old model with the benefits of the new 1.75 tracked one. It appears that is just what Yamaha has done.
If successful, Yamaha can grab sales and, it hopes, happy customers, from both sled groups — performance trail riders and big bump bangers. When you look closely at the 2012 Nytro and the evolved 2013 Nytro XTX 1.75, you can see that Yamaha may be on to something. The kicked up rail gives the short track rider his nimble handling. The longer track provides a bridging effect for added comfort on semi-rough trails. And the 1.75-inch lug height manages groomed trail grip without any offensive noise or any erratic on-trail handling of tall lugs. The longer track works to add flotation off trail with good grip from the 1.75-inch profile. Yamaha hopes to convince you that this is best of all worlds.
What the company already knows from its research is that power to weight performance counts more than weight alone. Face it. Big power and great low end to midrange torque count off trail. Of course, there is always the battle over weight but expect the Nytro XTX 1.75 to be extremely competitive in the all-important power-to-weight performance criteria. And, as if Yamaha will let you, don't overlook the fact that it was a Yamaha XTX that beat out the competition with a best-in-class quarter-mile acceleration run and end-of-the-quarter top speed. Then, of course, there are the issues of Yamaha quality, which is said to result in superior resale value, reliability, dependability and so on. All Yamaha ascribed virtues that keep you on the snow and out of the dealer's fix-it shop.
Look for this sled at upcoming Yamaha snowmobile demo rides later this season and get the feel for this best-of-all-worlds sled and judge for yourself if Yamaha has read its survey data correctly.
2013 Yamaha FX Nytro XTX 1.75 Specs
Engine
Yamaha Genesis 130FI; liquid-cooled, 1049cc 4-stroke triple; bore x stroke, 82.mm x 66.2mm; Mikuni 41mm fuel injection
Horsepower
130
Drive
Yamaha YVXC variable ratio drive and driven
Front Suspension
Yamaha FXG2 double wishbone; 8.5-in travel; high-pressure gas shocks
Rear Suspension
Yamaha Dual Shock CK144; "kick up" rails; gas shocks
Brake
Yamaha 4-piston hydraulic with lightweight disc
Track
15 x 144 x 1.75 Camoplast Back Country
Length
119.8 in (2012 Nytro XTX)
Width
NA
Height
NA
Ski Stance
41.3 in (2012 Nytro XTX)
Weight
NA
Fuel Capacity
7.4 Gal
MSRP
NA
Related Reading
Yamaha Unveils FX Nytro XTX with Deep-Lug Track
2011 Yamaha FX Nytro XTX Review
2012 Yamaha Nytro MTX 162 "Boosted" Review [Video]