2015 Yamaha SR Viper R-TX DX Review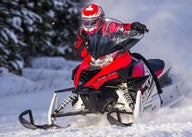 A simply terrific all-around sled that does everything you need
Let's not kid ourselves; Yamaha did well with its Arctic Cat-based Viper models. Heading into model year 2015, the company literally heads for the hills with a fleet of Viper M-TX models that feature the same basic one-liter power delivery system as in the trail models, but surrounds it with a Cat designed "M" series platform and suspension set up. As for us low land riders, Yamaha continues evolving its trail models.
Fast Facts
Engine Type:Horizontal In-line
Cylinders:3
Engine Stroke:4-Stroke
Valve Configuration:DOHC
Displacement:1049 / 64
Starter:Electric
Turbocharged:No
View Full Spec
If you stop at a Yamaha snowmobile dealership, you'll discover that the base SR Viper moves more upscale and is now the SR Viper R-TX DX. This past season, we had the original "base" Viper in our small test fleet. We liked it and found that there was nothing basic about it. So, what's the hoopla for 2015 and the new nomenclature?
Frankly, to our way of thinking, the Viper designation as R-TX DX should have been on the 2014 model. Check it out. Both the 2014 and the similar but renamed 2015 model offer quite a bit of nice-to-have basics. The 2015 DX just ups the game a titch. Both years' versions provide you with a heated seat, tall wind-defeating windshield, large-enough rear-mounted storage bag and supple suspensions. Actually, Yamaha marketers were in a quandary last season as some felt that the "Deluxe" appellation should have been added to the base vehicle's designation. Who knows why it didn't happen, but it does happen for 2015.
Fundamentally all short-tracked Vipers are and have been R-TX models. Perhaps Yamaha felt that the RTX designator on a base Viper model would injure sales of the Nytro RTX, which the Viper supersedes. Whatever, the Viper trail models had to outsell the Nytro hands down.
COMPARISON: Read our review of the 2014 Yamaha SR Viper
Based on our personal experience with the base Viper, we totally expect the 2015 R-TX DX to be more than a worthy successor. Even considering that much remains the same, the 2015 version immediately moves ahead based on the addition of Yamaha's own Tuner ski. This dual runner ski allows you to customize your settings to limit wander and darting that we found on the base 2014 Viper. Of course, Yamaha only supplies the sled with a basic generic combination of inner and outer runners. You'll need to purchase any other runners from the dealer to change the stock set up.
We can report that our rides on various 2015 pre-production Vipers in West Yellowstone tracked well. We also have to state that the Yellowstone snow conditions wouldn't generate any serious darting episodes anyway – unlike the ones we encountered with the 2014 Viper back in Minnesota a week after we left the test area. We seriously doubt that even Tuner skis would have conquered those conditions of deep-set frozen in-place ski ruts. That's why we note that the stock Tuner set-up for 2015 Vipers is more of a "best guess" for what Yamaha engineers estimate will be the best all-around compromise. We won't disagree.
We will agree that the 2015 Viper R-TX DX offers serious, but technically disinterested snowmobilers the best all-around personality for trail riding. This sled invites riding. It features "basic" coil over gas shock front and rear shocks that need minimal ride tuning. Once you set the ride-in sag and deduce a comfort and handling setting for the front double A-arm suspension, you'll barely need to touch the shock set up again. But you can make adjustments on the trail if need be as Yamaha fits a shock spanner in the tool kit.
You won't need to worry about performance either as the Vipers are all fitted with the higher performance version of Yamaha's nearly bulletproof 1049cc three-cylinder four-stroke. Similar in displacement to the Vector triple, this version offers more performance from different cam settings to up the power a bit and get it to spike a little quicker. The Vector version of the mid-performance Genesis 1049cc has been tuned for broader low end to midrange performance that long haul riders and two-up touring sledders find more appealing. Viper riders want more action and a quicker sensation of power. We find the throttle response and pull to midrange completely adequate with the Viper. Hey, it won't beat an 800cc two-stroker, but it will hold its own versus an everyday 600cc two-stroke sport sled. And, that's what Yamaha intended.
COMPARISON: Read our review of the 2014 Arctic Cat ZR 7000 Sno Pro + Video
As an all-around terrific snowmobile, the 2015 Yamaha Viper R-TX DX scores huge points. This is a sled that is built to be ridden every day. The powertrain of Yamaha triple combined with the Yamaha drive and driven clutching is not simply reliable, but cost efficient. Remember, you only have to add oil (and a filter) before the riding season and then simply keep the 10-gallon fuel tank filled up with 87 octane gas to get maximum enjoyment.
That enjoyment continues to heat up the first time you flip the low-high toggle switch on the standard heated seat. This is the "deluxe" version, remember! And, while your buddies with their racy, low cut windscreens are freezing their noses and frosting their eyeballs, you're secure sitting behind an unglamorous but highly effective Viper DX windshield.
Comfort comes in many ways. Yes, there is the heated seat and tall windshield, but also there are 13.5 inches of suspension travel from the SR 129 rear suspension and ergonomic comfort with the tallish but rounded Viper saddle and curved handlebar. Plus, for 2015, the DX adds more outward style with a bright red and white combination or a very stealthy black and silver trim. When looking at the 2015 DX color combinations, maybe the 2014 base Viper was, well, too basic. That won't be the case with this edition.
COMPARISON: Read our review of the 2014 Ski-Doo GSX LE ACE 900 + Video
Yamaha redefines deluxe with its R-TX DX. Electric start and a push button-actuated mechanical reverse come standard. There's a very informative digital display that lets you move various output on the display screen. The rear storage bag can hold a spare drive belt – plus, extra tools and a towrope to help your buddies if they get into trouble. Hey, this is still a Yamaha and that drivetrain has been rated as one of the most reliable and durable in the snowmobile business. The only place where we see the Viper falling down a bit comes from the sled's fit and finish. It seems to be improved for 2015, but remember to set your expectations a bit lower on the "Yamaha-scale." This sled may be powered by Yamaha, but it is built by Arctic Cat and we couldn't help but notice the differences between the Yamaha-built and the non-Yamaha built models. For the most part, only long time Yamaha owners would recognize the differences. Long time Cat owners wouldn't know what we're talking about. They'd accept the fact that sometimes the grey reverse pushbutton wouldn't come back out. Or, that some cowling pieces didn't fit or line up as well as they would on, say, a Yamaha Vector or Apex.
All of that aside, we'd much rather have the 2015 Viper R-TX DX than a Nytro. Ah, heck, we'd rather have it over a Vector for that matter. The Viper R-TX DX is simply a terrific all-around sled that can handle off-trail moguls well enough, corners extremely well, sits comfortably and, most importantly, brings a kid-like smile to any serious trail rider. It just does everything you want in a sled.
2015 Yamaha SR Viper R-TX DX Specs
Engine
Yamaha Genesis four-stroke high-performance 1049cc; bore/stroke of 82.0mm/66.2mm; three-cylinder, liquid-cooled; 41mm electronic fuel injection system; dry sump lubrication
Horsepower
130+
Drive
Yamaha YVXC drive clutch with Yamaha driven
Front Suspension
Yamaha SRV tall A-arm with rebuildable HPG aluminum shocks; up to 10.0-in of travel
Rear Suspension
Yamaha Dual Shock SR 129 parallel slide rail; aluminum rebuildable high-pressure gas shocks; up to 13.5-inches of travel
Brake
Hayes radial master cylinder hydraulic brake system with disc mounted on drive shaft
Length
118.0 in
Height
48.8 in
Width
48.0 in
Ski Stance
Adjustable 42-43-in
Track
15 x 129 x 1.25 Camoplast Rip Saw II
Weight
N/A
Fuel Capacity
10.0 US Gal (Regular fuel)
Features
Heated seat, rear storage bag, digital gauge, push button reverse, electric start; Yamaha Tuner skis
MSRP
US$12,399