2014 Arctic Cat ZR 7000 Sno Pro Review – Video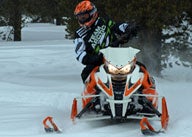 Proof that the Cat/Yamaha collaboration works!
For fans of the old Arctic Cat and Suzuki hook-up, relax, you can still get what used to be called the F1100 but comes into model year 2014 as the ZR 5000. By pre-2014 standards that sled worked well enough as Cat's answer to the "600" category of trail performance models, which are mostly led by true 600cc two-strokes like the Ski-Doo MXZ 600 and Polaris Indy 600 SP or 600 Rush. The F1100 worked just fine, but anyone who owned one and expected to hammer trails like they could with the two-strokes had to be disappointed. We were.
Fast Facts
Engine Type:Horizontal In-line
Cylinders:2
Engine Stroke:2-Stroke
Valve Configuration:Reed Valve
Displacement:794 / 48.4
Starter:Pull
Turbocharged:No
View Full Spec
Heading into 2014, Arctic Cat's trail savvy ProCross chassis finally gets the power choice it deserves and it really wakes up this sled, making it as desirable a trail sport performer as you can imagine. The addition of the Yamaha Genesis triple makes an unbelievably good impression in this platform. Where the larger displacement Suzuki four-stroke twin was "okay," the triple cylinder Yamaha is great!
Who would have thought that this engine change would make such a difference in this chassis? After all, Cat went from a twin to a triple, wouldn't it be heavier, bulkier and just trading one very reliable engine for another? And wouldn't the change necessitate engineering issues to mount it and stick the exhaust out the rear like Yamaha's Nytro, which uses the same basic motor?
COMPARE: Read our review of the Arctic Cat F1100 LXR
Let's just say, that whatever issues Arctic Cat engineering may have had transitioning to the triple-cylinder Yamaha, they were handled in exemplary fashion. You will notice that some brackets and other underhood pieces have been either reshaped, relocated or, in the case of the three-into-one exhaust, totally re-imagined to fit so that the pipe dumps into a right-side mounted exhaust canister.
Since it's very common for both Yamaha and non-Yamaha riders to chastise the Japanese-based snowmobile manufacturer for excessive weight and heavy steering to the point that Yamaha introduced electric power steering to lighten the load, you'd expect similar issues with the new ZR 7000. S-o-o not the case. We admit to being truly surprised as we find the Nytro a bit of a handful in the handling department. Not the case with the ZR7000.
When it comes to the new for 2014 Arctic Cat and Yamaha collaboration, snowmobilers win big time and maybe Arctic Cat snowmobilers most of all. Let's face it, Arctic Cat conceived, engineered, tested and manufactured this ProCross design and has had years to understand how it works. Yamaha engineers have had months and they are still trying to figure out what its corporate identity should be. Is it a sport cruiser? Is it a full-on Nytro replacement? Is it a partial replacement for Vector and Apex models? Yes, there are five Yamaha iterations of this Arctic Cat-based Viper series, but when it comes to understanding what the Yamaha engine and Arctic Cat platform can be, no company other than Arctic Cat truly has the understanding of how to really, really make it work for its customers.
We've already stated that out favorite Viper is the stretch-tracked LTX SE. But when it comes to the Arctic Cat ZR series, we prefer the ZR 7000 Sno Pro with the shorter 129-inch Ripsaw track. This sled rocks the trails like we had hoped the Suzuki-powered version would have. Indeed, the Yamaha triple wakes up the ZR like we can't believe.
COMPETITION: Read our review of the Polaris 600 Indy SP
In reality the only major difference between the ZR 7000 and last season's Arctic Cat F1100 lies under the hood. With the addition of the Yamaha triple you gain a cylinder and, believe it or not, you actually drop weight and gain quick rev response. It's crazy, but the Yamaha triple is rev-crazy where the Suzuki twin seemed reluctant to tap into its top revs. Right away you have a four-stroke 600-class sport sled that likes to rev almost as much as a two-stroke. We can't think of any other 130-horsepower sled that revs up like this Genesis. Not the Ski-Doo 1200 4-Tec triple. Not the 1056cc Suzuki.
And that so-called weight issue becomes a non-factor as the Yamaha is actually lighter and more powerful than the previously used Suzuki. The Yamaha adds a very willing and capable 10 extra horsepower to challenge those 600 two-strokes down the trails. With the Yamaha triple, this Cat is a whole new machine with sass and attitude.
There have been some updates to what was the F1100 series from last season. But chassis and suspension systems will have a déjà vu sense to them as the Slide-Action rear suspension and tall spindle front end remain with virtually no change other than to account for chassis tuning to accommodate the new Yamaha triple. Of course, the Sno Pro version comes with top line Fox Float 3 adjustable shocks up front.
The ZR 7000 ergonomics are excellent. The riding position is made nearly perfect by the new seat with its excellent height and side-to-side taper for reacting in the corners. You can stand tall off the seat with ample boot room on the runningboards and efficient control on the handlebar set. Cat really has handlebar design down to perfection with the curved bends and end of bar grip. You can set the bar and the hand controls to suit your ride-style. The only problem we had with the controls was a deep set push-button for the reverse. We found ourselves removing our glove to indent the button, but it did keep us from pushing in the reverse button by accident.
As we've noted the big change to what were the F1100 models has been the addition of the Yamaha triple and requisite updates to make it into the all-new-for-2014 ZR 7000. The ZR 7000 benefits from Arctic Cat's years of know-how, even if this is the Cat's first time with a Yamaha triple.
Arctic Cat engineers know their riders. Of course, it helps that most of the Cat engineering group takes its cue from Roger Skime, who has designed, raced and engineered Arctic Cats since the 1960s slide-rail equipped Panther. Even as a senior executive at Cat, Roger still rides hard. He insists on sleds that can perform in the ditches surrounding the Thief River Falls, Minn. factory. Make no mistake about it, the ProCross platform has a great deal of Roger Skime in it – his passions and his knowledge of what works!
COMPETITION: Read our review of the Yamaha SR Viper
Aside from styling, on-trail performance separates the ZR 7000 from its Yamaha counterparts. The ZR 7000 models are incredibly smooth as Arctic Cat decided to go with its own RPM-sensing and roller cam clutching, which offers minimal engine braking. The engine may be a Yamaha triple, but the electronic fuel injection intake and three-into-one exhaust are all Arctic Cat. They are set as to how Arctic Cat engineers think works best for Cat riders. As we've noted, the drive system works more like a two-stroke than a four-stroke. It's rev happy. It's relatively quiet compared to the Yamaha Nytro, which directs exhaust back under the seat and out the rear. We like the Nytro exhaust tone better, but we can live with the Cat's muted sound.
The ZR Cats come with a nifty new gauge that can give you an hour or two of playtime if that kind of tech is your thing. We prefer to set it to RPM and MPH and get out on the trail, because this 2014 Arctic Cat ZR 7000 Sno Pro is a treasure that's meant to be ridden. Arctic Cat got the ZR 7000 very, very right!
2014 Arctic Cat ZR 7000 Sno Pro Specs
Engine
Arctic/Yamaha 1049cc, four-stroke, liquid-cooled, triple; electronic fuel injection with three 41mm throttle bodies; 3-into-1 exhaust
Horsepower/Torque
135 (est)
Drive
Arctic 6 post rpm-sensing drive with 10.75-in Arctic roller cam driven
Front Suspension
Arctic Race Suspension (ARS) twin A-arm suspension; Fox Float 3 adjustable shocks with stabilizer bar; 10-inches of travel
Rear Suspension
Arctic FasTrack Slide-Action parallel rail slide with coupling blocks and Tri-Hub rear axle assembly; adjustable torsion springs and Fox internal floating piston gas tube shock; up to 13.5-inches of travel
Length
118.0 in
Width
48.0 in
Ski Stance
Adjustable 42.0 – 43.0 in.
Track
15 x 129 x 1.25 Ripsaw
Weight
NA
Brake
Radial master cylinder hydraulic with rotor on driveshaft
Fuel Capacity
10.6 US Gal (87 octane fuel)
Features
Standard: New deluxe digital gauge with tach, speedometer, trip meter; Electric gas gauge; clock; push-button mechanical reverse; key start; dual halogen headlight; OPTIONS: heated seat; handguards; front sport bumper; rear storage bag, racks; bags
MSRP
US$12,599