2015 Yamaha Venture MP Review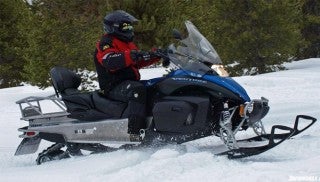 Meet Yamaha's 80 hp minivan for the snow
As North American recreational snowmobilers, we don't really see the need for this seemingly proliferation of multi-purpose sport, touring, utility breed of snowmobiles. Recreational riders tend to settle on a single purpose sled, whether it's for action trail riding, off-trail explorations, deep powder adventures or two-up togetherness. We're not looking for the minivans of snowmobiling, but each snowmobile manufacturer has certainly upped their game in this area.
Fast Facts
Engine Type:Parallel Twin
Cylinders:2
Engine Stroke:4-Stroke
Valve Configuration:OHV
Displacement:499 / 30.4
Starter:Electric
Turbocharged:No
View Full Spec
The leader in this sport-recreation-utility sled category has to be Ski-Doo. It offers a complete series of boondockers in the Skandic line and follows that up with an interesting set of touring-capable, utility models sold as the Expedition series. Arctic Cat offers its Bearcats and Polaris expanded its Indy line to include both fan-cooled and liquid-cooled sport-utility sleds with track lengths from 144 to 155 inches. Yamaha isn't left out of this arena either. Using sleds from across its snow-world reach, Yamaha in North America gathered up models that may be somewhat familiar to Canadian riders, but not seen in the US until now. These sleds combine modest sport-recreation performance with longer tracks that can provide more utilitarian needs to get back into the boonies, carry two people and gear, or haul cargo to a remote lakeside cabin.
Why would the four snowmobile makers care this much about the "minivans" of snowmobiling? In a word: Sales! Since the winter of 2010-2011, snowmobile sales outside North America have grown from 25 percent of the overall sales pie to 35 percent this past winter. Where the US market claimed sales of 54,028 sleds, the non-North American marketplace exceeded that by almost 300 units. The snowy and long winter of 2013-2014 in the US allowed it to regain sales strength with nearly 5,500 more sleds sold this season than in the previous season. Non-North American sales remained consistent and still slightly ahead of US sales.
So what? So, in order to stay profitable and grow market share, each snowmobile manufacturer recognizes its need to play into the needs of the most robust markets. The most readily equipped snowmobile manufacturers to meet this challenge would seem to be Ski-Doo and Yamaha. The Canadian-based Ski-Doo just happens to have a wholly owned subsidiary in Rovaniemi, Finland that manufactures sleds under the Lynx label and can share "minivan" and SUV technologies between the Lynx and Ski-Doo brands. That includes the slick-shifting "Syncro" two-speeds forward gearbox used in various models.
As a world-wide brand, Yamaha has operations across Europe, Scandinavia, Finland, and the Russian Federation to distribute the company's snowmobile products and works to fit products to specific needs of the end users. If you were to travel to Finland this winter you'd be apt to see limited edition Vipers running across the snows, but more likely you'd find a good collection of Yamaha "minivans" like the 2015 Venture MP.
COMPARISON: Read our review of the 2014 Ski-Doo Expedition Sport ACE 900
This sled battles head-to-head with Ski-Doo's ACE 900 Expedition models. With both models touring capable, the Yamaha has a smaller displacement and less powerful four-stroke engine. As you look at the Yamaha-built 499cc twin, you have to be impressed at its reputation for durability and consistent performance. It certainly enjoys the Yamaha four-stroke attributes of quiet performance with ample low end for smooth drive-offs. It has proven to be durable and versatile as it's used in touring, utility and full-on sport performance in the Phazer RTX.
Expectations for the 80-horsepower engine do not include triple digit top speeds, but from idle to trail speeds the Yamaha four-stroke pulls stoutly with a full load of two passengers and touring gear. Mounted low behind the ski centerline, the engine's placement provides a nicely balanced center of gravity that helps assure cornering agility.
The fuel-injected twin works via Yamaha clutches to drive a 144-inch long Camoplast Ripsaw track. Measuring 16 inches in width, the track features 1.25-inch lugs for off-trail grip. Housed in the same basic chassis, the MP's track is actually two-inches wider than those used on the off-trail Phazer X-TX and deep snow Phazer M-TX. Yamaha feels that the added width in combination with the 144-inch length affords improved flotation and better overall touring comfort.
The Yamaha MP is endowed with comfort features. Its "king-queen" two-up seat is truly plush, one of the best in the two-up category. If you choose to go solo and need extra cargo area, simply remove the passenger section and load up the standard cargo rack. Need to tow a utility sleigh? The MP comes with a convenient tow hitch. But, of course, that comes under the heading of convenience and not comfort. Comfort comes in the shape of a tall, truly effective wind-blocking windshield. You'll have up to nine settings for hand and thumb warmth that can be activated via a convenient rocker switch. Need to reverse direction? It's a push of a button. And starting comes with a twist of the key.
Although Yamaha's Venture MP bears the "Venture" nomenclature, it is actually a Phazer in build out. The Venture name helps put it into Yamaha's family of touring or utility models, but the MP utilizes the proven "FX" chassis, common to all Phazer models from the GT to the M-TX. The idea behind the FX concept was creation of a light, narrow chassis that could replicate a dirt bike's handling response on groomed trails. Over time, the FX design became widened and stretched to accommodate the needs of touring and utility riders looking for less expensive options.
COMPARISON: Read our review of the 2015 Arctic Cat Lynx 2000 LT
This current model, the Venture MP, grew out of the Venture Lite, the two-up touring version of the Phazer models. Like the other Phazer platform models, the MP benefits from Yamaha's proprietary diecast technology combined with chromoly tube construction. Designed as a rider-forward chassis, the FX platform lends itself to above average cornering and overall handling agility. Enhancing those capabilities are the Yamaha designed suspension systems.
Up front the MP utilizes a familiar set of long A-arms pioneered on the first Phazer sport models. This suspension design relies on dual arms that are controlled via 36mm high-pressure gas shocks. The shocks are of lightweight aluminum construction and allow up to 8.1 inches of total travel. Steering has been improved as Yamaha engineers added the company's own Tuner dual-keel skis, which can be custom tuned to your preferences.
The ProComfort 144 rear suspension uses a wider stance and length to accommodate the 16×144-inch track. It's fitted with aluminum-bodied gas shocks to provide control of the unit's 12.3 inches of overall suspension travel.
In our tests, we found the MP's suspension package more than adequate and it works well with the sled's power package. Even with two passengers, the sled dug into the corners for positive steering and proved comfortably supple over niggling groomed trail ruts. While this would not be our personal choice for a sled, the MP delivers expected performance in a quiet and consistent manner. When compared head-to-head with Ski-Doo's ACE 900 Expedition, we'd rate a draw. The Expedition's 10 extra horsepower from a three-cylinder engine that measures 400cc larger in displacement is noticeable. It also has a 154-inch track. But, that's some of the extra you get from a sled that costs US$2,000 more than this Yamaha.
As for ride, comfort, and amenities at its less than US$10,000 price point, the 2015 Yamaha Venture MP is a solid value in a niche that means more to snowmobilers outside North America than within it. In the US and Canada, we can see this sled as a good value, but,  we aren't in the market for a "minivan" for the snow or the highway. If we were, we'd take a long hard look at the Yamaha Venture MP. It is a proven and consistent value with the Yamaha brand and reputation backing it up.
2015 Yamaha Venture MP Specs
Engine
Yamaha 499cc four-stroke; bore/stroke of 77.0mm/53.6mm; two-cylinder, liquid-cooled; electronic fuel injection system utilizing two liquid-heated 43mm Keihin throttle bodies; rear-exiting, underseat exhaust
Horsepower
80+
Drive
Yamaha double A-arm with 36mm HPG aluminum shocks; up to 8.1-in of travel
Front Suspension
Yamaha double wishbone; 8.1-in travel; front stabilizer bar; 36mm high pressure gas shocks
Rear Suspension
Yamaha ProComfort 144 parallel slide rail with 36mm aluminum gas shocks; up to 12.3-inches of travel
Length
124.2 in
Height
52.8 in
Width
47.8 in
Ski Stance
42.5 in
Track
16 x 144 x 1.25 Camoplast RipSaw
Brake
Two-piston hydraulic disc brake with ventilated lightweight disc
Weight
N/A
Fuel Capacity
8.7 US Gal (Regular fuel)
Features
Electric start, electronic shift reverse, speedometer/odometer, halogen headlight, one-year limited factory warranty
MSRP
US$9,849