2016 Yamaha Snowmobile Lineup Preview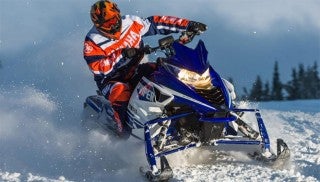 Yamaha ups its powder appeal
Yamaha remains steadfast in delivering quality-built products. The care and concern for improving the ride experience is paramount to creating a bond between longtime, faithful Yamaha riders and Yamaha's legion of legendary snowmobile products.
For 2016 Yamaha added storage, new suspension designs, and vibration dampening components to assure its loyal riders with enhanced long-distance touring capability, deep-powder maneuvering, trail comfort, speed control, providing the best overall snowmobile handling.
All Yamahas are designed to provide an improved, "pleasurable" riding experience, one that minimizes vibration, cold fingers, and drivetrain problems. As Yamaha told Snowmobile.com, "Yamaha has three major technology projects found across 55 percent of 2016 models. Yamaha has improved or added new units to account for 75 percent of the lineup."
Changes for 2016
Some of the changes are subtle, such as the addition of the factory-installed Performance Damper for select core Yamaha sleds, like the Vector. Still, there are key changes that will be obvious when you head down a trail as Yamaha cut up to 10 pounds by creating an all-new lightweight SlingShot rear suspension for select Apex and Vector models. Available in either a 129-inch or 146-inch length, the SlingShot design fits a Fox Float 3 for control and features simplified front and rear arm design, plus a pull-thru track tensioner to facilitate track maintenance. You'll find the SlingShot 129/146 on the Apex, Apex X-TX, Vector, and Vector X-TX.
COMPARISON: Read our review of the 2015 Yamaha RS Vector
The 2016 Vector enjoys an upgrade in overall on- or off-trail performance thanks to a new engine package that will offer three levels of performance. The upgraded engine package features a new crank, pistons, and connecting rods, plus new computer technology to give the engine paired management systems for airflow and fuel flow. This paired system allows the rider to pre-select one of three performance modes: Sport, Touring or Entry/Economy. The system is programmed to calculate engine response for aggressive action used by Sport riders, but can dumb down the response when set for beginning or entry level riders, who may need less aggressive throttle response. The Touring setting provides strong low to mid-range action and helps touring riders achieve quality fuel economy. The new engine package will be offered on 2016 Vector models, with a Venture-specific version for the two-up Venture TF with 151-inch track length.
More Vipers
The Viper series enjoys updates as well, as well as the addition of new and limited edition models. New for 2016 are two versions of the new S-TX DX. The Viper S-TX 137 DX features a 137-inch Cobra track, saddlebags and coil-over shocks, while the new-for-2016 Viper S-TX 146 DX adds a longer 146-inch Ripsaw II track and rear auxiliary four-gallon fuel tank.
The limited edition models for the early buyer will offer versions like the Viper R-TX LE and Viper L-TX LE with special options such as piggyback shocks or, depending on the model, Fox Float 3 Evol shocks. Also included on select models will be goggle bag, heated trail seat, special graphic package, and the Yamaha Performance Damper.
COMPARISON: Read our review of the 2015 Yamaha Viper XTX SE + Video
Mountain Specifics
You'll find the action really heats up with major upgrades and options in Yamaha's 2016 deep powder Viper M-TX series.
All M-TX models will have a narrow ski stance to improve off-trail handling; owners can cinch down the ski-stance to 36 inches. With the narrowed-in stance comes a new mountain-specific ski that is wider than last season's ski. Specifically, this ski incorporates a tapered width, seven inches at the nose to 6.5 inches from the middle to the rear. The added width keeps the M-TX's nose up while surfing over snow pillows. The deeper keel delivers improved turning in deep-powder conditions.
The new M-TX spindle, according to Yamaha, is an "Ultra compact, tapered spindle design [which] reduces drag in deep snow." These changes improve the M-TX's deep snow capabilities by making the SRV-M front suspension more attune to backcountry riding in the trees while skimming across a steep slope.
Here are the specifics for Yamaha's three M-TX models: • M-TX 162 and 153 models will have a 36-inch ski stance and no sway bar • M-TX 141 models will have a 40-inch ski stance and a sway bar.
Of the three models, Yamaha offers three option packages, the Spring Power Surge edition, LE, and in-season SE and standard/base.
The 162 and 153 Spring-buy M-TX LE models come supersized with the following: • Fox FLOAT 3 EVOL front shocks • Fox FLOAT 3 EVOL for rear suspension center • EVOL R rear shocks for rear suspension rear • Rear storage bag • Heated mountain seat • Three-inch lug PowerClaw track • Two color choices – red and black on white, or blue and black on white.
There is no 141-inch M-TX LE. However, Yamaha offers an LE 141 in its X-TX crossover line. The SE 162 and 153 are equipped with: • Fox FLOAT 3 front shocks • HPG shock at rear suspension center with FLOAT 3 shocks at the rear • Non-heated mountain seat • 2.6-inch PowerClaw track
The standard/base M-TX 162 and 153 come with: • HPG Coil shocks for the suspension • HPG shock at center rear and HPG coil shocks for the rear suspension's rear • Non-heated mountain seat • 2.6-inch lug PowerClaw track • Yamaha's new Mountain ski
New M-TX
New for this season is the 141 M-TX SE that is equipped as the 162 and 153 SE's, but its ski-stance is set at 40 inches, has a sway bar, and its PowerClaw track has lugs are that 2.25 inches tall. This is Yamaha's deep-powder crossover snowmobile (similar to the Spring Power Surge X-TX from 2014). Yamaha's Viper X-TX 141 SE is equipped with a shallower 1.6-inch Cobra. Since this mostly an on-trail crossover snowmobile, its seat is heated, whereas the M-TX SE 141 is not.
COMPARISON: Read our review of the 2015 Yamaha RS Viper M-TX Turbo + Video
In early test riding of various pre-production M-TX models, we found the mountain ski prevents the M-TX from diving down into a tree blowhole as the driver sweeps by a small stand. This has always been one of our biggest gripes about the M-TX chassis; a ski that is not mountain-specific. With this ski, off-camber downhill descents are much more controlled. Also, the 36-inch ski stance mated to the new SRV-M front suspension allows riders to mash the M-TX into a hillside with little effort, as compared to the 2014; chassis push-out is minimized.
For the LE models, the three-inch PowerClaw, which weighs the same as the 2.6-inch PowerClaw, makes deep-powder mountain-wrecking a simple chore. Yes, the 1049cc four-stroke motor rotates the three-incher with ease. Still, the 2.6-inch PowerClaw is a fine climbing boot as well.
For eye-watering trail burning and some off-trail bushwhacking, the 141 M-TX SE is satisfying on these two fronts. It is glued to the trail and when trail snow turns to backcountry snow, the M-TX 141 hauls through it. Its brother, the X-TX SE, is also very capable, but its Cobra track gives riders the opportunity to drift around sharp bends and spool up speed quicker than the M-TX as windage is not as great with the Cobra track as it is with the 2.25-inch PowerClaw. Gear ratios are also different with the M-TX lower for deep powder riding and hill climbing.
In closing, Yamaha is refining its mountain and deep-powder crossover line. Its new ski, narrower ski-stance, and new SRV-M front suspension paints the M-TX as more mountain specific than last year's, although the 2015 was very nice in this area.
Final Thoughts
The Spring Power Surge Apex LE and X-TX LE and Vector LE and X-TX LE come with the Performance Damper. The Damper is supposed to take away the harmonics that riders feel in the handlebars. Yamaha triples are about as smooth as it gets in sled-dom, so the motors in these chassis are not thumpers and don't give a clunky feel through the bars.
Yamaha's new Single Shot rear suspension, which is lighter than last year's suspension, makes the Apex a floater. The Apex has always been a controlled snowmobile, but Yamaha has taken rear suspension control to a higher level. We found when busting the chops, the Apex felt lighter and more forgiving.
Besides the sweet changes to the M-TX line, the engine upgrade and use of the new SlingShot suspension make the Vector a vastly improved sled and well worth another look. It's always been a good value thanks to its legendary durability and resale. Now it's way more enjoyable to use as your daily sled. Yamaha has made some serious strides in the right direction for 2016.