2016 Yamaha Vector TF LE Review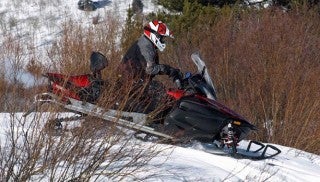 This touring sled is long on features
Yamaha's 2016 Venture TF LE really is a big deal. It encompasses virtually all the luxury touches Yamaha can fit on a sled that measures nearly 10.5 feet from ski tip to snow flap. The track measures 151 inches overall and the accommodating suspension features flip-up rails to maximize the traction and grip of the RipSaw's 1.25-inch lug profile. With room to seat two quite comfortably, this sled can cruise trails or tundra backcountry equally well.
Fast Facts
Engine Type:Horizontal In-line
Cylinders:3
Engine Stroke:4-Stroke
Valve Configuration:DOHC
Displacement:1049 / 64
Starter:Electric
Turbocharged:No
View Full Spec
The Venture TF LE heads the list of Yamaha touring models but can be pressed into action as a very durable and "do-able" utility sled. That's the secret that lies at the heart of the Venture. Although it doesn't instill the immediate love that riders give the performance-oriented Vipers, the Venture earns its love through its extremely durable nature, low cost of ownership and impressive rider-friendly features. The TF is big on its capacity to provide above average ride and performance combined with excellent fuel efficiency and nimble handling.
Say, what? Nimble handling? Yes, actually this sled really benefits from Yamaha's electrictronic power steering (EPS). At low trail speeds, the steering effort gets assistance so you can ease your way through winding, narrow forest trails. Head onto the main trail way where you can gather speed and the power assist dials itself back. There's a unique diecast framework to embrace the EPS as well as add strength and torsional rigidity to the engine compartment. This speed and torque-sensitive power steering system effectively reduces driver fatigue and makes the sled a pleasant ride for even smaller, lighter weight riders. If you've never tried a sled with EPS, find a Yamaha dealer and ask to give one a test ride. It's truly amazing how much nicer your day on the snow can be with this feature.
COMPARISON: Read our review of the 2016 Arctic Cat Pantera 7000 XT LTD + Video
Adding to the sled's steering ease is the Venture's double A-arm front suspension that's fitted with KYB high pressure gas shocks to control up to 8.5 inches of travel. Yamaha engineering also added the latest and exclusive-to-Yamaha Tuner skis. Specially designed and calibrated for the Venture TF, these skis track straight with little deviation even in rutted conditions.
Ride comfort for two sets the Venture apart with its elongated ProComfort rear suspension. The flip-up aspect of the rear rails allows you to reverse without seriously digging into the snow and to more easily traverse undulating terrain, including stepping over downed tree limbs and such. As with the front suspension, Yamaha equips the TF's rear unit with high pressure gas KYB shocks to manage its 13.8 inches of travel.
The TF has a fit, feel and cruiser style befitting a Yamaha Royal Star motorcycle. There's ample room for two with a plush step seating position for the passenger. Even though the rear seated rider sits up to view the trail over the driver's shoulder, cold winter winds are held in check thanks to an oversized clear windscreen and trick styling of the hood and side panels that divert cold away from the occupants. The adjustable backrest will add comfort for the passenger, but can be set forward to bracket the driver in comfort when traveling solo.
The Venture TF LE qualifies as an all new for 2016 model. Its key feature? A more trail-adept updated version of the famed 1049cc mid-performance Yamaha Genesis 120 FI engine. You'll find that the latest version of Yamaha's trail triple gains upwards of six horsepower with a claimed 5% gain in fuel economy as compared to the older carbureted version still used in the base Venture. Plus, new for 2016, the TF gains Yamaha Chip Controlled Throttle technology (YCCT), frequently referred to as throttle by wire.
COMPARISON: Read our review of the 2015 Ski-Doo Expedition SE ACE 900
The changes required to add YCCT resulted in much crisper throttle response and lighter thumb pull, which you'll appreciate on a long cruise. YCCT allowed Yamaha to fit the Venture TF with three modes of ride performance ranging from a sportier S setting that holds rpm longer to a fuel-saving E mode that dials back speed and acceleration in favor of fuel economy. We suspect that most long distance riders will find the T touring mode best suited for long days in the saddle. This setting offers the smoothest low end and midrange performance. While this multiple mode setup mimics the system introduced by Ski-Doo on its Advanced Combustion Engines, the main difference is that Yamaha's doesn't allow you to make changes on the fly; you have to come to a stop before changing modes.
Regardless, we really liked the new engine upgrades and how much better overall performance seemed to be for touring. Top end won't change drastically, but the enhancements for low end and midrange performance were noticeable.
As for the inclusion of a standard Performance Damper, it's a lost concept with us. We feel that the system works best for vehicles where the trail or roadway is consistent, such as asphalt, but the very nature of snow suggests frequent, if not constant, instability and change in the trail. We get the Performance Damper as a concept. Indeed, we used something similar years ago to stiffen the chassis on our slalom car. But, on all the sleds we've tried with the damper, we can't say we've noticed any improvement one way or the other.
This is how Yamaha explains it. "The Performance Damper is designed for exceptional overall chassis performance by harnessing unwanted chassis vibration and distortion. The Performance Damper captures unwanted chassis energy resulting in exceptional control and comfort with remarkable high-speed stability and tracking through rutted and chatter bump filled corners."
COMPARISON: Read our review of the 2015 Yamaha Venture MP
We concede to Yamaha, we just don't have the finesse to tell the difference.
We also concede to Yamaha that its new for 2016 Venture TF LE is a big accomplishment as a smooth riding, well appointed, stylish and easy to enjoy touring sled. Any snowmobiler in the market for a full-on touring sled needs to consider this Yamaha.
2016 Yamaha RS Venture TF LE Specs
Engine
Yamaha four-stroke "mid-performance" 1049cc; bore/stroke of 82.0mm/66.2mm; three-cylinder, liquid-cooled; three Mikuni 41mm throttle bodies; electronic fuel injection system with Yamaha Chip Controlled Throttle; rear-exiting, underseat exhaust
Horsepower
125+
Drive
Yamaha YVXC drive clutch with Yamaha driven
Front Suspension
Yamaha A-arm with 36mm KYB HPG aluminum shocks; up to 8.5-in of travel
Rear Suspension
Yamaha ProComfort parallel slide rail with "flip-up" rails; 36mm aluminum KYB HPG shocks; up to 13.8-inches of travel
Length
126.6 in
Height
54.0 in
Ski Stance
42.5 in
Track
15 x 151 x 1.25 Camoplast Rip Saw
Brake
Dual piston hydraulic disc brake with ventilated rotor
Fuel Capacity
9.2 US Gal (Regular fuel)
Features
Electric power steering, Electric start, reverse, LCD speedometer/odometer, halogen headlight, DC Outlets, Yamaha Performance Damper (Early Season purchase), Yamaha Tuner skis, one-year limited factory warranty
MSRP
US$13,599 — C$15,299