2016 Yamaha Viper L-TX LE Turbo Review + Video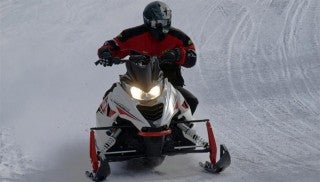 Yamaha's trail turbo sled is rider friendly and wickedly fast
We're not going to kid anyone. We like the Yamaha Viper LTX. We even said so in our review of last year's model. Considering that not much has changed heading into 2016, why do we like it more now? How about we offer 45 reasons – all related to the addition of the optional turbo system that you can get for US$2500, plus dealer installation.
The limited edition 2016 Yamaha Viper LTX LE adds a few nice-to-have features beyond the SE, but what really wicked our interest was the trail turbo. Conceived by Mountain Performance Inc. (MPI), the trail turbo version sits unobtrusively under the LE's slickly styled red/white or blue/white hood panels. Unlike the external air snorkel used by mountain Vipers, the trail Vipers contain all components neatly under the hood. There's no hint of the bolt on 45-plus horsepower boost you get from the MPI system. It's totally stealth…until you hammer the throttle.
This partnership between MPI and Yamaha proved so popular last season that there was a shortage of some components that led to some consumers not being able to get the setup they wanted. Yamaha underestimated the number of people wanting the turbo Vipers, but has better prepared heading into 2016. Why wouldn't you want a turbo kit? During the Yamaha Snowmobile Spring Power Surge that ends April 18th, you can order a turbo kit for your exclusive LE model for US$2500, plus receive a three-year factory warranty, US$600 in Yamaha parts and accessories, an OGIO gear bag and special finance rates.
As noted the 2016 Yamaha Viper LTX LE is a revision, not all new. The things that we liked about last season's LTX have either not changed or been upgraded. To that extent the limited edition LE version includes new Fox piggyback shocks up front. This new series of Fox shocks combines high-pressure gas-charged performance with the added volume of a piggyback chamber to help minimize shock fade. These aluminum-bodied rebuildable shocks are tuned via a simple three-position knob to adjust compression damping. Each adjustment represents the best calculation to address a wide-variety of everyday trail conditions.
Yamaha added similar ride simplicity to Viper LTX LE's Dual Shock 137 rear suspension. The new Fox three-way piggyback shock works off pre-arranged settings to allow quick and comfortable tuning and ride.
COMPARISON: Read our review of the 2015 Yamaha Viper L-TX DX
We found the new suspension shocks worked quite well, but we can't get overly excited as our test course at the annual West Yellowstone test session was pavement hard and icy, with minimal snow cover for this famed riding area. Still, when we pounded our favorite section of jitteries, the suspensions sucked up the bumps with ease. Score a big win for the Viper LTX LE.
Okay, the sled looks great in its special Limited Edition blue and white or red and white graphics package. Thank goodness that blue and orange styling was left to 2015 and not carried over. This sled looks great. Of course that minimalist windscreen proved virtually worthless on below zero test mornings, but you dress for the cold. Right?
Since we are snowmobilers and not Weather Channel weather-worriers, we accept wind chill as a fact of winter. How would those weather warriors fare when faced with a sled that can push nearly 180 horsepower to the track of a 500-pound vehicle for a serious acceleration run in negative wind chills? Their tears would freeze!
The 2016 Yamaha LTX LE with the turbo option is wicked quick and probably wicked fast. We never held the throttle open long enough to get into serious triple digit territory. While the sled's add-on of 45 hp makes it one hellacious performer, what we really liked was how stealthily quiet and throttle-friendly it was.
COMPARISON: Read our review of the 2014 Arctic Cat M9000 Turbo 162 + Video
The Yamaha turbo compares well with Arctic Cat's 9000 series turbocharged package. The horsepower is about the same, although Cat gets its power from a two-cylinder Suzuki four-stroke and the Yamaha power comes out of a three-cylinder four-stroke of similar one-liter displacement. Both are very smooth at drive-off and give you terrific midrange to top end acceleration. There are not other sleds in 2016 that give you the rush of these two. We'd rate the MPI turbocharged Yamaha just a bit ahead of the Cat for overall trail manners. Heck, since there is no external packaging to remind you that this sled is a turbo, you tend to forget that's it not a regular Viper – that is, until you boost the throttle.
Credit the partnership that Yamaha and MPI forged. In a statement about this joint venture, Yamaha noted: "Mountain Performance has already developed a stellar track record for 'boosted' Yamaha performance with its turbo and supercharger applications. Earlier this year, Yamaha announced the introduction of an MPI accessory… dealer-installed kit (that) delivers an additional 45-horsepower on pump gas while still retaining Yamaha's legendary reputation for reliability."
Yamaha noted that the MPI Trail Turbo accessory kit "…touts many of the same features of the Mountain Kit including the same 45-horsepower boost. Unique to the Trail Kit is the use of an electronically controlled waste gate. Both the Trail and Mountain kits feature a solid mounting system and a new muffler that is quieter than previous designs; both systems also meet EPA standards."
That part about meeting sound requirements is very real as the LE turbo version is only a give-away when you hammer the throttle and the turbo spins up. Then you get a nice little turbo note. Stealth is key to this sled. This is the sled we'd want to ride around long lakes or wide-open snow-ways where the true hot rod snobs hang out. We'd welcome a run off with this sled. It looks stock. It sounds pretty much stock at idle. It doesn't give itself away as a power sled. But it is a screamer.
Of course, it is also a Yamaha, which means it's fitted with the latest Tuner 2 deep keel Yamaha-designed skis for precise and consistent handling. The gauges are reader-friendly and can be set to read out in bold numbers for rpm or mph. The seat gives you two stages of heat for on-trail comfort. Now this is a gimmick that works very nicely, is welcomed on cold days and has proven popular with Yamaha riders.
COMPARISON: Read our review of the 2014 Polaris 800 Indy SP + Video
Since this is the Limited Edition version of the 2016 Viper LTX, you'd expect Yamaha to add extras to the LE package. That's why you'll find a factory-installed Performance Damper on the LE.
The Performance Damper is exclusive Yamaha technology that had a limited appearance last season.  This technology came from automotive and motorcycle applications where it is said to "…improve chassis performance by harnessing unwanted chassis vibration and distortion." Performance Dampers on the LE are installed on the chassis at the front and rear of the machine. Yamaha claims the dampers create "…exceptional control and comfort with remarkable high-speed stability and tracking through rutted and chatter bump filled corners."
Okay. Can't prove that by me, but they are the engineering experts. We'll agree that torsional rigidity makes a difference. Where Yamaha adds its Performance Dampers, other companies, notably Polaris, opts for initial built-in rigidity with its AXYS platform and not add-on componentry. We'll let the engineers battle out the finer points. We can accept that Performance Dampers work, but we are not perceptive enough in our snowmobiling to know how much. On a sled with a longer and more flexible tunnel than the Viper LTX LE 137, we'd suspect the upgrade might be more readily detected.
These points differentiate the base Viper LTX from the LE version. But the real differentiator is the MPI turbo. Fitted to the Viper LTX with its 137-inch RipSaw II track and Fox shock smoothed ride, you get a truly special snowmobile that ends up being a high performance bargain. What, a US$16,000-plus priced sled that's a bargain? Yes, we said it and we mean it. The MPI turbo package normally retails for closer to US$5000 than US$2500, so you know that Yamaha is underwriting some of the cost. Plus, Yamaha adds a warranty – read the fine print, though!
We really like the 2016 Viper LTX LE 137 with the turbo. It is trail friendly, rider friendly and wickedly fast! For the performance you get, the turbo Viper LTX LE is a bargain – but it's only a bargain until April 18th!
2016 Yamaha SR Viper L-TX LE Turbo Specs
Engine
MPI turbocharged Yamaha Genesis three-cylinder, four-stroke high-performance 1049cc; bore/stroke of 82.0mm/66.2mm; liquid-cooled; 3x41mm throttle bodied electronic fuel injection system; dry sump lubrication
Horsepower
130+ (Stock); 175+ (Turbocharged)
Drive
Yamaha YVXC drive clutch with Yamaha driven; magnesium chaincase and cover
Front Suspension
Yamaha SRV tall A-arm with Fox Piggyback clicker shocks and coil-over spring assist; up to 10.0-in of travel
Rear Suspension
Yamaha Dual Shock SR 137 parallel slide rail; aluminum high-pressure Fox piggyback clicker gas shock; up to 13.5-inches of travel
Brake
Hayes dual piston hydraulic brake system with disc mounted on drive shaft
Length
125.0 in
Width
48.0 in
Ski Stance
Adjustable from 42-43 in
Track
15 x 137 x 1.25 Camoplast Rip Saw II
Weight
N/A
Brake
Hayes radial master cylinder hydraulic brake system with disc mounted on drive shaft
Fuel Capacity
10.0 US Gal (Regular fuel)
Features
Two-stage heated seat, dash-mounted heated goggle bag, rear storage bag, digital gauge, push button reverse, electric start; Yamaha Tuner 2 skis; Yamaha performance damper
MSRP
US$13,599.00 — CDN$15,749.00 (Special Turbo offer— US$2500/CDN$3000 until April 18, 2015)