2014 Arctic Cat M9000 Turbo 162 Review – Video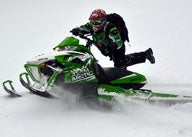 Long in track. Long in speed. Long in horsepower.
Arctic Cat's ProClimb M9000 Turbo Sno Pro hits the mark for serious mountain riders as it's long in track, long in speed and long in horsepower.
Fast Facts
Engine Type:Horizontal In-line
Cylinders:2
Engine Stroke:4-Stroke
Valve Configuration:OHV
Displacement:1056 / 64.4
Starter:Electric
Turbocharged:Yes
View Full Spec
This past winter season, we spent several weeks playing with an Arctic Cat M1100 HCR 162. Once in our possession we set to learn its personality, what it did well, and where it faltered. We learned that the 2013 M1100 HCR 162 was a pleasant mountain snowmobile in deep snow and on open hills, but when chasing a swift and light-footed two-stroke mountain sled on a tree-infused slope and ravine, the M1100 162 and its driver could get all tangled up in weight and length.
But the power? Very nice!
For 2014 there are three M9000 162 variants – Sno Pro, Limited and HCR – all use Cat's ProClimb chassis, the same chassis used for the mountain-specific M8000. You've guessed it, one chassis to cradle both a skinny twin cylinder two-stroke and wide four-stroke with all its turbo plumbing and electronics. Quite a feat, if you ask us. For 2014, the M1100 is now christened the M9000.
VIEW: Read our review of the 2014 Arctic Cat M8000 Sno Pro and Limited
The 2014 Arctic Cat M9000 is available in three turbo-powered 162-inch models – Sno Pro, Limited and HCR. Arctic Cat also has a M9000 Turbo 153, but we never threw a leg over its seat during our photo and test session this March in West Yellowstone, Mont., as it was not in Arctic Cat's test/demo fleet. Thus, we can't give you any impressions of it for comparison.
Powering the M9000 162 is the Arctic Cat-designed and Suzuki-built 1056cc, turbocharged, twin-cylinder, four-stroke motor. The turbocharger offers a maximum boost of 9 psi. Cat calls this motor the C-TEC4. The motor has a bore and stroke of 98 x 70 mm. Intake is a single wide mouth 46mm throttle body unit that is controlled via electronic fuel injection. Horsepower is 177 regardless of elevation and temperature.
The front suspension for the M9000 162 is the Arctic Race Front Suspension (ARS), whereas the rear suspension is the M Rear Suspension.
Controlling the front end of the M9000 is the Arctic Cat Front Suspension (ARS), which uses tall lightweight ski spindles and wide-spaced A-arms that, according to Cat, provide the sled torsional rigidity and strength. Under the tall upper A-arms are the corresponding lower A-arms mounted at a 30-degree angle to give the M9000 162 secure trail manners and nailed down cornering. Front travel is nine inches. Steering is via a vertical post, which allows proper body positioning for sidehilling – the bars swing flat. As a comparison, the standard M9000 153 uses a laydown or horizontal post (like the XF Cross Country), best suited for comfort riding while seated.
The ski for the M9000 162 is the same ski used on all ProCross and ProClimb models. We are perplexed as to why this narrow ski is on the M9000 (in fact any M), since this sled is heavier than Cat's ProClimb M8000; a wider ski would spread out more of the 9000's front end weight and give it more lift in light and fluffy snow. However, we do understand placing this ski on the HCR (it is different in that it has a deeper keel, but of same length and width), since the HCR is designed as a Hill Climb Racer, where ski bite and cornering is needed around a gate as the HCR's driver ascends up a timed mountain course. Ski stance for all three is an adjustable 38 to 39 inches.
To minimize trail and mogul impact energy to the handlebars, the front shocks are aligned with the front spars, which is the strongest point on the ProClimb chassis. This reduces chassis flex while delivering a nice ride.
COMPARE: 2013 Arctic Cat M1100 Turbo HCR vs. Yamaha Nytro MTX SE Turbo
The M9000 162 has a triangulated A-arm attachment, which gives the chassis front-end strength and an approach angle that prevents the big mountain sled from diving directly into holes or ruts.
Rotating around the M Rear Suspension is the proven PowerClaw track with 2.6-inch lugs; the tallest mountain track on a stock snowmobile. Travel for the M Rear Suspension is 16.5 inches. The three M9000 162 models come with ice-scratchers. For you racers, the HCR's track lugs are a stiffer compound (durometer), which prevents the lugs from folding over on a hill climb course.
The Sno Pro and Limited are virtually identical from shock package to track compound, but are different in color and standard equipment. The Limited is delivered with a small rear tunnel storage bag, a goggle box that sits in front the steering post and (this is really suh-weet) a heated seat. Sno Pro and HCR riders have the pleasure of allowing their sit bones to get cold; not that mountain riders spend much time on the seat anyway.
For the Sno Pro and Limited, the M Rear Suspension rides on a Fox Float 2 air shock. Down below the motor, the ARS is controlled by Fox Float 3 shocks.
As for the HCR, it uses Fox Float EVOL shocks up front, and like the Sno Pro and Limited, a Fox Float 2 is mated on the M Rear Suspension.
The M Rear Suspension on the M9000 162 is refined in that it, like the M8000 Sno Pro, was moved back toward the tail 0.75 of inch. This gives the M9000 162 more float, better front-end control, and less tail walking when powering up a wicked ascent.
COMPETITION: Read our review of the 2013 Yamaha Nytro MTX 162 Turbo
Stiff runningboards on the M9000 162 give the rider the strength to pull hard on the bars and push down on the boards when slicing a sidehill. The board's snow dump holes are wide, while the painted tunnel minimizes snow flash-freeze on it.
While the M9000 162 is a fun turbo M, it comes at a cost in weight and dollars. That is a reality of turbo'd four-stroke powered snowmobiles. The M9000 162 would not be our first choice to go tree bashing, but if we were in need of a speed and horsepower fix, especially where the snow is deep and slopes are wide open, then the M9000 162 would fast become our friend.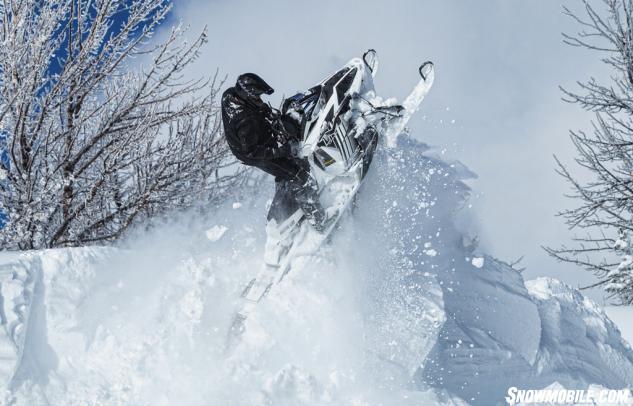 Riding Cat's M9000 162 turbo supersled, one must respect its power and its weight. Learning when to go mad and chill down is essential to boondocking on the big turbo. This means riders need to understand the M9000 162's power drop when the throttle is closed and turbo boost drops. When sidehilling through some trees at slow to moderate speeds and the need arises to pull out from the throttle, the M9000 162's sudden deceleration leaves the driver moving forward while it stays behind. This can be a bit unnerving. What we are saying is the turbo M9000 162 loves wide spaces. On the other hand, tightly spaced trees on a sidehill can be a challenge.
Though we don't know what the sales ratio is between Cat's M8000 162 (Sno Pro, Limited and HCR) and the M9000 162 (Sno Pro, Limited and HCR), we can state that we rarely see the turbo M 162 in our Southeast Idaho, Western Wyoming, Northern Utah and Western Montana backcountry neighborhood. But, Arctic Cat would not build this supersled if there were no demand. Here is our guess: the big bowl and long nasty chute riders in Washington, Oregon, British Columbia and Alaska take to this sled because it is brutish with its long track, tall paddles and no horsepower loss with thinning air.
Bottom line: fast, fun in the open, can climb Everest, comfortable, hot looking, and, once again, fast.
2014 Arctic Cat M 9000 Sno Pro 162 Specs
Engine
Arctic/Suzuki 1056cc turbocharged four-stroke twin; liquid-cooled; 46mm throttle body injector electronic fuel injection
Horsepower
177 (claimed)
Drive
Arctic 6 post rpm-sensing drive with 10.75-in Arctic roller cam driven
Front Suspension
Arctic Race Suspension (ARS) twin A-arm suspension; Fox Float 3 shocks; 9.0-inches of travel
Rear Suspension
Arctic "M" parallel rail slide with Tri-Hub rear axle assembly; Arctic internal floating piston shock on front arm and Fox Float 2 shock; up to 16.5-inches of travel
Length
133.0 in
Width
44.0 in
Ski Stance
Adjustable from 38-39 in
Track
15 x 162 x 2.60 PowerClaw
Weight
NA
Brake
Radial master cylinder hydraulic with lightweight rotor on driveshaft
Fuel Capacity
10.6 US Gal
Features
Standard: digital/analog tach & speedometer; key start; electric gas gauge; clock; push button reverse; dual halogen headlight; ice scratchers
Optional: storage bags; rack; tank pads; optional windshield sizes
MSRP
US $14,649