Best Snowmobile Ramps for Trucks and Trailers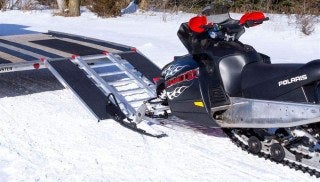 Load your snowmobile quickly and safely
Find out which snowmobile ramps are worthy of your consideration with our handy guide to the best snowmobile ramps for trucks and trailers.
If you're thinking about buying a snowmobile but aren't sure how you're going to load it on your truck or trailer, you're going to need snowmobile ramps. Not just any ramps will do, so you need to be sure that you're getting the right kind.
Unlike loading a lawnmower or 4-wheeler, you need specific ramps that will accommodate your snowmobile so you can safely load and unload it. Below are some of the best snowmobile ramps available today.
1. Editor's Choice: Black Ice SNO-9454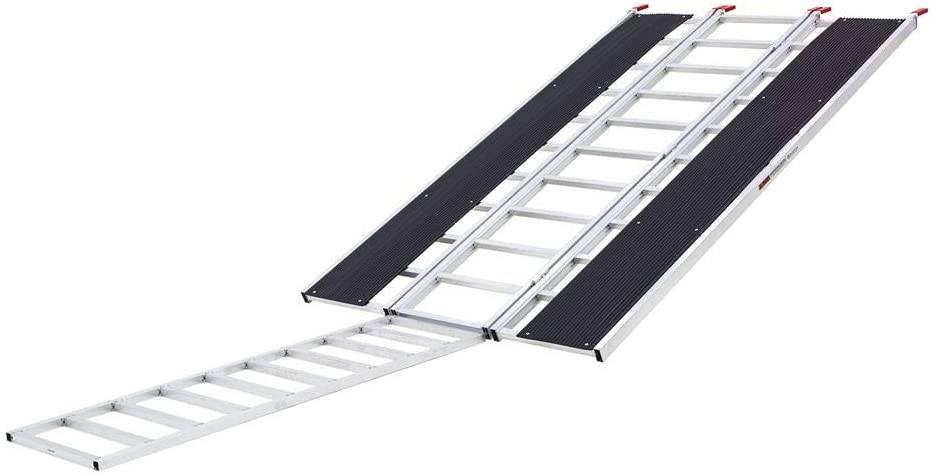 Black Ice makes some truly high-quality products, and the SNO-9454 snowmobile ramps are no exception. These ramps scream "heavy-duty", with stellar craftsmanship found along every inch of construction.
As such, you're getting ramps that are capable of supporting weights in excess of 1,500 pounds – more than enough for any snowmobile in the industry loaded down with gear and a rider. And yet, while they are capable of supporting so much weight, Black Ice designed these ramps to fold up into a compact, easy-to-handle body. At only 56 pounds, transportation is a cinch.
The ski guides are an impressive 12 inches wide, giving you plenty of room for snowmobiles of all shapes and sizes. They're pricey, sure, but you get what you pay for in quality.
2. Runner Up: Rage Powersports Snowmobile Ramps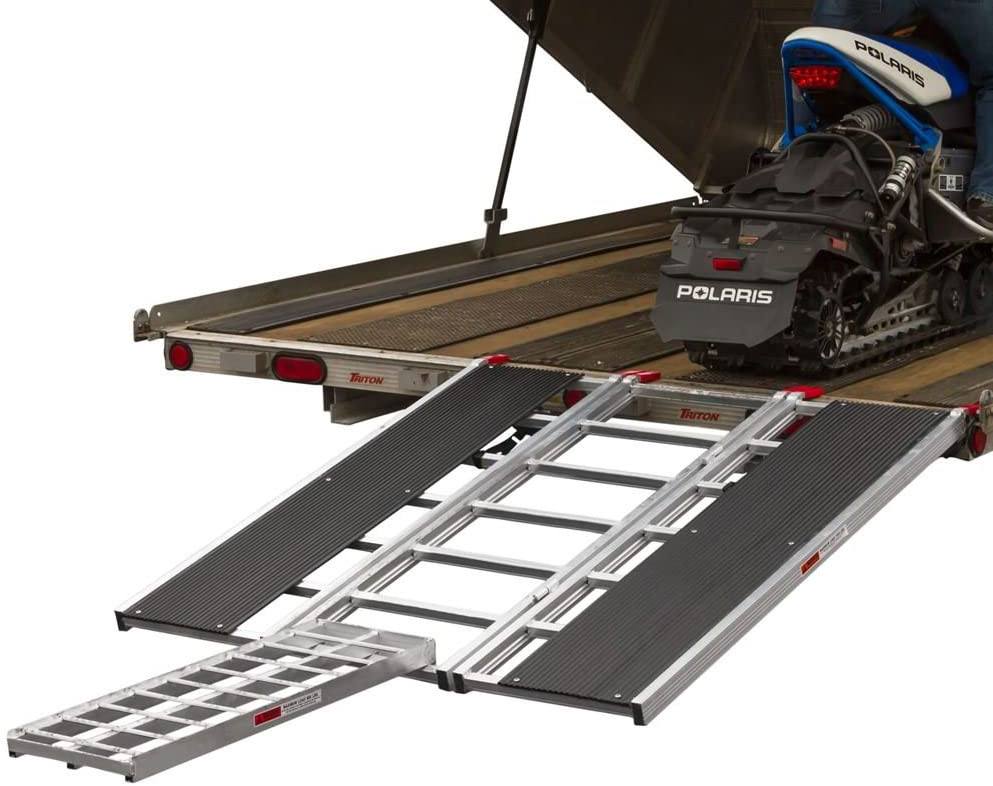 Equipped with serrated center rungs, Rage Powersports' Snowmobile Ramps eliminate the hassle of trying to adjust the ramps to accommodate your snowmobile. Not only that, but the center rungs provide support and durability to what are already high-quality ramps.
Capable of supporting 1,500 pounds, you should have no trouble loading a wide variety of snowmobiles using the 12-inch dual carbide ski glides. While the traction isn't quite as unique (read: effective) as Caliber's Pro Ramp, they still do a fine job of loading and unloading snowmobiles.
Besides, the low-profile design doesn't really demand lengthy ski glides. Built for trailers, you'll appreciate how quickly you can make use of this set. It's a simple design, but you won't be disappointed in its effectiveness.
3. Caliber Ramp Pro Tri-Fold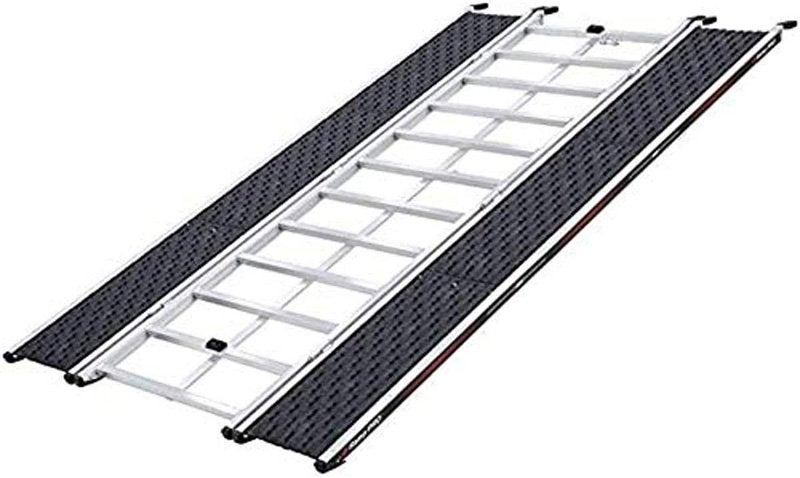 Caliber makes the list again, this time with the Ramp Pro Tri-Fold. The low-grip ski glides are designed to promote safety while loading and loading, with plenty of traction and support for both you and your snowmobile.
The universal construction makes a return in the 2.0 snowmobile ramps, allowing you to load a wide variety of snowmobiles and other equipment. If you have various vehicles, these ramps will serve you well.
The Caliber Ramp Pro Tri-Fold is capable of supporting weights of up to 1,500 pounds, further solidifying their versatility. At 11.5 inches wide, the ski glides provide lots of room for movement, making this one of the safest universal ramp sets on the market.
What's more, Caliber designed these ramps to weigh just 50 pounds. The lightweight construction ensures that you can easily manage the ramps without having to worry about putting up a struggle.
4. Black Ice Snowmobile Loading Ramps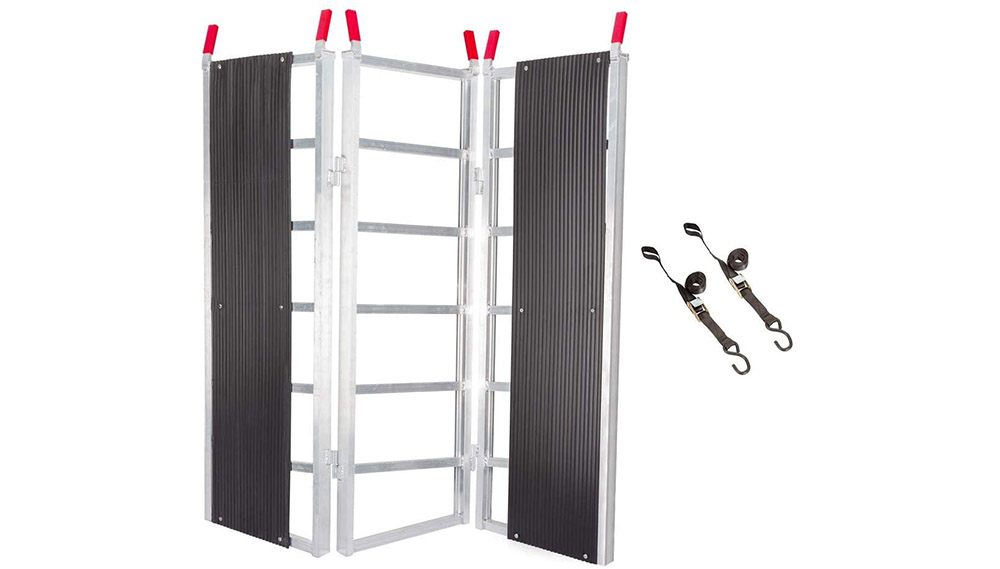 This snowmobile ramp from Black Ice is perfect for those of you who only need to load your sled up on a trailer. At only 60″ long it's far too steep of an approach angle for you to load a sled into the bed of a truck, but for those trailers, the angle is just perfect. The 54″ width is great for any snowmobile, and the extra-wide 12″ ski glides keep your carbons protected during the loading and unloading process. To save space, this lightweight (41 lbs.) tri-fold ramp folds up to a mere 17.5″ wide and is easy to stow in the bed of your truck or tie down onto your trailer.
5. Ruedamann Aluminum Tri-Fold Ramp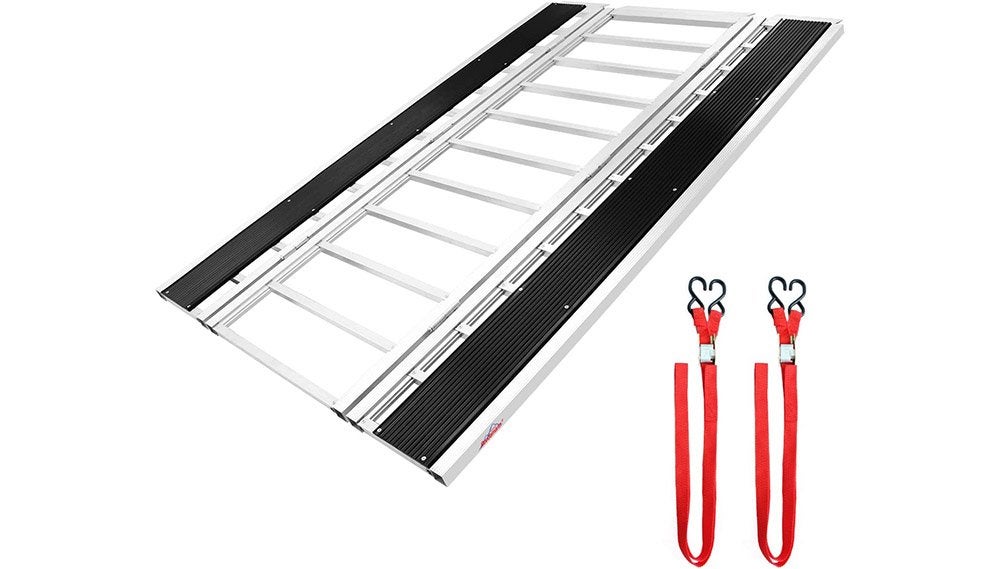 One of the more budget-friendly snowmobile ramps comes from Ruedamann. This 85″x54″ aluminum tri-fold loading ramp has a 1,500 lbs. load capacity and the removable polyethylene conveyor protectors ensure that your skis stay protected during loading and unloading. Want to use the ramp in the warmer months with your favorite ATV or UTV, simply pull the protectors off and store them for the colder weather. Weighing in at 44 lbs. this aluminum ramp is not only light but extremely strong with its precise welding and fixed rivets that keep load bars and hinges where they need to be. To ensure that this tri-fold snowmobile ramp stays in place during loading and unloading, a set of safety straps are included to secure the ramp to your truck.
How are snowmobile ramps different than ATV or motorcycle ramps?
Unlike traditional vehicle ramps, snowmobile ramps are equipped with unique glides that provide a great deal of traction. You simply won't find this kind of grip on standard ramp systems. Since snowmobiles require a texture that their skis can utilize, you need ramps that can accommodate their transportation system.
Much of the remaining construction is very similar to ATV and motorcycle ramps. But without the grippy ski glides, your snowmobile won't be able to drive onto the bed of your truck or trailer.
Additional Resources
Recent Updates
12/27/2021: Updated product descriptions, updated product links, removed out of stock product, added Ruedamann Aluminum Tri-Fold and Black Ice ramps, added additional resources.
---
We are committed to finding, researching, and recommending the best products. We earn commissions from purchases you make using the retail links in our product reviews. Learn more about how this works.