FXR Women's Snowmobile Jackets Buyer's Guide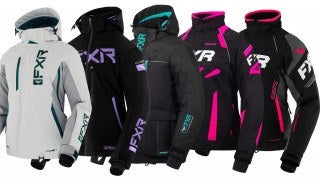 FXR has a huge selection of women's gear to keep you warm and dry while you ride
Female snowmobilers shouldn't have to wear bulky men's gear. Check out our FXR women's snowmobile jackets buyer's guide to find a jacket designed to better fit women so can be more comfortable and stylish while they ride.
It's snowmobile season in many parts of the country! That means it's time to get your gear together and head out to the trails or into the snowy mountains for a well-deserved ride.
But before you start snowmobiling, you'll need a good jacket to keep you warm during your outdoor activities. While lots of snowmobile gear is tailored toward men, there are also lots of options for women. Specifically, women should seek out female-sized jackets since they'll fit a little better and be more comfortable over the long run.
FXR has perhaps the best selection of snowmobile gear for women in the industry, including a wide array of FXR women's snowmobile jackets with styles and colors that are updated every year. FXR women's snowmobile jackets are characterized by slim, minimalist aesthetics and are made with high-performance materials designed to keep you warm, dry and comfortable.
FXR Excursion Ice Pro Jacket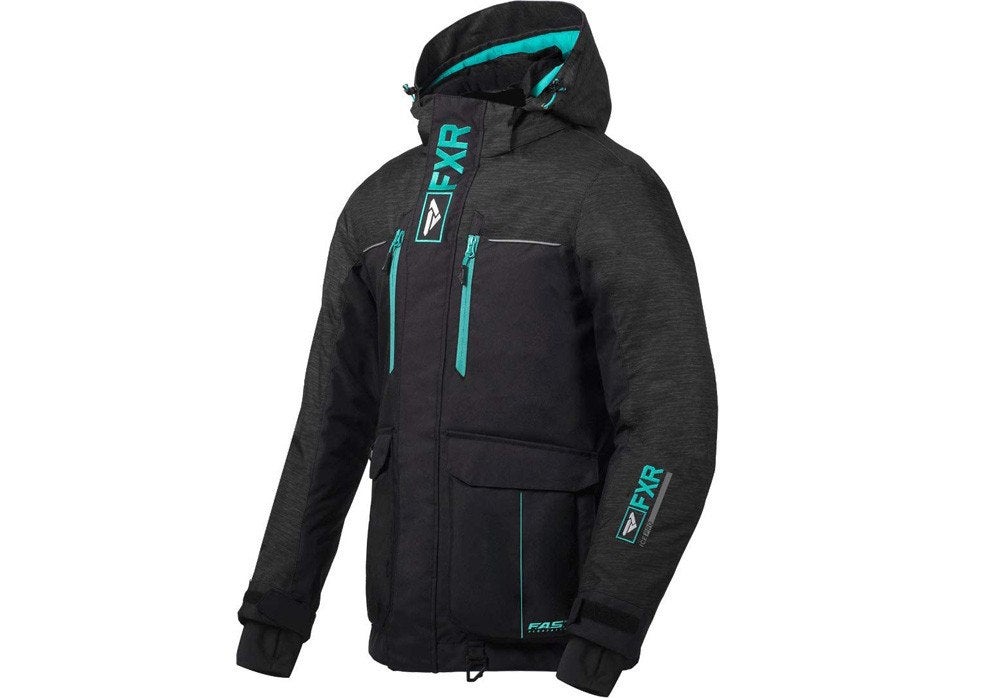 The FXR Excursion Ice Pro snowmobile jacket is made with phenomenal layering, including an exterior shell constructed of 300D polyester and a special laminate material to keep water out. The interior lining is exceptionally warm, as it's made of both mesh and fleece to offer warmth and comfort at the same time.
It's also heavily insulated, features a removable and adjustable hood, and comes in multiple sizes. It's a perfect choice for serious female snowmobilers who want the best of the best.
FXR Elevation Dri-Link 2PC Women's Monosuit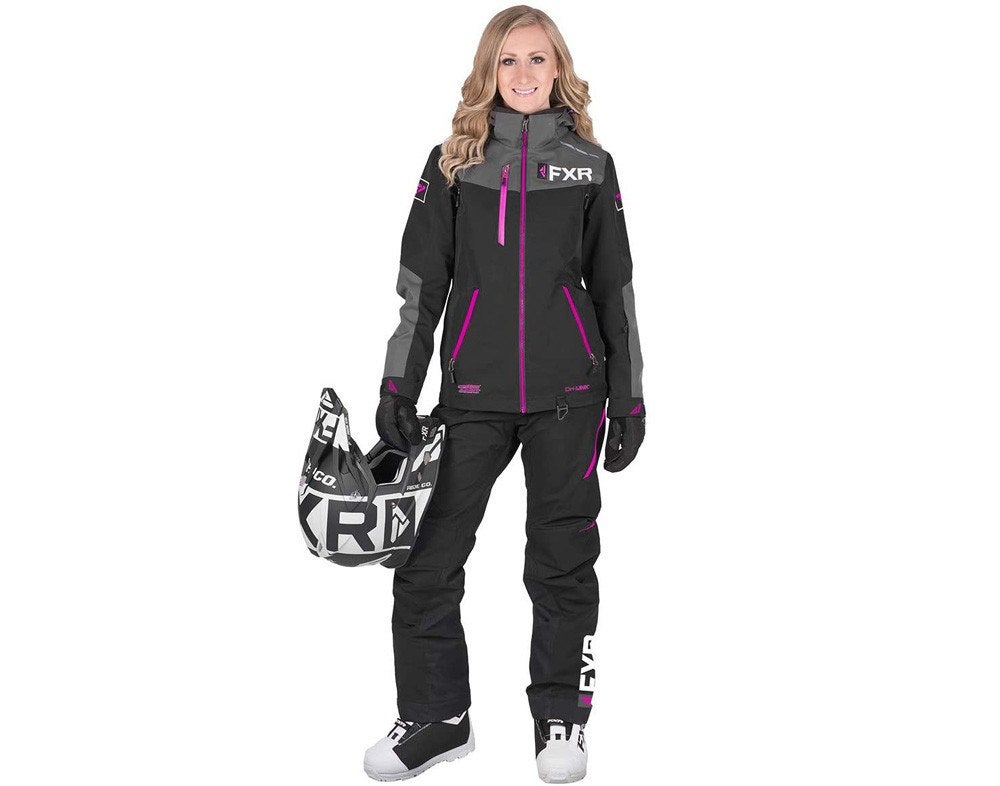 A step up from a jacket is this full FXR Elevation Dri-Link women's monosuit, which combines both a jacket and snowmobile pants. You can wear this and be totally comfortable and insulated against the elements when you go snowmobiling or enjoy other outdoor, winter activities.
This monosuit features a special linking zipper system that can detach from the jacket, plus a seam-sealed lining system to keep you warm and ensure good ventilation at the same time. The hood is removable and adjustable and the cuffs are adjustable as well to facilitate greater comfort while retaining body heat.
FXR Women's Ranger Jacket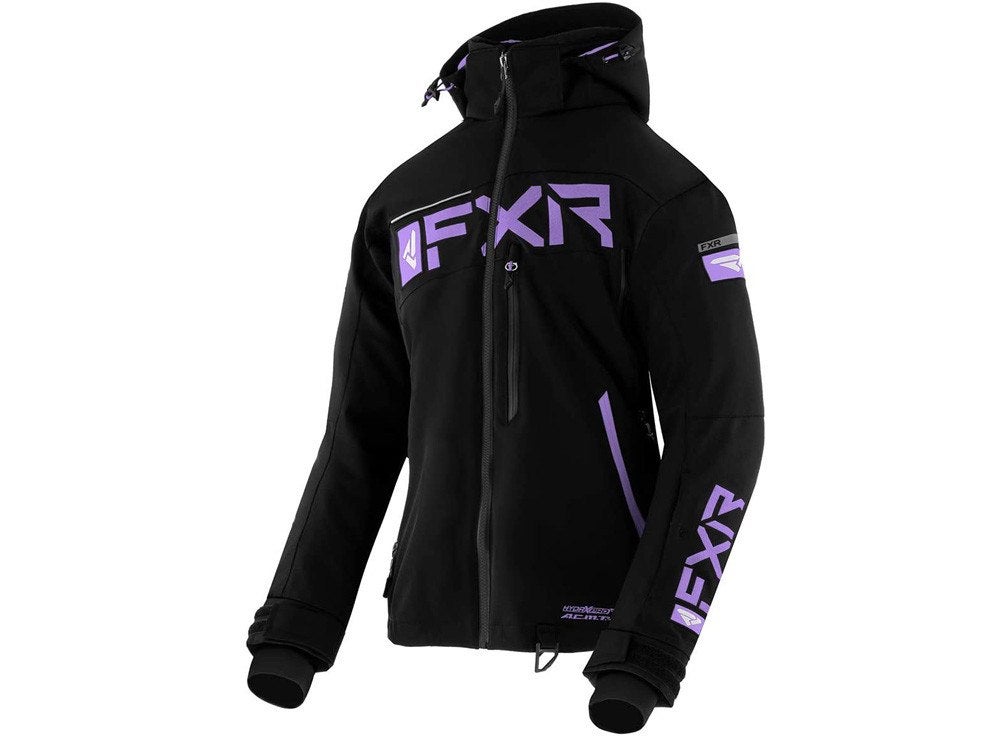 The breathable FXR Ranger jacket features an "omni-stretch" nylon shell that comes with another excellent and water-repelling laminate to keep you warm and protected from the snow. The fully seam-sealed lining system adds even more comfort to the mix, while also keeping your body heat nice and close.
Furthermore, this jacket features a dry ventilation system to prevent you from overheating, which can come in handy if the sun is out and the temperatures climb above freezing. Waterproof zippers and an adjustable wind skirt round out the excellent aspects of this snowmobile jacket for women.
FXR Women's Velocity Jacket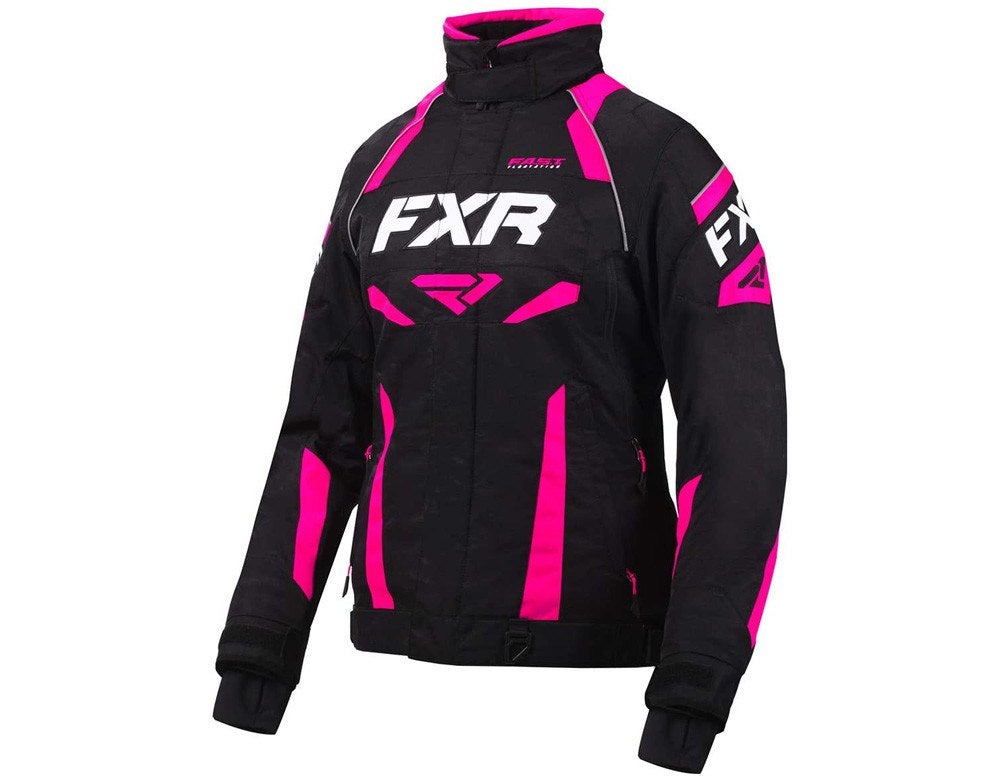 One of the most popular FXR women's snowmobile jackets is the Velocity. It comes with excellent insulation and a special thermal flex material that ensures the jacket will be comfortable and adjustable while also keeping your body heat close to your skin. The included HydrX coating protects both the outside and inside of the coat from rain and snow, so it's a good all-around winter jacket as well.
The dry vent system seen earlier returns here, offering snow proofing and moisture resistance with side body vents to prevent you from overheating. You'll also really like the cold stop front placket that comes with a magnetic closure system. The entire jacket only weighs 2 pounds, too, so it isn't very heavy when donned.
FXR Women's Adrenaline X Jacket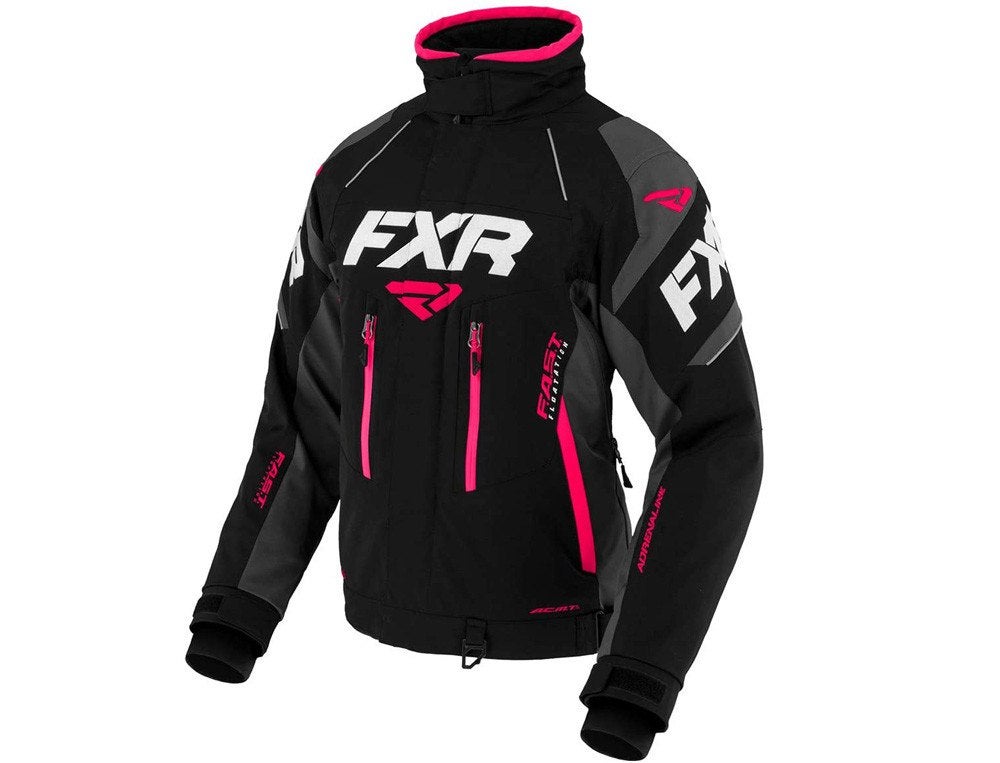 The FXR Adrenaline X is among the best women's snowmobile jackets on the market, cutting a few different colors and highlights and offering a unique "F.A.S.T." insulation system for the jacket's outer shell.
Other features include the Z-lining on the inside of the jacket, which implements integrated venting and other advanced jacket features to keep you warm without overheating at the same time. The dry vent system returns again and is, as always, moisture-resistant. Setting this premium jacket apart is a removable dry liner that provides extra warmth when you need it.
FXR Women's Evo FX Jacket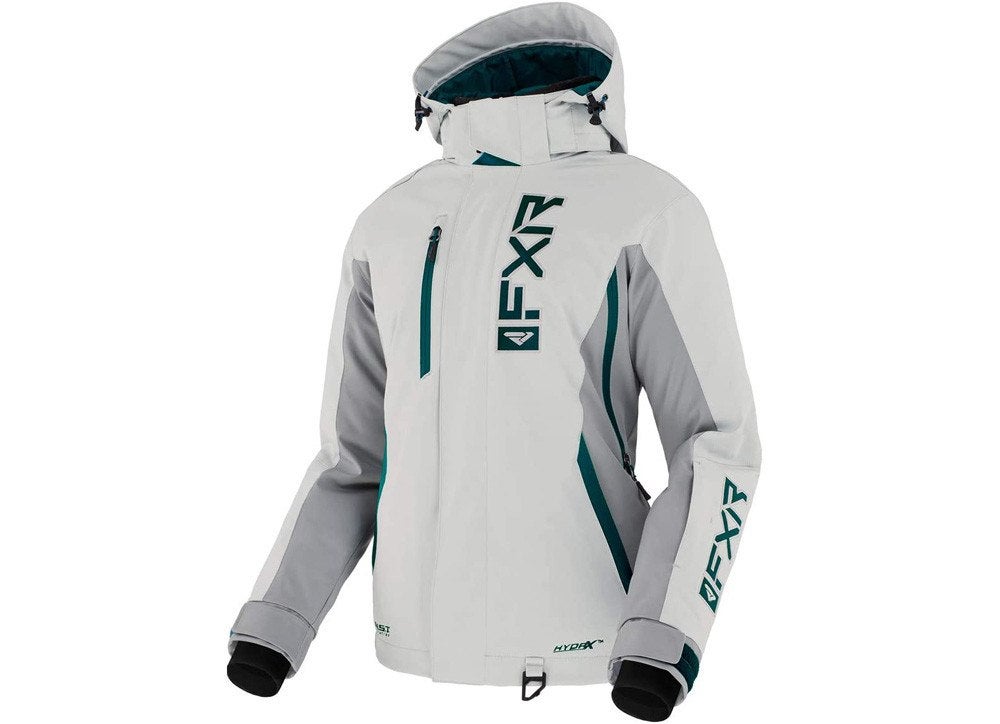 The FXR Women's EVO FX jacket is built around an omni-stretch nylon shell and a professional-level laminate to protect you from water and snow. The interior lining is exceptionally insulated and is bolstered by the same dry vent system we've seen before.
The cold stop front placket with a hook means wrapping the jacket around yourself will be quick and easy, even with numb fingers. The zippers themselves are pretty durable and waterproof. This jacket also comes with an adjustable wind skirt to protect your lower body to some extent, an adjustable or removable hood, and adjustable cuffs so you can adjust how tight the jacket feels around your wrists.
How Are Women's Snowmobile Jackets Different from Men's?
Men and women still have to rely on the same types of material and clothing technology to stay warm in wintry conditions, so you shouldn't expect women's jackets to be significantly colder or warmer than their male-focused counterparts. The big difference comes in how they fit. Women's jackets are designed and cut to better fit women
Women's snowmobile jackets can also come in brighter or more feminine colors, such as red or pink. If you're a woman, you'll have a better chance of getting a snowmobile jacket that fits you properly if you choose from the women's selection above than if you try to find a small men's jacket that also fits.
What Features Should You Look for in a Snowmobile Jacket?
A good snowmobile jacket is pretty similar to ski or regular winter jackets in many respects. But you should specifically look for:
Waterproofing, as it will be difficult to stay warm if melted snow and slush gets through the jacket and onto you
A hood. While you'll wear your helmet while you ride your snowmobile, you'll still want a hood to keep your head safe while you're walking around
Pockets to carry gear and accessories
A warm interior layer, preferably made of fleece or similar warm materials
Adjustable cuffs so that you can stay warm in the coat both when you wear your gloves and when you put them on
Most FXR women's snowmobile jackets will have all of these, plus excellent ventilation systems to prevent you from overheating while also keeping enough body heat inside so that you don't become too cold, either.
We are committed to finding, researching, and recommending the best products. We earn commissions from purchases you make using the retail links in our product reviews. Learn more about how this works.