On-Trail Vision for Snowmobilers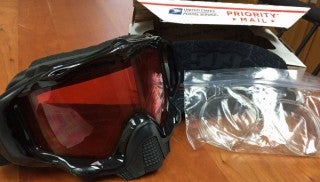 A good way to take your eyewear prescription on the trail with you
According to the International Snowmobile Manufacturers' Association, the average age of a snowmobiler is 44 years old. Age-related eye problems typically begin to show up around this same time. Not that it will keep you from snowmobiling. And with today's myriad eyewear solutions and Lasik eye surgery options, you could continue to have the eyes of an eagle for decades, meaning that scoping out the trail aboard a high speed snowmobile should be do-able and safe.
Because I've worn eye glasses since third grade and snowmobiled with and without glasses most of my snowmobiling career, I feel that I've accumulated some good and bad opinions on riding with eye wear. As a youngster welding goggles seemed like a way to go. They had a flexible frame and lots of holes to help move air to reduce fogging. Even today, most modern helmets and goggle combinations are designed for anti-fogging. If you don't wear glasses the problem usually only arises on damp, wet days. If you do wear glasses, the problem can start as soon as you flip your visor down or get some body-warmed air blown back into your helmet.
Over the years we've tried about everything and talked with other eye glass wearing snowmobilers who've also tried about everything. Everyone has an opinion for what works – for them.
Of course, we aren't just sport riding, as a snowmobile journalist, test rider, destination reviewer and so on, being able to see while we're snowmobiling is paramount. Then again, to compound the problem, we're one of those hot-blooded "voyageur" types whose internal furnace basically exudes steam when merely sitting on the sled. Once warmly ensconced in our snow suit, body heat chimneys up to our helmet for release, only to be blocked by a balaclava and forced outward toward our goggles or helmet visor. Then the fogging begins. If the day is bright and sunny and we waited to get our sled moving before fixing our goggles or shield, fogging may be minimal.
Admittedly we've tried things that work. For years we swore by the old cross-country racer get-up used in the 1970s. That generally consisted of an open face helmet and a snap-on type face shield over the best anti-fogging goggles you could find. It worked for me for years, becoming a somewhat comic trademark among my peers. Agreed, it was old-fashioned, but it worked and had its advantages for me. If the goggles fogged, they could be pulled down and I'd just use the shield. Riding with all that cool open air flowing usually kept the goggles and the glasses that they were covering clear and fog-free. We've tried electric goggles with battery-powered fans, but these tended to dry out the eyes. We didn't care for the electric grid goggles, but like the idea of electric shields that plug into your sled's electrical circuit. But, because we need to ride a variety of models and brands during our winter travels, they just aren't practical.
We've even gone so far as to get Lasik surgery and it has been an excellent option, except as we've aged our eyes changed so that while we could read the trail, our dash-mounted instruments needed to be further away like our lunch menu. But we discovered that modern top of the line snowmobile helmets and goggles have advanced an amazing amount and truly work to minimize fogging.
Along those lines again we've explored our options for improving our riding experience with quality helmets, goggles and even eyewear inserts. One type of eye glass insert fits onto the goggle lens. But another is a simple insert that snaps into the goggles and its lens can be fixed with a bifocal option so that you can see down the trail as well as read the sled's digital dash-mounted instrumentation.
That's what we tried. Honestly, since Lasik surgery our eye glass prescription was modestly changed, we figured we wouldn't be out much if the system didn't work for us, but at least we'd know. For me, they do work. Overall, though, unless you are a human blast furnace, this goggle option should work very well.
Don't go all goofy and disbelieving on us when we tell you where we found this set up. Florida! Alachula, Fla. to be exact, which is far south of the snowbelt. The product was recommended by a couple of diehard snowmobilers who've been using them for years. In fact, Drew Justice, an optician since 1984 and the originator of the "RX Goggles" system, does snowmobile, is an avid snowboarder, a motocross racer and a tournament paintball player – all activities requiring high quality active sport prescription goggles.
What Justice's RX Goggles company does is make up a unique lens system based on your exact prescription. They key to creating your unique on-trail vision solution is mounting your prescribed lens setting into a unique "adapter," which is a proprietary high grade Polypropenate frame, made100 percent in the USA. The lenses themselves are constructed of either a polycarb or Trivex material because that is what is used for safety glass lenses and it offers protection if you take an impact to the eye. A scratch resistant coating is standard.
The simplicity of the product is what helps make them so useful for snowmobiling. The actual adapters are customized inserts with your Rx lenses in them that can be fitted right inside the goggles, behind the goggle's lens and in front of the goggle foam. Only the foam touches your face.
The system does not alter your goggles in any way. Indeed, you can remove and insert them into another pair of goggles quickly and without any tools. The ability to remove the goggle insert makes them very easy to clean or dry while on the trail.
Through experience with various goggle brands and recommendations from its cadre of powersports testers, RX Goggles' website lists a number of specific brands for which it has created adapters. As a snowmobiler who tends to ride in extreme conditions of wet or cold, you might want to consider the factory-installed no fog coating option. Justice notes that in most cases, fogging is only a problem if you stop moving. He does not recommend using no fog cloths, but he suggests that anti-fogging sprays and pastes do seem to work pretty well if you follow the directions. He also says you should try to keep the inside of your goggles dry, which will be easier if your sled has one of those new goggle warming bins.
RX Goggles' most popular product retails for about US$149.00 base price and includes two polycarb Rx lenses and a lifetime warranty. You can use your own goggles or have RX Goggles provide them.
To place an order, you'll need a copy of the actual doctor's prescription and your P.D. measurement. If you have questions about the process, you can contact RX Goggles for instructions. For more information or to place an order, contact: RX Goggles, 12120 NW 202 St, Alachua, FL 32615 (Email: [email protected]; Toll-Free telephone: 1-888-794-6445).
We ordered and tried a pair that we've used at various locations. Before telling you how they worked for us, we have to admit that we disobeyed one of RX Goggles major recommendations. We went right to using them without any break-in. That was in direct contradiction of a red-lettered notation on the RX Goggles' web site requesting: "Please become accustomed to your prescription adapter before actually riding with it. Walk around with it, watch TV with it, etc. If you do not feel 100 percent comfortable with them, please do not ride with the prescription adapter."
Our first riding experience with the adapter system resulted in them not being properly installed, which created an unnecessary fogging situation. Our bad! The next time out, we followed instructions to the letter and they worked just fine. Heck, we were extremely pleased at how our custom goggle/lens system allowed us to view long range down the trail and up close at the digital instrument cluster. Wow, the close ups were as sharp as the long range view. Is that what on-trail snowmobile vision is supposed to be like? If that's what we've been missing all these years, we'll take it. And we'll stay with this system. We dropped our old open-face ways and are enjoying the benefits of safer riding with full-face protection.