Snowmobile Battery Buyer's Guide
Make sure your snowmobile is ready to go when you are
A dead snowmobile battery can ruin a ride day in a hurry. Use our buyer's guide to get yourself a quality replacement so your sled is ready to go when you are.
While not all snowmobiles rely on a battery to get started, for those that do you want to make sure you've got a quality snowmobile battery so your sled is raring to go at a moment's notice.
But finding the right snowmobile battery can seem like a daunting task. There are countless models to choose from, making it challenging to narrow down the best ones.
We've done all the hard work for you so you can easily pick from the top models. Use our guide to determine which batteries are best suited for your snowmobile.
Weize High Performance Maintenance Free Battery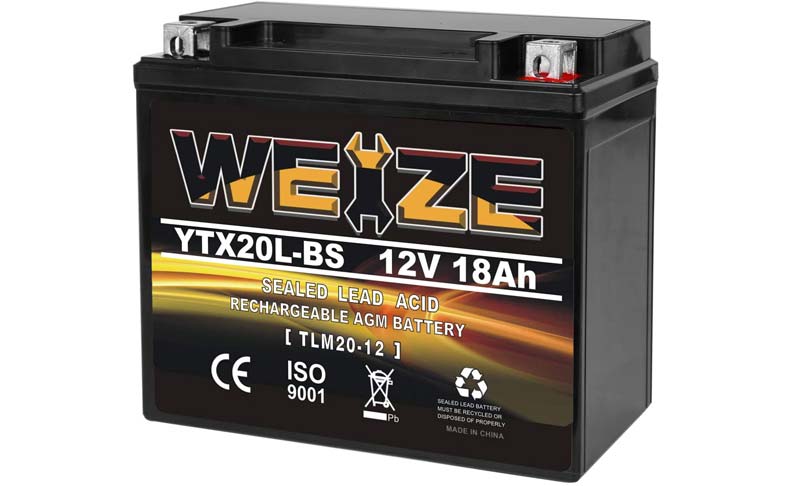 Weize takes the top spot with its high performance and maintenance free powersports battery. The Weize YTX20L-BS (one of the options in this lineup) is equipped with 12 volts and 18 amp-hours, it's an excellent example of a quality snowmobile battery. What's more, it has 270 cold-cranking amps, ensuring that your sled starts easier in frigid temperatures.
We like that this battery comes pre-filled and ready to use, making it completely maintenance-free.
This battery is also shock-resistant and built to withstand the vibrations and jostling that a snowmobile likes to dish out. Furthermore, you can safely mount this battery in any position. Weize designed it to be completely spill-proof, so no matter how you install it, its lead-acid will remain safely intact.
YUASA YTX20HL-BS
YUASA is an industry leader in powersports batteries and the brand makes a wide range of snowmobile battery options. The YUASA YTX20HL-BS is a solid option that fits quite a few snowmobile models.
Features on this powersports battery include YUASA's absorbed glass mat technology, sealed and non-spillable design, and a maintenance free design (you never have to add water). It is also engineered to protect against corrosion, withstand vibration, and deliver high cranking power.
As for specs, the YUASA YTX20HL-BS numbers are as follows: 12 volt, 18 amp-hour, and 310 cold cranking amps.
There is a little work required when your battery arrives. First, you need to add the acid yourself. Then you have to charge it up before installation.
AJC Snowmobile Battery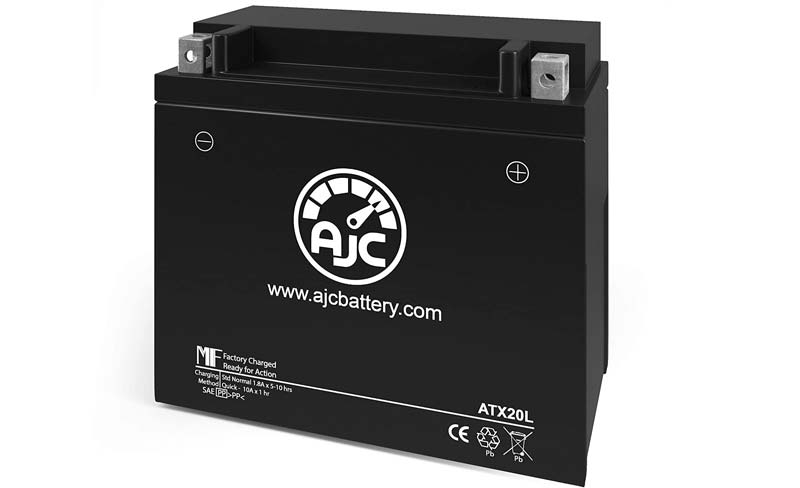 AJC has a battery to fit most any snowmobile application. AJC makes exact OEM replacement snowmobile batteries that are guaranteed to fit easily and precisely.
And unlike pretty much any snowmobile battery maker we've been able to find online, AJC makes it incredibly easy to find the right battery for you. If you search around on Amazon, all of the AJC battery models come with snowmobile models right in the name. It's really a foolproof way for non-battery experts to find a replacement battery.
If you do happen to make a mistake, AJC offers a 30-day return and every battery is backed by a 12-month warranty.
To keep your snowmobile battery running strong, AJC recommends that you charge them after each use (we will look at a couple of charging options below), avoid complete discharges, and periodically check the terminals for signs of corrosion or other wear. Do that, and your battery will last for many years of use.
We won't get too deep into specs, as AJC really has a battery for every snowmobile. But it is worth nothing that each battery is housed in a high impact case for maximum vibration resistance.
NOCO Genius G26000 Battery Charger and Maintainer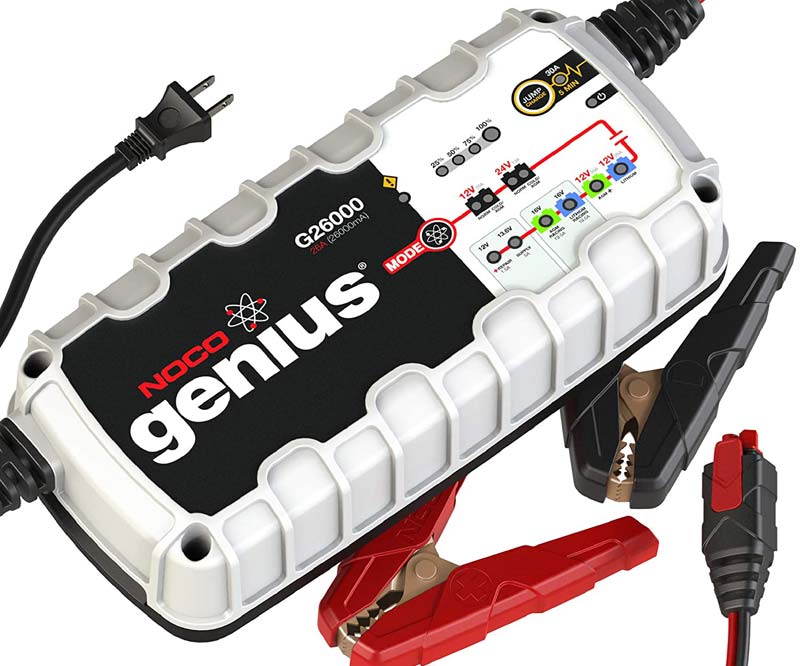 Are you the type of person who likes to be fully prepared for any and all possible situations? If so, the NOCO Genius G26000 is just for you. This professional-grade battery charger is a powerful addition to your snowmobile arsenal.
The G26000 is ideal for keeping your vehicles charged up year-round. It is compatible will all 12- or 24-volt lead-acid batteries, so you can trust that it will safely work with most snowmobile batteries.
Moreover, you never have to worry about overcharging, as the Genius G26000 is intelligently designed with auto shut-off technology when your battery is fully charged. Due to this, you can leave the G26000 plugged into your battery all year long without fear of damage.
Has your snowmobile been sitting longer than you had anticipated, and you're afraid it's since become damaged? Once again, the G26000 has your back. Thanks to its advanced repair mode, you can effectively reverse the damaging effects to your battery caused when you leave your vehicle to sit too long.
As such, you can look forward to restoring lost performance while saving you from having to buy a replacement battery.
Lastly, the G26000 has a mode that converts it to a 12-volt lithium-ion battery charger for enhanced versatility.
Battery Tender Plus 12V Battery Charger and Maintainer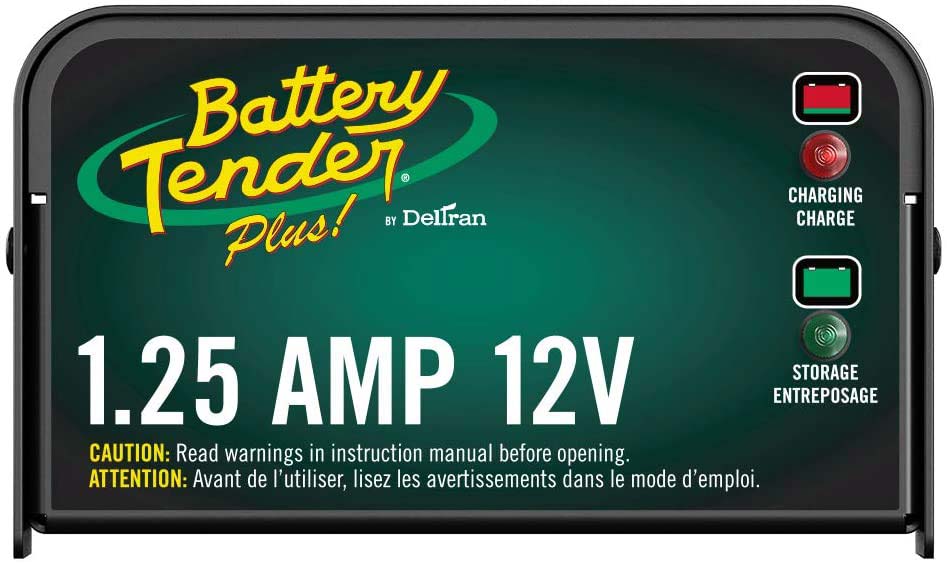 Wrapping up our snowmobile battery buyer's guide is Battery Tender's Plus 12V charger and maintainer. Built to work with a wide range of batteries, including lead-acid, flooded, AGM, and gel cell, the Plus 12V is ideal for long-term storage snowmobiles.
The operation is straightforward and easy to understand. The unit is equipped with two LED lights that let you know whether your battery is charging optimally or when it's fully charged.
Safety measures are built into the Plus 12V, as well, preventing sparking from occurring while alerting you when you have cables improperly connected. The charger/maintainer also required the correct connection to be locked in before it allows charging to proceed.
Moreover, you needn't worry about overcharging, as this unit automatically switches to float mode when your battery has reached its charging capacity.
The Plus 12V is designed to be a low-maintenance unit and is user-friendly for fast and effective operation.
How Many Volts is a Snowmobile Battery?
Snowmobiles use 12-volt batteries. However, the battery will perform at its best at 12.8 volts. You would be wise to purchase a volt meter so you can check the status of all of your batteries (car, truck, ATV, snowmobile, boat). If your snowmobile battery dips below 12.3 volts and won't hold a charge any higher than that, it is time to start looking for a new battery.
How Do You Charge a Snowmobile Battery?
Because snowmobiles typically aren't used daily, using a charger or maintainer will not only keep your battery topped up so your sled is ready to go, but it can also increase the life of your battery. The two battery chargers we listed above are also battery maintainers, which means that they won't overcharge your battery and they can actually repair damaged batteries in some cases. These are not expensive items, so do yourself a favor and pick one up to use on all of your vehicles.
We are committed to finding, researching, and recommending the best products. We earn commissions from purchases you make using the retail links in our product reviews. Learn more about how this works.