Best Snowmobile Helmet Communicators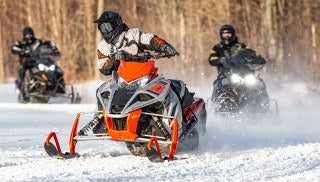 Stay in touch with other snowmobilers while you ride
Whether you're riding in a group of two or ten others, investing in the best snowmobile helmet communicators will ensure that you have a safe, enjoyable day in the snow.
Most of us like to go snowmobiling with a friend or two, so having snowmobile helmet communicators is a great tool to keep in touch while you ride.
Thanks to these best snowmobile communications systems, you can easily stay in contact with your riding companions. This is essential if you want to ensure that you have the safest riding experience possible and ensure that nobody gets lost or separated from the group.
That's why we're focusing on the best snowmobile helmet communicators in this guide. We want you to be equipped with the devices that will provide you with the best performance on the trail and off this winter and beyond.
1. Editor's Choice: Cardo Packtalk Bold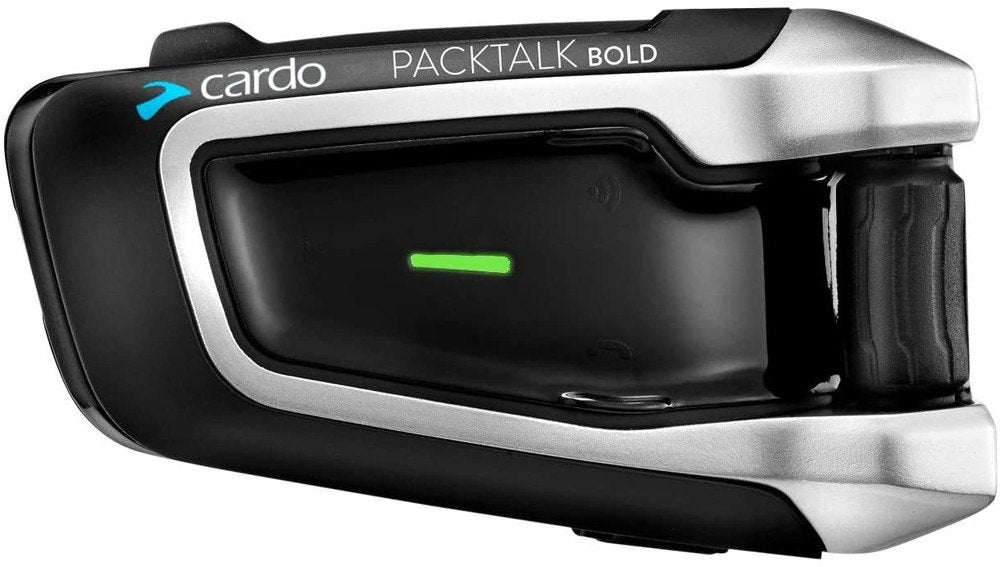 When you're out snowmobiling and you want to talk with your buds, the last thing you want to do is stop to fiddle with a communicator.
Cardo understands what an inconvenience this would cause. That's why the Cardo Packtalk Bold features hands-free communication.
All you have to do is say, "Hey, Cardo," and your communicator will activate. From there, simply use your voice to give commands.
Safety should always come first when you're sledding, and the Cardo Packtalk Bold embodies this principle. What's more, you can expect to get really great range on these snowmobile helmet communicators.
In perfect weather conditions, the Packtalk Bold has a range of up to one mile (1600 meters). However, it's safe to assume that you're not going to have perfect weather conditions when you're snowmobiling.
No worries there. The Cardo Packtalk Bold will reach 1,000 meters in real-world conditions, ensuring that you can stay in touch with your riding companions at all times.
It's also worth noting that you aren't limited to just conversation. The Packtalk Bold is great for piping music through to your helmet, as well. You can even control your smartphone using these handy communicators.
If you want superior convenience and performance in your snowmobile helmet communicators, Cardo's Packtalk Bold is definitely one of the best ways to go. This is why we rank it at the top of the list of best snowmobile helmet communicators.
2. Sena SMH10-11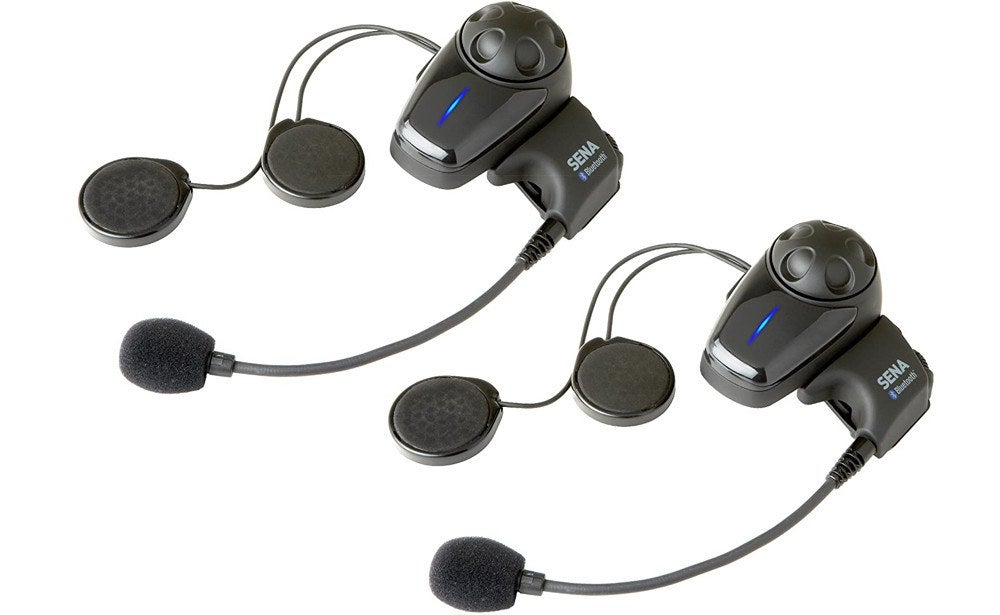 Full disclosure; these Bluetooth communicators were initially designed for motorcyclists. However, they are absolutely fantastic doubling as snowmobile helmet communicators.
The range of these units is impressive, reaching beyond a half mile. You should have no trouble keeping in touch with your riding mates, even in snowy conditions.
The battery life is also great, ensuring that you will be able to enjoy extended sledding without having to worry about your communication getting cut short.
In fact, you can get 12 continuous hours of talk time on a single charge. Conversation is equally impressive and does a great job of eliminating background noise while you chat.
Built for extreme temperatures, you needn't worry about the wintry weather damaging your communicator.
These models don't install quite as easily as the Cardo Packtalk Bold communicators, so expect to spend some time with them.
Once they are good to go, however, you will find that they perform admirably and do a fine job of keeping you in contact with other riders in your group.
3. UClear Motion 6
As its name implies, you can communicate with up to 6 people using the UClear Motion snowmobile communicators. This nifty snowmobile communication system is sleek and stylish, and it performs as well as it looks.
With a reach of up to ¾ of a mile, it's easy to keep track of your friends and stay in touch. Controlling these little snowmobile helmet communicators is innovative and intuitive.
Instead of relying on buttons, you simply perform gestures to make your commands. If you prefer, you can use voice control to handle everything. Honestly, this is going to be your safest bet.
You can do more than just chat with the UClear Motion, too. Listen to your favorite tunes as you shred powder for convenient, hands-free entertainment.
What's more, these are some of the most rugged helmet communicators you can buy. They are built for outdoor use and are completely weatherproof.
UClear promises impressive battery life, claiming up to 18 hours of continuous talk time on a single charge.
4. Lexin B4FM Bluetooth Intercom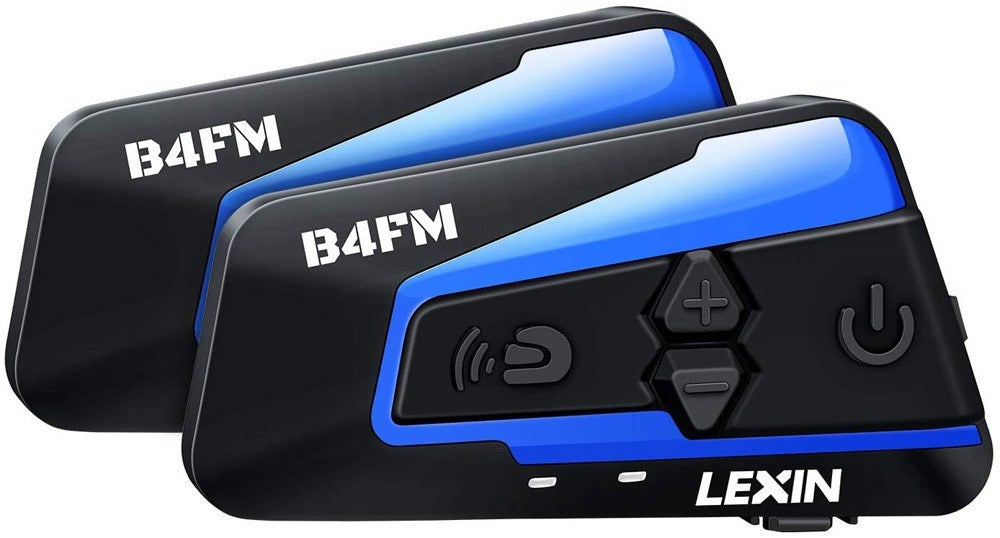 Helmet communicators can be expensive, but there are several more affordable options, including the Lexin B4FM Bluetooth Intercom.
Up to four riders can be on the Lexin B4FM system together, though this kit includes just two units. Helmet-to-helmet communication range is a claimed one mile in ideal conditions.
According to the manufacturer, the Lexin B4FM has noise cancelling technology that allows it to function well at up to 75 mph. Meanwhile, the lithium-ion battery provides up to 15 hours of music streaming, eight hours of continuous talk, or 120 hours of standby time on a single charge.
As you'd expect in a snowmobile helmet communication system, the B4FM is waterproof and can operate in temperatures as low as -15 degrees Fahrenheit.
According to user reviews, installation time is about 20 minutes per helmet. Designed for motorcyclists, some reviewers noted that the unit was easily heard while traveling at highway speeds.
How do I know which snowmobile helmet communicators to choose?
There are specific features you should look for when shopping for snowmobile helmet communicators. Noise cancellation is one of the most important. Snowmobiling isn't exactly a quiet sport.
You are going to hear a lot of sound interference if you don't invest in a quality communicator. Noise cancellation ensures that background sounds are reduced so you can clearly hear your friends.
What kind of range do I need?
Advertised range is often a bit misleading when it comes to helmet communicators, as they typically list maximum range in ideal conditions. Throw in trees, hills, and snowfall and you can cut that number down considerably.
So how much range do you really need? If you keep your riding group mostly within eyesight, you can get away with shorter ranges. Of course, added range will come in handy if somebody gets separated and needs some help finding the rest of the group.
For our money, it's worth getting helmet communicators with as much range as you can afford.
Additional Resources
Recent Updates
10/7/2021: Updated product descriptions, updated product Sena SMH 10D-10 to Sena SMH10-11, Ranked Products, Added FAQ and added Additional Resources.
---
We are committed to finding, researching, and recommending the best products. We earn commissions from purchases you make using the retail links in our product reviews. Learn more about how this works.