Tested: The Klim F3 Helmet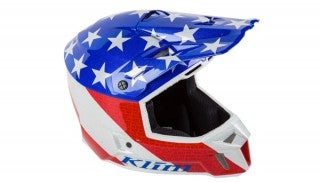 As a trail rider, dedicating yourself to an open-faced helmet like the Klim F3 is an art, especially after wearing full-faced helmets. Open faced helmets are derived from motocross technology and designed for intense riding, thereby offering substantial venting for intake and exhaust cooling. Wearing a quality, properly fitted balaclava can really make wearing an open-faced helmet enjoyable while trail riding.
Klim F3 Features
3 Shell sizes, interchangeable cheek pads & comfort liners to customize your fit
19 vents – many have a mesh and foam combination to reduce snow intake
Klim states it exceeds DOT & ECE standards
Available head sock & front guard
Trail Riders
Like many open-faced helmets, I found the F3 great to wear on warmer days, but cold when temperatures dipped below 8F. The head sock and front guard came in handy for colder weather. During warmers days, whether it was sunny, overcast, or snowing, I did not experience any frosting, fogging, or ice build-up. The Klim Oculus goggle fits very well in the helmet and I did not experience any wind on my forehead. When it's -18F, I found that ice would build up on the mesh front vents, and without the sock, I'd have cold spots on my head.
Off-Trail & Track Riders
For off-trail & track/freestyle riders, this helmet is very light, strong, and well ventilated. Playing in the powder or trees all day I noticed how light it is and that my head was warm. The finish on the helmet hasn't chipped or worn, and yes I've kissed bars with them a bit. To be noted, there seemed to be very few flat/level spots to mount an action camera and I mounted mine right at the tip of the peak.
After wearing the helmet for eight hours my neck does not feel sore or tired.
Klim offers the F3 in many colors and sizes. Price ranges from $239-$299 USD.
Visit Klim for more information.