Holiday Gift Ideas: For Her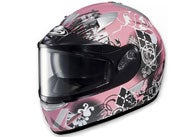 Last minute shopping hints for your special snowmobiling lady
Face it, guys; we aren't the only ones who enjoy getting out on the trails. In fact, in case you haven't noticed, women on snow are every much as opinionated about their sleds and gear as we are. So, if you want to make an impression on your favorite snowmobiling lady, get her something that will make her snowmobiling more special. Here are a few hints.
Storage
We all like to carry our gear when we ride, but today's sleds offer little help. That probably explains why the sled makers have larger parts and accessories catalogs. So, you can ride light, buy a snowmobile manufacturer's product, or check for other gear that may better suit your needs.
There is always the ubiquitous tunnel bag option, which probably is best purchased for a specific sled model. But you can find some very roomy storage options from aftermarket sources as well.
While more renowned for its sled apparel, Michigan-based Coldwave distributes some very good luggage options. Here are a couple to consider for your favorite sledding lady.
While guys may prefer a simple bag to hold a hat, there are those of us who can see the utility of a Handlebar Bag System like this one offered by Coldwave. This is more than a handlebar bag, it can also function as a waist pack — solving the problem of what do you do with your "stuff" when you make a pit stop. Carry it inside!
Coldwave's design is actually a complete storage system, complete with a large main compartment and pockets that accommodate cell phones, GPS, iPods and such. There's also a rollout map pocket with a large viewing window.
Made of Cordura for durability, the design features fully adjustable hook n' loop straps to ensure a tight fit. The compact handlebar system will fit virtually all sleds. It even comes with reflective panels for added nighttime visibility. The unit carries a suggested retail of US$65.99 (CDN$69.99) and is available at many online sites and better snowmobile dealerships across North America.
Coldwave also offers a Modular Trunk Bag that retails for US$119.99 (CDN$129.99) and must be used with Coldwave's Modular Luggage Mount and will coordinate with the company's optional Modular Saddlebag.
The complete system will give you a large capacity trunk bag of nylon and Cordura construction. The main bag expands to double the capacity. Inside you'll have a system of stretch mesh pockets and even elastic loops to contain tools.
The saddlebags also offer a central compartment and stretch mesh pockets. There are external beverage pockets. To help you keep your gear in place, the bags come with compression straps and quick release buckles.
The saddlebags retail for $159.99.
Snow Hotties
In an earlier blog we noted that Columbia Sportswear had introduced a new heated boot in men's sizing. Not missing a beat, Columbia used the same technology in a women's design it calls the "Snow Hottie."
Columbia claims that this boot is suited for arctic adventures, including snowmobiling. The new Snow Hottie combines "the toughness of a motorcycle boot, mixed with equestrian style and the warmth of a furnace."
Like the men's Bugathermo boot, this "ladies only" design uses Columbia's most advanced technical winter boot tooling that incorporates its Omni-Tech construction with Techlite cushioning. Add in the latest in high-tech battery pack heat sourcing and you get a boot with three levels of heat output. The maximum heat should last up to three hours in -25 degrees Fahrenheit cold.
The Snow Hottie boot offers water-resistant materials wrapped around a high-tech warming boot with built-in rechargeable batteries. You simply plug a house current adapter into your boots overnight to reboost the batteries before heading off on your next trail ride.
The boots weigh about three pounds total, making them no heavier than most wool liner pac boots. You can expect to pay upwards of US$250 for a pair of Snow Hotties, which are only available in black.
For more info, check Columbia.com.
Heated Gloves
Heated boots satisfy the lower extremities, but what about the hands? Zanier, a high-tech Austrian-based manufacturer, offers a line of electrically heated gloves. Unlike the Columbia boots, Zanier Heat-GX gloves use an external battery pack that allows the gloves to provide heated comfort up to 13 hours.
The Zanier glove features a processor that controls the heat. The Zanier design provides constant heat and warmth to the tips of the fingers, the part that gets cold first. Powering each glove is a small (Ni-MH) 4 oz. battery that gives you three power settings. You can enjoy 86-degree heat for 13 hours, 98.6 degree heat for 5.6 hours or a high setting of 131-degree heat for 2.4 hours.
The Zanier Heated Gloves feature lightweight power provided by NiMH batteries that can be recharged up to 1,000 times. In warmer weather you can remove the batteries and wear the Zanier gloves as a regular glove
The Zanier glove is constructed with palm leather and uses Gore-Tex for water-resistance. They retail for about US$250. To find a retailer, visit Zanier.com. In The Pink
HJC Helmet
Girls just want to have fun, but they like it known that they are girls after all! The latest HJC IS-16 Arkanium helmet in vivid pink makes it known that your snowmobiling companion is all girl.
Being all girl doesn't mean she has to settle for anything less than the best features. This helmet offers advanced polycarbonate construction that assures a good fit and lightweight wearability. There's a smoke-tinted three-stage adjustable sunshield integrated into the design that smoothly operates at a single touch. The anti-fog face shield provides UV protection, comes with an anti-scratching coating and is optically refined for superior on-trail vision.
The pink Arkanium style carries a suggested retail of US$214.99. For that money the helmet delivers full front to back airflow to flush out heat and humidity. The SilverCool interior is both moisture wicking and washable.
The HJC design is available in a variety of sizes and can be found at a variety of online and brick and mortar outlets.
Lady Ashley
FXR brings a special "look" to your snowmobile lady. The Ashley Jacket is uniquely styled in a variety of colors, including a hot red. It offers ultra soft and highly breathable construction of 300-denier nylon in its shell. The liner wicks moisture and the dry vent system evacuates humidity to provide a warm and comfortable design.
FXR offers a good variety of women's apparel for this season, but its Ashley jacket adds functionality to attractive styling. You'll find six zippered pockets, a key pocket on the lower sleeve, four inner pockets and soft stretch adjustable cuffs for added comfort.
Available through various snowmobile dealers, you can visit FXRRacing.com for more specifics and information on sizing and purchase.
Related Reading Holiday Gift Ideas: For Him