2009 Coldwave Velocity jacket
Jacket features aluminized Mylar liner
Though it's a little early to be thinking about gearing up for the 2008-09 snowmobiling season, a new jacket from Coldwave has caught our attention.
Coldwave constructed its Velocity jacket with new materials designed to keep you warm and safe when you're out on the trails. The jacket takes its name from the new Velocity nylon, which, according to national sales manager John Endries, is lighter and more durable than Cordura nylon.
To help keep you dry, the Velocity is loaded with waterproof YKK zippers. Also, an inner waterproof storm flap on the main zipper eliminates the need for the extra flap on the outside and provides extra protection.
Another waterproofing feature of the Velocity is the shell itself.  Coldwave is using its next generation of Powerskin, called Powerskin HP, which not only keeps you dry, but also more comfortable.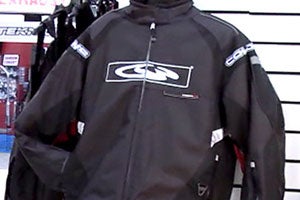 "It's actually twice as breathable and three times more waterproof than what our old one was, so it's a very performance oriented jacket," says Endries.
Also brand new to the Velocity jacket is the removable aluminized Mylar liner. The liner provides five ounces of quilting to keep you nice and warm, but because it is aluminized it also reflects your body heat back in.
"I had a chance to use this jacket up in Eagle River (Wisconsin) this year," says Endries. "It was 24 below zero and all I had on was a pair of high tech underwear and a sweatshirt and this (jacket) worked extremely well."
When the weather is a little warmer, you can remove the liner, roll it up into itself and turn it into a fanny pack if you want to take it with you.
Other features on the Velocity include a polar fleece lined Velcro adjustable collar, vents in the sleeves and on the back and 3M reflective piping to keep you visible at night.
If you are looking for some additional protection from the elements, Coldwave also has a matching pair of Velocity pants. The pants feature the same Velocity nylon shell and same waterproof Powerskin HP lining, as well as removable straps and removable five-ounce quilted liner.
Both the Velocity jacket and pants will be part of the 2009 line from Coldwave and won't hit retailers until at least August, 2008. Coldwave expects the jacket to retail for US$249 and the pants for US$229.