The Importance Of Base Layer Apparel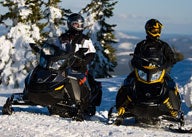 Modern snow wear should keep you dry, warm and odor-free
When we get ready to go snowmobiling, we rarely give great thought to what we're going to wear under our snowmobile suit. Heck, we'll spend more time choosing our facemask and gloves than our base layer. That may be a mistake, but with today's modern snow gear, we can't recall the last time we were truly cold. Chilled on a minus 20-degree ride? Yeah!
When we get chilled we tend to blame our top gear and not our base layer. Did we zip in the jacket liner properly? Did the jacket ride up over the back of our bibs? That's how we figure we got chilled. Like we said, rarely do we consider the base layer.
While we admittedly are not the earliest of adopters for new cold weather technologies, we are coming around. When it gets really cold, serious below zero wind chills and such, we reach for our LL Bean goose down parka before we head out for Wal-Mart.
When we head out for a day of snowmobiling we leave the goose down behind. Too bulky and who wants to spit out feathers along the trail anyway? No, we gather up one of our Thinsulate lined, Gore-Tex sheathed snowmobile jackets. If it's really cold we may slip on a down-filled vest as a middle layer over a fleece top. But the true base layer? It used to be a cotton t-shirt. Then we went to those thin "stay-dri" tees that are supposed to wick away moisture. Now we accept the technologies offered by snowmobile apparel manufacturers and opt for more modern products, which have come a long way in recent seasons. We especially like our Ski-Doo branded under gear with its partially zippered top. As we look into acquiring replacement gear, we've uncovered a great many options. As we break them down, we thought we'd share our findings and let you decide what suits you best.
Old-fashioned and popular red-colored "union suits" used to be the base layer for virtually all outdoorsmen. My New England ancestors who were woodsmen, sawyers and farmers back in their day would find the modern day Carhartt one-piece long john familiar with its button front and drop seat style. There may be many who snowmobile with "traditional" separate top and bottom long johns as the base layer, but the one-piecer, while available yet, probably has lost favor with most snowmobilers. If you want to go old school, for about US$40 Carhartt offers a midweight cotton one-piece union suit. It has rib-knit neck and cuffs for comfort and reinforced stitching.
The work-based Carhartt union suit is a traditional style and useful for outdoors workers. A slightly more modern version comes from Jockey, a well-regarded name in under garments. The company's modern take on the traditional union suit also features cuffed sleeves and fitted leg openings to retain body heat, but does it in a 60% cotton, 38% polyester blend that incorporates Lycra Spandex for more "give." The Jockey "waffle" design retails for about $58 but experienced shoppers may find it on sale for less than $30.
We admit to being torn a little bit between our favoring of "natural" fibers over modern synthetics. That's why, even though we have found a new favorite synthetic base layer, we still retain silk underpinnings and reserve the option of Merino wool. You ever see a flock of sheep wearing polyester?
Admittedly, we get nervous with our silk layer because it is extremely thin and seems to suffer under heavy use. However, we like it because it is extremely light. And maybe that's a problem, as it doesn't seem to be doing anything. But the reality is that silk, despite how light and flimsy it may seem, used for cold weather sports, typically skiing, is usually enhanced to make it wick away perspiration better. It feels comfortably soft to the skin. On the downside silk requires extra care, may need to be washed by hand and it may suffer shrinkage. Because of all that and the fact that silk typically costs more than synthetics, we keep it out as our back up.
Wool, specifically Merino Wool, makes a great base layer. We're not talking the old-fashioned itchy wool here, but the ultra fine fiber wool that is quite soft to the touch, making it very comfortable for wearing under sled wear. Modern wool products can be machine-washed, but like silk can suffer shrinkage if you're not careful. A natural fiber, wool doesn't wick like modern synthetics, instead it actually absorbs moisture, around 35 percent of its weight. That's why if you're wearing wool and it gets wet, it also gets heavy. But, hold on, while it holds moisture it also allows evaporation, just not as conveniently quick as many synthetics. In most conditions wool garments can help retain heat very well even when moist. That may be a negative as the garment may be clammy and heavier. Plus, serious "performance" wool-based products can be expensive in comparison to modern synthetic apparel.
Synthetics make a great deal of sense, if they offer wicking and breathability. In the early days of "lighter" synthetics, we tried some products and regretted it. When snowmobiling we want a product that can retain body heat without doing so well that we get wet, which leads to getting cold. If we wanted that, we'd wear garbage bags. Don't laugh. If you watched the movie, "Silver Linings Playbook," you noticed that Bradley Cooper's character wore a black garbage bag over his sweat top. That's going too far, but wrapping feet in plastic bags then putting on snowmobile boots was the concept behind those lightweight, yet dreadful foam "moon boots" of the 1970s.
Fortunately today's lightweight synthetic base layers feature the best of modern technology. Currently we've graduated to Ski-Doo's Active Base Layer top and bottoms. Made of polyester with Spandex for elasticity, this apparel also incorporates "X-static," described as a fiber antimicrobial. Basically, X-static is a fiber made with a layer of 99.9 percent pure silver permanently bonded to the surface of a textile fiber. Developed in Italy by Noble Biomaterials Europe, the product helps regulate temperature keeping you cooler in the summer, warmer in the winter. It also aids moisture transfer. And, really of more importance, it reduces odor-causing bacteria.
Ski-Doo retails this product for about US$60 for the top and another US$55 for the bottoms. The bottom line is that the product works very well. It's incredibly comfortable and we especially appreciate the zippered neck to help modulate body heat. This is the kind of product you want if you are an active rider. If you have to dig someone out of a snow bank, you'll really appreciate how well this base layer works.
Ski-Doo isn't the only snowmobile products retailer with a quality synthetic base layer. We've utilized KLIM products in the past and feel that the company's Defender shirt with a quarter-zip is a worthy alternative to the Ski-Doo apparel. Retailing for US$80, the KLIM-branded top is part of the company's Intelligent Base Layer line. The Defender is a medium-weight, high-wicking, quick-drying polyester blend knit garment that also includes Spandex in its make up.
KLIM competitor MotorFist offers a base layer called Next 2 Skin (N2S). Offered as a top and bottom combination, the N2S base layer uses materials designed to wick moisture, block UV rays, dry quickly and absorb odors. Another snowmobile apparel maker, FXR, offers a microfleece option.
Today's snowmobiler has many more options than a red union suit. There are a number of players in the retailing and in the available options of base layering. Even we've come around to accepting the merits of the latest gear. But be selective and do your homework.
Whether you ride aggressively over the moguls or in the mountains, it pays to own and wear top quality gear. The best day's ride might well start with what goes on first when you gear up for the ride. Times have changed for the better in technical materials to make snowmobiling comfortable. You'll find that the whole concept behind top quality modern base layer apparel is simple: keep you dry, keep you warm and keep you from stinking up your suit!
Related Reading Exploring MotorFist Snowmobile Gear FXR Mountain Vertical Attack Gear Review The Look of Participation The Importance of Accessories and Apparel 2012 HMK Snowmobile Gear Review