Understanding KLIM Snowmobile Gear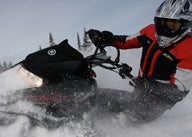 Using the best materials results in the best riding gear
The Rocky Mountains are beautiful, rugged, and peaceful to look at through binoculars. Yet its cracks and chinks are filled with wild folklore — much of it written by leagues of mountain snowmobilers who shivered their way to fun and fame. Really? Shivered?
Being snowmobile-smart is more than understanding spring rates, track compounds, and fuel and oil blends. Smart snowmobilers are also clothing smart. We rely on robust and functional clothing to help us muster through a long day of testing or simply play riding. If our midsection, toes or fingers become frigid, we gritch and groan. If we become wet from deep-powder snorkeling, we also get excitedly ticked off.
Over our years on the snow, we have observed and become very familiar with Rigby, Idaho-based KLIM, which frequently lets us test-wear new apparel concepts. It's an interesting revelation as to how KLIM gets it done.
A Staple for Any Serious Mountain Rider
KLIM has become a staple for mountain apparel. But, a rider does not have to be a mountain man to reap the benefits of KLIM's superior moisture wicking, and wind and waterproof products; trail riders, meadow boonie mashers, ditch bangers and geezer cruisers all can benefit from products made by KLIM. For 2011-2012, KLIM has expanded its insulated products.
KLIM is a company that controls its products from conception to full production. Many apparel companies' private labels are built on an existing design with much of the actual product manufacturing and quality control left to be handled by the builder, not the private label company. Not with KLIM, which prides itself as a total quality control company. KLIM is similar to, let's say, Ford where the KLIM team conceptualizes, mocks up, tests and re-tests a design until it is proven false or true. After approximately 18-months of testing, a product is built or scrapped.
On its website, KLIM claims, "KLIM Technical Riding Gear is the global leader in designing, developing and manufacturing the most advanced motor sports apparel for the snowmobile and motorcycle rider. Utilizing the world's highest technologies in waterproof, breathable, durable and comfortable materials, KLIM builds gear the most demanding riders: TRUST. Driven by the continual feedback and input from dedicated test pilots and passionate customers, KLIM strives to do one thing above all—improve your riding experience without compromise. We invite you to experience the difference riding in truly Technical Riding Gear from KLIM can make."
KLIM controls all production input. Zippers, threads, reflective piping, inner, middle and outer linings are specifically procured for a particular product – pant, coat, boot, glove and helmet. Suppliers, such as GORE-TEX, THINSULATE, PITTARDS, CORDURA and YKK zippers collaborate with KLIM to assure KLIM's products, as well as their own supplier products, are properly utilized to assure high function, durability and comfort for the end product. These suppliers, when selling their high-end products to KLIM, must receive from KLIM an assurance too their products are properly represented.
KLIM employs industry professionals in all aspects of gear construction because the company refuses to compromise and give someone other than its in-house team the control over KLIM quality. From concept to final products, everything is done in-house in Rigby, Idaho. This includes factory visits and quality control, warranty and repair, test fittings and in-the-field durability tests. There are quality control officers who travel oversees to verify if its sewers adhere to KLIM's strict quality control guidelines. The firm works with its product vendors to assure logistically (through supply chain) that all the garment pieces arrive at the sewers to construct the coats, bibs etc. on a timely schedule.
The KLIM relationship with material technology providers mirrors its GORE relationship. The companies KLIM brings on board and incorporates into its company mission are as interested in seeing each product line succeed, for success also means the supplier succeeds.
If there's a new piece of technology out there that YKK Zippers believes KLIM should be using, for example, KLIM is immediately informed. Minnesota-based 3M is another important partner where its THINSULATE and SCOTCHLITE products are used to keep KLIM riders warm and visible under the most extreme conditions. The most important thing to remember when thinking about KLIM and its material suppliers is that it's a circular relationship — meaning that KLIM and its suppliers feed off each other to deliver the best end products available.
For apparel use in a cold and wet environment, KLIM has enjoyed great success by using GORE-TEX's latest and most innovative membrane. Keeping a rider dry is key to snowmobiling comfort and the GORE-TEX middle membrane that resides between the outer and inner layers of topnotch winter apparel allows the body to exhaust its heat and moisture.
The GORE-TEX membrane is completely waterproof and completely breathable. The membrane contains over 9 billion microscopic pores, which are approximately 20,000 times smaller than a drop of water, but 700 times bigger than a moisture vapor molecule. Water in a liquid form cannot penetrate the GORE-TEX membrane, yet moisture vapor can easily transfer from the body to the atmosphere. The choice of the GORE-TEX membrane is a key to quality as it makes KLIM's winter wear waterproof, windproof and breathable.
The Relationships
KLIM and GORE-TEX are unique in the apparel industry as the two companies develop new products (from raw materials up) in conjunction with each other's expertise and with each other's end-goals in mind. It's how the two firms can deliver a KLIM and GORE-TEX "GUARANTEED TO KEEP YOU DRY" promise. The companies work closely with every piece KLIM designs tested by GORE to ensure it passes the industry's most stringent standards of waterproofness, breathability, durability and more. At every revision, the product is sent back to GORE's laboratories for the same battery of tests. Then it's done on the production sets. Then on the next set of concepts. And the process rolls on.
GORE-TEX, a laminate applied to different outer fabrics and liner materials, goes on the outer layer, on the underside. If you think in terms of it as a sandwich, GORE-TEX is the meat. The outer layer of your gear isn't the waterproof part. Yes, water beads up on the outer layer, but that's not long-term waterproofness (that's a treatment given to the outer fabric). Much of KLIM's development happens with its exclusive combinations of laminate, outer shell material and liner materials. Gear designers and developers can affect any aspect of a garment—from flexibility to abrasion resistance—by altering one or more variables in the mix. That's the importance of having everyone in the development process in-house at KLIM, which can create something off-the-wall, send it to GORE and have results back quickly. Conversely, GORE will send KLIM ideas as they create new laminate technology that might be successful in new powersports apparel and gear.
While 75 percent of snowmobilers may be male, KLIM gear is not for just men. Indeed, the company has worked diligently to develop gear and apparel sized, styled and constructed to fit the unique needs of female riders. By working with focus groups featuring a dynamic cross-section of real female riders and through years of work, KLIM has developed real riding gear built for the female rider that features the exact same technologies as its top-of-the-line men's gear. With the addition of the Alpine GORE-TEX layering outerwear Jacket and Bib to the KLIM Women's lineup, the serious female rider now has her own complete line of female-specific high-performance gear.
For more information, visit http://www.KLIM.com/en-us/.
Related Reading KLIM and GORE-TEX Offering $5,000 in Snowmobile Grants KLIM Unveils Women's Alpine Parka and Bib KLIM Unveils New Snowmobile Gear KLIM Tomahawk Parka