Hayes Trail Trac Brake System Review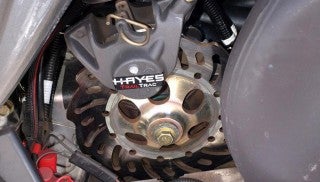 Trail Trac brake system can make you faster, better, and safer
Every now and again a new product or concept comes along that can truly benefit snowmobiling.
In the 1960s the carburetor of choice tended to be supplied by Tillotson. Since it came on virtually all of the industry's top selling Ski-Doo snowmobiles through much of the sport's infancy, it was de facto the carburetor of choice. Eventually there was a switch to round and flat slide carburetors and now carburetors themselves are being replaced by various electronic fuel injection systems, which improve starting and can offer improved emissions and fuel efficiency.
A reverse gear seemed unnecessary and unwanted when it added weight to sleds that weighed less than 350 pounds, but when they bulked up, offering a way to back off a trailer seemed more important. Then, when Ski-Doo and its Rotax engine affiliate created an electronic reverse system for its two-strokes, offering reverse became almost mandatory.
The same applies to hand and thumb warmers. At first these electrically heated devices were only available through the aftermarket and the sled makers were a bit slow to adopt them, until consumers demanded them. Now, every sled has hand and thumb warmers.
Read our Snowmobile ABS Feature Looking Safely Ahead
The value of liquid cooling was proven on a single cylinder 292cc Yamaha engine that powered 1970s' Sno-Jet racer Jim Adema. The first production liquid-cooled snowmobile came from Chaparral in 1974 when the company unveiled its SX model. Of course, liquid-cooled engines are ubiquitous now and air-cooled two-strokes are fading into snowmobile history.
What about snowmobile brake systems? Just as with carburetion, hand comfort and engine cooling, snowmobile brakes have benefitted from modern upgrades. Vintage enthusiasts know too well the idiosyncrasies of those early brake designs that didn't so much stop you, as they didn't speed you up. Band brakes, shoe-type brakes and mechanical scissor disc brakes eventually gave way to hydraulic disc units. In the 1970s Polaris specified a hydraulic brake for its top of the line TX 500 Limited. When the company went racing, Polaris developed a liquid-cooled brake that carried over to production Indy models. In recent years, Polaris has experimented with other brake concepts, including forms of antilock braking.
About four years ago we had chatted with various snowmobile engineers about bringing over automotive concepts like ABS to snowmobiling. While no one specifically said they were working on ABS for sleds, it was implied. Now we know that Polaris was one of those companies. And, if you know the relationship Polaris has with one of its suppliers, the chain of experimentation becomes obvious.
Owners of vintage era snowmobiles most likely will recognize the name Kelsey-Hayes, the supplier of most early hydraulic braking systems. Today, the "Kelsey" is gone and the company is known as Hayes Brakes, with an emphasis on "performance systems." With little fanfare Hayes seems to almost work in the shadows. Hayes clients emphasize new products such as the 2008 lightweight Sawtooth forged rotor the company designed to be used on lighter weight snowmobiles or Arctic Cat's 2011 introduction of a radial master brake cylinder for F-series models. That's a Hayes design, too.
Hayes supplies hydraulic disc brake components to Polaris, Arctic Cat and Yamaha, and since about 2005 has been working on a new brake system that very well may make you a better, faster and safer snowmobiler. To call the recently unveiled Hayes Trail Trac an antilock braking system does it a disservice. It is much more than that.
Recently, upon our return from West Yellowstone where we rode virtually all the newest and most significant sleds for the coming season, we had a chance to test ride two Trail Trac-equipped Polaris snowmobiles. Admittedly our racing years are so last century, but even past our competition years, we could still feel and appreciate the benefits of the Hayes development.
In point of fact, the Hayes Trail Trac electronic braking system is already available to you. The regular price is US$995, but you can save $200 by getting in on an introductory offering. The Trail Trac kits fit 2010 or newer Polaris Rush, Switchback and Indy snowmobiles and need to be installed by Hayes authorized dealers. Is it something that you need? Probably not, but it is something that can definitely benefit you.
Product Test Ice Scratchers for Flatlanders
Understand that Hayes supplies the brake systems to both Polaris and Arctic Cat, which means in select models, the Hayes Trail Trac kit is a virtual swap out for the stock components. If you were to open a kit, you'd see a very familiar handlebar-mounted master cylinder brake and brake caliper assembly, replacement brake lines, new electrical harness for sensors and switches, and a hydraulic pump with electronic "brain" control unit (ECU). The most obviously new piece will be the "on-off" push button control switch that mounts to the sled's console and engages (or, disengages) the system.
Hayes spokesmen acknowledge that a competent do-it-yourself snowmobiler with the proper tools and mechanical experience could install the unit, but the company prefers that an authorized dealer do the install, which should take a dealer no more than two hours.
The system itself is both simple and sophisticated. When we first saw the kit come out of the box, we weren't overly impressed. Yeah, there were a few feet of wiring harness, a brake master cylinder, brake caliper set, some sensor plugs and an ECU. In fact, this box of pieces was in itself very impressive as all of what you need to transform your sled's stock brake system to the Trail Trac system was all ready for installation. That includes a fully bled brake system.
That ECU that we so cavalierly dismiss as being some kind of black box with a wiring harness that talks to and controls the actions of the hydraulic pump, well, it represents thousands of hours of careful fine tuning. This is the system's brain that calculates inputs from the speed sensor reading the track and brake light activity. Those calculations feed into the ECU's stored algorithms that instantly determine how the pump will react to what your brake hand tells it. And, how the track will respond under braking at various speeds and in various traction conditions.
We won't go into the basics of establishing the algorithms. We are neither engineers nor mathematicians, simply snowmobilers. That's what counts here. All you need to really know is that the onboard system works as described. How it works on the trail is what you really want to know.
For the purpose of our test ride, Hayes supplied two different sleds, a 600 Switchback with standard rubber track and a 600 Indy with heavily studded track. We learned more from the unstudded sled since that is how we ride. As noted, our racing years have faded along with the need to run 70 miles per hour through the woods. That's probably a good thing as Hayes spokesman Michael Dawes explained that the Trail Trac system is designed to work best at trail speeds between 20 and 60 mph, what Hayes researchers determined is the reality of a fast rider's on-trail performance. He also noted that the system reverts to regular braking below about 15 miles per hour to allow normal operation for loading onto a trailer and such.
In that 20 to 60 mph range the Trail Trac works well. Since we are old-school riders who learned to use the throttle more than the brake – after all, in our learning period brakes were marginal at best – we had to work at staying on the throttle longer and charging deeper into turns, relying on the braking system. Conditions for the ride were well suited to the Trail Trac. The previous days had been warm, but overnight temperatures left the trail icy, hard and rutted. Many of the shaded corners were slick, offering a good chance to feel the sensor interaction with the brake.
Product Test Scala Rider G4 PowerSet
Key to this system is a pulsing you can feel when hard on the brake lever. On those occasions when we dived too hard into a turn and yanked a handful of brake, we could feel the lever pulse as the track wanted to go into full lock, but never did. According to Hayes you get an increase of up to 40 percent more braking power due to the kit's use of high performance friction material, low retraction caliper and the greater optimization of the brake's master cylinder. We noted that the brake engaged easily, yet under heavy braking the track did not lock up nor did we get any side-to-side out of control sensation common with non-Trail Trac systems.
There were some obvious observations from this ride. First, the system telegraphs via brake lever pulsing just how the track is reacting. Second, lack of track lock-up prevented loss of control when emergency braking in a corner. And, as important, since the track doesn't lock, neither do the clutches. When you grab a handful of brake the Hayes system lets the engine/clutch stay fully engaged so you don't lose control.
We will admit that for a variety of reasons it took us a few miles to get used to the system. By the end of our 60-plus mile test run, we were fully engaged. The Hayes Trail Trac is a nifty set up. We found that our biggest issue was trusting it. After all, we had to build up some courage to go as deep and as fast as the system likes. When we did, the Trail Trac never let us down; it encouraged us to explore its limits. Our ride was over before we reached that point.
Now, let's be truthful, we expected to be impressed with the Trail Trac's performance. We've thought for a long time that some kind of pulsing or programmed braking system not only could work with snowmobiles but that it is overdue. We figured that such a system would make us safer since the track would not lock up and send us slipping side-to-side needing to respond with an anti-skid maneuver. In fact the Trail Trac does not lock and send us "slideways," it actually does much more.
Once you learn the system, trust it and utilize it, Trail Trac can make you not just safer on the trail, but actually quicker, smoother and an overall better rider. If you are a good, quick rider, Trail Trac will help raise your game. If you are an aggressive trail rider, it can make you faster and more under control.
Right now Trail Trac is only available through Hayes, but both Polaris and Arctic Cat are exploring the possibilities of incorporating the system. We understand that cost has to be a consideration, but on a $14,000 performance snowmobile? A manufacturer could offer the Trail Trac system as an "early season buy" incentive. However, it is quite likely that once a number of riders have and use the Hayes Trail Trac system, they won't want to give it up, which means that the Hayes "pulse" braking system eventually may become as common place as hand warmers, EFI or liquid-cooling.
For the latest ordering information, contact: http://www.hayestrailtrac.com/.