The Importance of Accessories and Apparel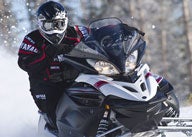 Expect more options for you and your sled
In case you've been living in a dial-up only snow cave, parts of the snowmobile manufacturers' internet sites have started to look like those online catalogs you'd expect to see from Target. The only surprising thing about this trend is that it has taken so long. Welcome to the digital age sled manufacturers.
We've been online shopping since the mid-1990s when it was truly so last century. We worked with unbelievably slow AOL or Prodigy dial-up phone accessible sites. Our choices were limited and horribly slow. But it seemed like a good thing.
Moving ahead at the speed of digital media, we now do the majority of our holiday shopping online. Need a part to repair the gas grill? Hop online to find it, spec it out and order it. Need to find a pair of electrically heated gloves? Ditto. Still, if we want to touch and feel the gloves, we go online to find a store that carries the product in our area. But, chances are we'll buy the actual product online once we've seen it, sized it to our hands and priced it out and determined that getting free shipping and saving on a tax-free sale is worth the delivery wait.
We are now seeing the sled builders making serious efforts to sell more parts, garments and accessories (PGA). In this period of economic tough times, it makes great sense. When you look at a sled maker's annual financial reports, you realize that increasing PGA can be big business.
Example, one sled maker's annual financial statement shows that for all that its sleds generate in sales revenues, the maker has a margin of only about 17-18 percent. In other words, the materials and labor to build the sleds can cost upwards of 83 percent of the sales returned. A quick look at PGA shows that for every dollar brought in as sales, the manufacturer enjoys more than double the margin, or a cost versus sales of 40 cents on the dollar.
If you've ever been to a post-Christmas clothing sale at your favorite Macy's or JC Penney's, you know this has to be true. How can a store live on sales of 80-85 percent off on selected merchandise? Or, wow, what kind of margins do clothiers enjoy
Since we all like to get a great deal on big purchases like cars, snowmobiles and ATVs, we aren't shy about beating up our local dealers. Just ask them. Plus, they have competition down the street that will battle price for your business. Sled sales are notoriously nasty for cost cutting due to competition, unless they have a particularly hot sled in short supply. Such as last year's Arctic Cat turbos. Then dealers can ask for list price.
But, when it comes to PGA, we probably aren't as brutal with a dealer. And there is usually more room to maneuver, though we don't ask for it as aggressively. On a fairness basis, finally sled dealers catch a break and can often make more margin percentage on PGA than on the sale of a pricey new sled. That's also why top dealers like used sleds. The margins are better and they can make better profits per unit.
We expect that 2012 will see an increased push by the snowmobile manufacturers to promote PGA. Following the money tells us that publicly held companies like Polaris and Arctic Cat generate up to 22 percent of their overall sales revenues on PGA. It's an especially valuable profit center from snowmobile and motorcycle buyers, who want to own the unique "look of participation" that comes from brand and product specific apparel and gear. Heck, Harley-Davidson generates 17.5 percent of its overall sales from PGA. That represents $817 million worth of very profitable business. Arctic Cat's PGA in fiscal 2011 accounted for 22 percent of the company's sales revenues. Polaris PGA sales represented 15 percent of the company's sales for a total of $408 million. Just two years before, in 2009, Polaris PGA was at $313 million. You think a nearly $100 million upward swing in PGA sales went unnoticed by the Polaris MBAs?
What does this mean for us? First, we will have great options to "look" the part of in-the-know snowmobilers. Did you see the latest Ski-Doo Spring Edition catalog? It's 154-pages of fun gear for Ski-Dooers. This is not a catalog of simply spark plugs and drive belts. It has colorful products to dress you up more boldly than a strutting scarlet macaw. There are incredibly unique "wraps" for your sled that can take it from simply ghostly to 1960's psychedelic. Want to convert your REV to a two-up trail tourer? There's gear for that. Want to add storage or carry extra fuel, there's a complete LinQ onboard cargo system available. It's all outlined in the Spring catalog. Or, as you'd expect in the age of Twitter and Facebook, Ski-Doo can showcase it at its online store.
What kept the sled makers from more quickly adopting the online presence? Old thinking. That was one barrier. Having worked with a snowmobile online presence since the mid-1990s, it was amazing how inept most companies tended to be early on. The web was new. It was the enemy of the status quo. And it was horribly misunderstood for nearly a decade by companies that could have truly benefited from implementing its bold marketing usages. Now, most companies have an internet presence, some even know how to maximize the internet for good marketing opportunities.
Early on, snowmobile marketers were reluctant to embrace online catalogs because they felt it would bypass their dealer partners. That's why you'll see some companies offering online purchasing, but having you pick up the goods at a nearby dealership. After all, if the product must be installed, it can be a good thing to have a dealer involved. But, buying online at a dealership isn't necessarily a good thing. Unlike you, the staff member won't be as interested in the product or other options. If you shop online, you can take your time and search for other items that might go part and parcel with the original item you wanted to get. And, you can shop at midnight if you choose. Is the dealership open then?
We admit to being a bit perplexed at why it took so long for snowmobile companies to embrace online PGA shopping, but now that it's here, we'll enjoy it. We've already spec'd out a variety of "build your own" snowmobiles and studied just what "must have" gear we need to go along with it.
We welcome this new world of PGA opportunities and we hope that the internet helps the sled makers expand its opportunities for profits. We won't be too surprised to see those PGA contributions to a snowmobile company's bottom line grow from the mid-teens to potentially double in coming years. The sharp businesses will get it and those so-so companies will fall back. There is profit in PGA and the internet is one way to maximize reach and profitability.
Related Reading Ski-Doo Technical Fleece Jacket Review Snowmobile Storage Solutions 2012 HMK Snowmobile Gear Review Understanding KLIM Snowmobile Gear Looking For Early Season Gear Choices