New Snowmobile Gear from KLIM in 2015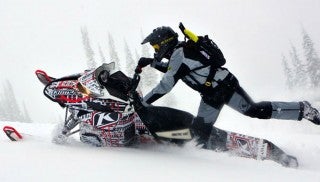 Klim is constantly upgrading its snowmobiling bodywear
What's on your body? Junk? Don't settle for basement outwear, make the climb to Klim.
Okay, it's a sappy metaphor, we know, but we think the point is made. Plus, just know that creating an advertising jingle is not our niche.
Just as we report on the latest model snowmobiles from the four manufacturers, we also look at what's going on in other areas – especially areas that can make a huge difference in how we enjoy the sport on a day-to-day basis. While the latest model year snowmobiles are the play toys to get us there, we have a stable of other products that let us stay there! This includes our trusty outerwear. We can't go snowmobiling – safely so – unless we wear a helmet, goggles, gloves, boots, a coat/parka and bib/pant. These should, hopefully, protect us against the cold, wind, snow and possible rain. To be effective for our mountain team's use, outwear products must transfer body moisture to the atmosphere – efficiently and effectively.
Southeast Idaho, specifically the Idaho Falls, Rigby, Rexburg, Ashton and Island Park areas, is where some of the world's best companies produce snowmobile-related products. You'll recognize most of these names: Klim, MotorFist, Starting Line Products, K-Mod Suspensions and MTNTK Performance. For what's new in high-performance outerwear we'll check in with Klim.
A common nutrient to Klim's wind- and water-proof health and fitness program is a product known as Gore-Tex, which is a waterproof, breathable Teflon fabric membrane that is a registered trademark of W. L. Gore and Associates. Invented in 1969, the Gore-Tex membrane has the ability to repel water (from the outside such as rain or snow) while allowing water vapor (sweat) to pass through. Gore-Tex is a lightweight waterproof fabric that is designed for inclement weather use.
Gore-Tex is an extremely thin membrane that's durably waterproof, windproof, and breathable. It has over nine billion pores per square inch. Gore-Tex is basically expanded polytetrafluoroethylene (ePTFE). To construct a Gore-Tex laminate, the Gore-Tex company binds its proprietary membrane between high-performance lining and shell textiles.
MotorFist Rekon Gear and Klim Radius Goggle Review
That's all good info, but what we as snowmobilers want to know is does it work? Does it keep the rain and melting snow out while allowing our yucky sweat to move off our body and out to the atmosphere? From several years of experience riding with such gear, we know that it does.
We spent some time at Klim's headquarters in Rigby, Idaho to learn about its products for 2015.
Klim moves its products to market only after extensive use and testing by its designers, marketers, pro-sponsored racers and backcountry riders. You may have heard of Polaris-sponsored rider, Dan Adams, who owns and operates with a team, NXT LVL riding clinic. Dan is also a freestylist who is featured in many extreme snowmobile films. Klim is his product of choice. He is hard on equipment and feeds Klim his very-vocal opinions, which they appreciate.
Klim has had a few misfires, very few, but for the most part its products move out to market ready exceed expectations. The previously mentioned misfires were Klim's early helmets and goggles, which did not match communicated expectations. This led Klim took to correcting product function.
What motivates Klim? One is competition. There would not be a world hillclimb championship at Jackson Hole, Wyo. without competitors. Klim knows this and works hard to keep its competitors, well, competing. Also, Klim is made up of diehard summer-sucks snowmobilers. They, too, want the best in protection. Rolling all this up and just as we hear on financial news stations, competition is good, which gives us better products, which, ultimately, is what we want for our dollar.
We know Klim's mission is to deliver the most rugged, durable, and wind and waterproof personal protective equipment (PPE) for the backcountry and extreme weather snowmobiler.
One of Klim's membranes of choice, Gore-Tex Pro, which is Gore-Tex's top tier membrane, is built into the Togwotee and Valdez coats. Klim does not settle for middle-tiered products for its coats/parkas and bibs/pants and gloves. This membrane is sandwiched between a rugged outer layer and inner liner. Klim also uses other Gore-Tex membrane products such as Windstopper and Two-Layer Laminate.
Klim engineers its outerwear products with the rough and rowdy female and male mountain rider who bashes into many obstacles on their way to the top or to point Alpha-Baker-Charlie, where such rendezvous location must first be achieved by navigating through tightly-spaced Douglas Fir trees. Cordura, of varying densities, makes up the outer shell. The best YKK zippers, waterproof or large-tooth, are used throughout.
A couple years back, Polaris purchased Klim. For this mountain snowmobile editor, I was shocked. I questioned the move and laid out the doom for Klim with great focus on it losing its branding and identity. I held my breath. Well, bank Polaris, as I call it, stayed away from the Rigby, Idaho company and allowed Klim to be Klim. There is no Polaris presence at headquarters, no banners, nothing. Klim is as it once was, and Klim remains Klim as it is. All that changed is the financial institution that Klim depends on when it needs a cashier's check to kick start something; hence, Bank Polaris, my words, not theirs.
We are pleased Klim retained its independence and its own branding strategy. We also applaud Polaris for trusting Klim to continue mapping its own flight course. Borrowing from an old cliché, "If it ain't broke, don't fix it."
When we visit with the developers, sales team members, communication and marketing pros at Klim, they try not to dazzle or bore us with fabric this-and-that Einstein-style. What they do, though, is report what buyers demand and how Klim seeks to meet that demand. This is coupled with pure innovation, market research, tracking their competitors, and fitting themselves with products that work, as the aforementioned Klim pros are backcountry aficionados (addicts and fanatics).
For 2015, Klim hit the snowmobiling apparel market with a new bib that is geared toward the single-ski rider, the rider who stomps the mountains and hillsides on a snowbike.
Understanding KLIM Snowmobile Gear
Snowbikes, those big 450cc and greater four-stroke dirt bikes equipped with a Timbersled Mountain Horse kit, which includes a track, rear suspension, front ski and spindle, have steadily grown in popularity in the Rocky Mountains. Thus, riders require a different snow pant/bib. Borrowing from its manufacturing knowledge of motorcycle pants and snowmobile bibs, Klim developed a snowbike bib labeled the "Havoc," that is reinforced in the crotch, inner leg, calf, and boot area that serves to protect the snowbike rider. This pant, says Klim, is "The world's first snowbike-specific bib, engineered for the extreme conditions of backcountry snowbike excursions." Nice.
For many years, we've stuffed our 10 little piggies into Klim snowmobile boots, as well as those from HMK and MotorFist. Of all the boots we've worn, we've come to like the BOA cable system on the HMK boots, as it made putting on and taking off easy to do. This winter season, Klim introduced a BOA-equipped boot.
Klim's Adrenaline BOA Boot features two ratchets, one on the side near the entry point, with the other on the tongue at the top. The two-latchet system gives the owner the ability to independently adjust the upper and lower half to a tension they prefer. The boot is constructed with Gore-Tex and insulated with 600 grams of 3M Thinsulate.
The Klimate Parka matured some this winter season with updates in fit, style and material durability. This Parka with a Gore-Tex membrane, 200 grams of 3M Thinsulate Insulation has generous amounts of 3M Scotchlite reflective material for maximum low-light and nighttime visibility.
What we will wear this year is Klim's new Valdez Parka and Togwotee Bib. The Valdez Parka is built with Gore-Tex Pro Shell technology, which has its durable, breathable and "Guaranteed to Keep You Dry" technology.
Klim has given full attention to female riders, providing top equipment, equal in comfort, durability, water- and wind-proof, and style as the men's wear. The Alpine parka features a combination of Gore-Tex fabric technologies for toughness, breathability while delivering on Klim's Guaranteed to Keep You Dry Promise.
The women's Whistler has been upgraded for this winter season by receiving Gore's new Windstopper Soft Shell main body fabric that provides increased mobility, four-way stretch and exceptional breathability.
Read about MotorFist's 2015 Snowmobile Gear Lineup
Got your snow goggles on? Not only did Klim advance the tech in its snowmobile-clothing category, but in eye protection as well. The Radius Pro Snow Goggle received changes to fight fogging, increase field of vision, lens durability, and ventilation. Klim works on its goggle technology with the same fierceness and dedication as its outerwear products.
We rely on Klim's helmet, socks, balaclava, innerwear and gloves to keep us dry, warm, also cool, and protected. Basically, Klim's equipment lets us focus on our handlebar work, not on staying dry, warm and protected.
These are few items from Klim, for more products and information go to http://www.klim.com/ and read about Klim's gloves, helmets, inner wear and casual wear. We encourage reading up on its technology; go to its FAQs at www.klim.com/Customer-Care/Frequently-Asked-Questions-FAQ/ to see what goes into the Klim line.