MotorFist Rekon Gear and Klim Radius Goggle Review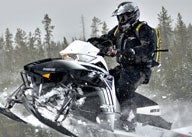 Here's stuff that worked for us
Over the years we have tried too many snowmobile products to mention. Some we loved, some we loathed. Snowmobilers, generally, are the most critical lot of folks we have met and associate with. The mountain team at Snowmobile.com is no different. We have thrown gloves in the trash, bounced goggles on pickup doors, turned boots into closet trash and so-called avalanche equipment to "Don't ever use this crap."
This time around we're going to talk about some products we thoroughly tested this past snowmobile season: MotorFist's Rekon jacket and pants, Stomper boots and WOT (Wipe Open Throttle) gloves, as well as Klim's Radius goggles.
Motor Fist
Last season, we chronicled MotorFist's company, including its mission and general product line. MotorFist is not a budget outerwear company, but a company that produces high-end and functional products for the extreme and arduous mountain backcountry rider and cold weather long distance trail rider.
The MotorFist Rekon jacket and pant are flexible, not hindering movement while standing and maneuvering a snowmobile around trees and through tough ravines. On cold days, especially when a typical western wind was in our face, the MotorFist Rekon jacket and pant stopped the wind from busting through.
Exploring MotorFist Snowmobile Gear
Specifically, the jacket's moisture wicking fleece-lined sleeves kept our arms warm and cool when needed (when riding in cold or Spring-like temperatures). The jacket's shell proved waterproof, windproof and breathable.
Welded and taped seams on the coat and pant kept moisture from coming in to our body. Speaking of zippers, we appreciated the coat's offset chin zipper. We commented – often in the positive – that all deep-powder coats should have offset zippers. Why is that? Chaffing and scraping the skin at the chin and below was non-existent.
In our experience a coat and pant is only as good as its zipper. The Rekon jacket and pant we evaluated used excellent YKK waterproof zippers. Not only waterproof, the YKK zips kept air from leaking through as we whipped along a trail above double nickels (55 mph).
We found the jacket's internal snow skirt worked as designed. Furthermore, MotorFist has nice pockets that hold a goodly amount of rider junk and kept snow from seeking a hiding spot.
The paneling – fabric cuts/shapes – allowed arm sleeves to remain over wrists, and also eliminated stacking around the elbows, arm pits and shoulders. Likewise, the pant panels were cut and stitched in a manner that kept snow from traveling up the calf.
While the WOT gloves are not heavy with insulation, they are a medium weight glove that we felt comfortable in. With handlebar heaters set at high or medium heat, the gloves kept our hands and fingers warm and the wind at bay. However, if riding on days where temps hover near zero, we recommend shelving the WOT gloves for MotorFist's heavier weighted glove, the insulated Rekon or Valkyrie glove.
Wrapped around our toes were the Stomper boots (MotorFist's original boot). These boots were comfortable and their soles were robust and held up to the sharp runningboard edges that are unique to mountain snowmobiles. The lace-up system and the boots' unique twisted laces did not slacken, causing the boot to become loose on our feet. The boots, which we greatly appreciated, were waterproof. When kicking an outer foot into snow while in a wrong foot forward position, moisture at times, can move through a boot's stitching, around the tongue. The Stomper boot kept our toes from wrinkling.
But, on cold days, I personally found my toes and feet bottoms became cold. We discussed this with MotorFist and they supplied us with an extra set of the Redline socks. Normally, these boots with one pair of Redline socks keep toes and feet bottoms warm, but with this pair of boots, we had to wear two pair of Redline socks; once the double layering was set in, feet remained warm.
MotorFist folks told us this was an anomaly. They inspected the stitching and the boots internal insulation and could not find a manufacturer's defect. MotorFist did inspect the boot for its sole stitching as there was a batch that was not properly sewn, this pair quality checked, thus its sole was properly stitched and glued. Now this author must confess to having multiple sclerosis (MS), and my feet and hands are sensitive to temperature extremes, furthermore, nerve endings spasm easily. Therefore, my cold feet could be attributed to, well, just me.
The Importance Of Base Layer Apparel
For this upcoming season, MotorFist brings three new boots to market, the Stomper 2, Redline and Contessa (a woman's boot). By way of new 2014 information, the Stomper 2 and Contessa have 200 grams more insulation than the original Stomper and use the eVent vapor barrier throughout. We have no powder time with these new boots, but we suspect the boots' construction, fit and waterproof history will remain intact and exceed the company's first run of boots. The Stomper is no longer a production run boot, thus I trust the new Stomper 2, Contessa and Redline boot will keep yours and my toes warm.
One last note. MotorFist's Redline sock is a very smart sock. Its comfort is superb. Also, it stays up on the calf, its stitching does not tear up toes and when not riding in 10-degree or less F temps, the sock kept us both cool and warm. The material also wicked moisture away from our feet and handed the sweat off to the Stomper boot, which transported the salty body water out the boot.
For more information, visit MotorFist.com.
Klim Radius Goggle
If there is one pet peeve, nit and grump I have when powder riding on the mountains that just ticks me off are goggles that do not meet my standards for operating fog- and ice-free. Many goggle manufacturers claim their goggles are endorsed by such and such backcountry rider and will keep fog and ice away. In reality, I've tested many goggles and have come to find very few can withstand Rocky Mountain powder and mountain rider sweat. Additionally, it is standard practice that a mountain rider pack at least three pair of goggles. This is why we so appreciate Ski-Doo and Arctic Cat for building goggle boxes (or goggle warmers) into their mountain snowmobiles near the handlebars. These ovens make powder riding much more exciting.
On to Klim's Radius goggles. When John Summers called us to report Klim has taken on the goggle dilemma by solving ice and fogging problems, we believed the Rigby, Idaho-based company was serious.
Our Klim Radius goggle knowledge began when we were invited to Klim's world headquarters for Radius 101 knowledge. Rather than repeat everything Klim communicated to the public through its Radius press release and what is recorded on its website, we'll just give rider impressions.
When we received our Radius goggles, we adapted them to our Klim F4 helmet (we have two) and began knocking around in the steep and on the deep near Island Park, Idaho. At first outing and the next, the Klim Radius goggles began fogging and icing up as quickly as other expensive fog- and ice-hater goggles. We were disappointed.
We called John Summers and explained our concerns. He quickly said he was anticipating our phone call, but hoping it would not come. He asked us to join him at his office, and "Please, bring the goggles." We obeyed. Summers looked at the goggle lens, and with an "uh um," removed the PolyCarb2 Premium Lens with ZERO FOG Technology, swapped the old out with new and explained a small batch of PolyCarb2 Premium Lenses did not adequately receive the applied-on military-spec ZERO FOG Technology. With the swap out, we left with lens in hand and went to work.
The first day out, we noticed the fogging and moisture pooling ceased. Ice forms on any pair of goggles when the temperatures are below freezing and moisture is high. In our case with this new pair, moisture did not spread and freeze like frost on a windshield causing cloudy vision. It is a fact, water does freeze, and when thawed snow did freeze on the Radius lens, the water droplets quickly froze in place. We learned by removing the goggle from a helmet and gently tapping the frame on a snowmobile's handlebars, the ice immediately dropped from the lens, leaving it clear; there was no scraping ice/frost from the lens with a wiper molded into a glove.
What is the conclusion? We endorse the Radius Goggle as a must have for riding. This goggle would make a great Christmas any snowmobiler. Clear vision is a safety matter, and the Radius goggle can help keep you safe. For more info, visit Klim.com.