2015 MotorFist Snowmobile Gear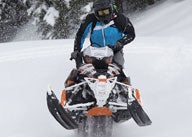 Outwear with durability, breathability and warranty
When MotorFist came to be in Idaho Falls, Idaho, the company had a monumental task at cutting into the high-end premium state-of-the-art snowmobile outerwear market. But MotorFist accepted the challenge is now a company that produces rugged outerwear we snowmobilers demand.
We first wrote about MotorFist in January 2013 in a feature, "Exploring MotorFist Snowmobile Gear, A New Choice in High-End Snowmobiling Activewear." After an additional two years on the market, we've decided to follow up on MotorFist to see how they're doing and what new items they have for us snowmobilers.
The past few falls we've spent several hours at MotorFist's national headquarters meeting with the designers, marketers and owners. This is what we know:
1) MotorFist is managed by deeply engrained snowmobilers; backcountry snowmobiling is what they eat, drink and breathe. 2) MotorFist's company mission is to make snowmobiling both safe and comfortable, from a clothing perspective. 3) MotorFist approaches windproof and waterproof through eVent, a product owned and produced by General Electric. 4) MotorFist develops and produces high quality, durable and reliable windproof and waterproof snowmobile pants, coats/parkas, gloves and boots you can purchase.
For the snowmobiler taking a vested interest in MotorFist's personal protective equipment (PPE) designed with eVent, do your homework. Be educated and study MotorFist's sales catalogs, then go and buy. Also, do as we did, study about eVent at eventfabrics.com. Here you gain valuable insight into eVent's Direct Venting Technology; also dubbed "Let the Sweat Out."
Speaking of the catalog, way in the back of MotorFist's 2015 catalog is this declaration, written by MotorFist president, Brad Ball: "MotorFist employees snowmobiled 11 out of 12 months this past season. Few snowmobile companies can say that…."
MotorFist International Sales Manager, Mike Peterson educated us on breathability and air permeability – tech terms MotorFist lives by.
Breathability, or water vapor transmission rate (WVTR), is the ability of a fabric to transport water from one side of a jacket to the other. The greater the WVTR, the faster water vapor moves from inside the garment to the outside.
MotorFist Rekon Gear and Klim Radius Goggle Review
Air permeability is the measure of how much air can pass through a fabric at a given pressure. This is significant in clothing comfort when exertion levels are high.
Now, let's move away from the tech jargon and talk household plumbing. When we replace a water faucet or valve, we usually grab some Teflon tape, wrap a layer on to the male end of pipe, add the female end, twist some righty tighty turns and call it good, believing the pipe union will not leak.
eVent looks much like that Teflon tape, but is a proprietary engineered/designed product with pores – like one-way valves – that allow moisture to pass from a coat's inner shell, to the eVent membrane, to the outer shell and out to the atmosphere, while too, preventing water and wind from moving from the outside in.
eVent claims its membrane can transfer body moisture at lower body temps (lower exertion levels) than its competitors, while at the same time, being resistant to body-built contaminants, which is the yucky stuff our body's produce such as oil. Contaminants made by our bodies can breakdown a membrane's ability to function as intended; eVent claims body oils and salty sweat will not harm the product. Too that, eVent claims, according to the designers at MotorFist, that washing a MotorFist eVent-equipped coat or pant in a washing machine using common laundry soap will not harm the eVent membrane.
"eVent fabrics get their unique properties from a proprietary and patented waterproof membrane," eVent says on its website. "Its unique composition allows millions of tiny pores to breathe at their full potential. Sweat vents directly to the outside of the fabric in one easy step. We call this Direct Venting Technology. Its genius is hidden in its simplicity."
What's in it for you? A product that works, simply so, at keeping riders dry, be it from inner- or outer-moisture. That is what we want. MotorFist's reliance on eVent as the company's membrane of choice is wise – "It just works," as MotorFist's catalog reports. The coats built with eVent, according to Mike Peterson, work so efficiently well at moving moisture, exhaust ports, which we know as pit or back zips, for example, are minimized. The Rekon and Trophy parkas have exhaust ports up front. The Trophy does not have a back zip, as its efficiency doesn't warrant one. However, the Rekon does have back zips that are vertical, and positioned such that these can be opened and closed without removing a backpack, if a rider should be wearing one. Smart. We hate to take the time to kick off our gear packs just to zip or unzip our backside zips.
MotorFist is in this for long haul, this is testified in its warranty, where the company states in its "Lifetime Warranty Plus" statement: "We guarantee MotorFist outwear with our exclusive 'Lifetime Warranty +' in the unlikely event of failure in materials and/or workmanship, to the original purchaser, for the life of the product.
"But here's where it gets even better (the + part). While your warranty claim or repair is being processed, we'll provide you with a loaner jacket, pant, or bib, so you'll never miss that perfect snowmobiling day."
Exploring Snowmobile Helmet Styles
By way of information, MotorFist sets its product lines into two categories, Peak and Frost. Peak is a shell system. Frost is MotorFist's insulated line.
What's new for 2015? Color, expanded use of eVent across most product lines, a new boot, a helmet that is both balloon light and iron strong, and goggles, to name a few.
One flagship MotorFist product line is its Trophy line, which was redesigned for 2015 to make a statement in color and function. Not only are the colors bold, but the Trophy parka and pant are less restrictive across the shoulders, chest and crotch. This makes riding a free feeling experience.
The first product from MotorFist was its Rekon jacket and bib. We've used the Rekon line and learned it is a solid product. The designers at MotorFist built into the Rekon line durability where most rough action occurs, such as the pant cuff; this area, for example, receives a heavier outer shell material, which is 500D. The areas where movement/articulation occurs, has lighter material, 300D.
If you want to go lighter or heavy insulated, the Alpine jacket is lightweight and can stretch across all cold seasons – Fall, Winter and Spring. The RedLine insulated jacket and bib are designed for those who like riding in sub-zero temps.
MotorFist is also pushing its women's line, the Contessa brand that is eVent equipped and sewed to work with a woman's curves. Our lady snowmobilers should not have second-rated equipment; MotorFist understands backcountry riding is not an all-male sport. There are some tough and scrappy ladies who go big, they too deserve the best. MotorFist also has a non-eVent women's line called Duchess that is water resistant and wind proof.
MotorFist has gone head on with Klim and 509 in protecting the snowmobiler's head. The new Alpha helmet is 30% smaller in outer circumference than other leading helmets, and comes in at an uber light 1600 grams, which is 3 pounds and 8.4 ounces. MotorFist achieves this from a carbon shell with Composite Fusion Three technology. The helmet comes with an extra visor, which is compatible with a GoPro camera or Light and Motion MagLite. Other helmets include the Dominator and Magneto. To learn more, go to MotorFist's website as there is much to study.
To achieve the best in head protection, MotorFist has its own goggle properly named "Peak." The Peak goggle is designed to match MotorFist's helmets. By building a goggle that fits with a helmet it helps reduce fogging. The custom fitting goggles are dual-paned goggles with a triple-density foam and Tru-Fit system. The frames come in black or white and have a wide variety of yellow, blue, orange, mirrored, smoke, or clear lenses.
MotorFirst also layers it on. Not only does the company produce top-flight eVent products to keep riders cool, dry and free moving, they have the necessary inner-layer products, shirts, pants and socks that work in concert with eVent equipped pants and parkas. A snowmobiler can drop some coin on some sweet MotorFist coats and pants, only to hinder its eVent function by wearing cotton products. Not only is this dumb, but stupid. MotorFist has the inner layers that allow the eVent products to function at its best.
Let's talk boots. The first boot MotorFist introduced was its Stomper. This is a rugged lace up boot that is waterproof and windproof and is fitted with eVent and 800 gram Thinsulate insulation. MotorFist's RedLine boot, its newest boot, is eVent equipped and is constructed with 1200 gram Thinsulate. This boot's cinching system is made of latchet straps. Not to leave out our fellow women riders, MotorFist has a Contessa boot that is similar to the Stomper.
MotorFist also protects our hands with a full glove line that matches terrain, use and temperature. The Rekon and Sub-Zero glove cover the frigid gloves with its eVent membrane and 200 gram Thinsulate insulation. These are over-the-cuff gauntlet gloves. Additional gloves are the Carbide and Valkyrie. The Valkyrie is a non-eVent product.
Lightweight non-eVent gloves, that are not gauntlet style, are the WOT (Wide Open Throttle) and Kill Switch.
MotorFist is a company that is serious about personal protective equipment (PPE) for the snowmobiler. The designers and marketing staff at MotorFist ride hard and fast – 11 months out of a year. But the company also depends on Arctic Cat backcountry riders and hllclimbers, Dave McClure and Rob Kincaid, to test its products and provide feedback. These riders are not weekend putt-putt riders, but handlebar bending gurus. They feed MotorFist with truth.
MotorFist, knowing snowbikes, like the Timbersled Mountain Horse snowbike kit (which is added to an existing off-road motorcycle), are rapidly gaining in popularity in the snowy Rocky Mountains, has developed a pant specific for snowbike jockeys and junkies. Just released for this season, December to be exact, is the Rebel Snowbike Pant. This pant is cut, layered and reinforced in all the right areas for single track and single ski riding. The pant too, according to MotorFist, is "burn proof" where it should be. Here is MotorFist's YouTube video describing the product launch.
Lastly, move to MotorFist's website – MotorFist.com – and study its full product line. With a large product offering, it is hard to cover everything in a single feature; we only highlighted MotorFist's top-flight products, while also giving some tech information. Bottom line, contact MotorFist or go to its website to learn about is rugged eVent products.