Personal Snow Vehicle Concepts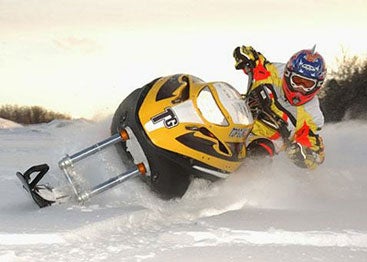 Using non-traditional thinking to entice new snowmobilers into the sport
As a snowmobile enthusiast I've frequently been at odds with the idea of manufacturing more of the same old thing. Indeed, even though Yamaha's diminutive SnoScoot proved less a sales success and more an interesting try, at least Yamaha was trying to invite new people to try snowmobiling.
Recent attempts at finding ways to entice the under 30 set into our sport have been pretty much failures. SnoScoots are in greater demand today than when they originally appeared in the late 1980s, but now they prove hard to find. Those that want them usually want them for 'pit taxis' at races or for their grandkids.
In the past few years, Ski-Doo attempted to entice younger winter enthusiasts with a line of Freestyle snowmobiles. Powered by a 300cc single cylinder, 2-stroke, the sled was relatively light in weight and somewhat low-priced compared to other snowmobile models. The success of that mid-decade entry can be seen in the fact that there is really only one version of it offered in 2009 — the Freestyle BackCountry with a 550cc fan-cooled motor. It's a very nice getaway sled, but the Freestyle concept never grabbed the non-snowmobiling crowd.
Even in the good ol' days there were attempts to generate excitement from folks who might live in urban areas and occasionally venture to snow resorts. There was the idea that packaging a couple of lightweight, small snow machines for the price of one 'real' snowmobile would attract some new entries to snowmobiling. Even with Minnesota-born Loni Anderson of 'WKRP In Cincinnati' fame standing alongside them, the specially packaged Swinger snowmobiles (unlike Ms. Anderson) failed to find an audience.
Polaris tried an equally smallish snowmobile, the TC, which could easily fit in the back of a 1970s station wagon. You may see one around at a vintage sled meet, but the idea never gained a following.
The Next Great Thing
Indeed, sled makers and aftermarket sorts have toyed with finding the next great thing in snowmobiling. To date there has been little success in replacing the current sled concept. Yes, power sources have changed. We can choose 2-stroke or 4-stroke motors. But, for the most part, today's snowmobiles are all the same. There's a standard aluminum chassis. There's a parallel rail suspension at the rear and some type of A-arm front suspension to give the two skis enough travel to get through the bumps. It's all pretty conventional thinking. Why? Because it works and has worked for decades. It's what snowmobilers expect and it's what they want.
Is anyone thinking outside the conventional snowmobile box? Where can you find new ideas for snowmobiles? To see if anything might be going on that points to something new in snowmobiling, we venture into the world of engineering patent searches. We nose into patent searches because not all ideas for one powersport vehicle are necessarily limited to, say, ATVs or snowmobiles. Take electronic power steering for example. Honda, Yamaha and now Polaris offer EPS on some ATV models. It works very well to mitigate steering feedback over rough terrain and reduces effort if you have a load on the front wheels from cargo or plowing snow.
When EPS for ATVs was announced, we nosed about looking for EPS applications for snowmobiles. After all, some of those turbo-powered 4-strokes get darn heavy on the trail by day's end. What did we find? A patent for EPS to be used specifically for a Yamaha snowmobile. Of course, we've yet to see EPS on any current Yamaha, but it's a patented concept ready to manufacture.
Our search for EPS usage led us to conclude that major auto manufacturers and makers of electric-powered vehicles also consider electronic power steering to be a concept for the future. Carmakers can eliminate all that hydraulic collateral for power steering by converting to EPS. Gone is the weight of a hydraulic pump, a power steering oil reservoir, etc. Chrysler likes the idea.
As Engineering Manager of the Steering Systems Component Team in Chassis Engineering for Chrysler, Donna Hale noted in blog comments, "As fuel economy becomes paramount, Chrysler is looking at everything to squeeze more miles out of each drop of gasoline, including electric power steering (EPS) systems. We're considering this technology not only for fuel economy but also for improved manufacturing efficiencies and safety…EPS eliminates the need for a hydraulic pump mounted on the engine accessory drive, which is a drag on the engine. Based on our analysis, we're seeing the potential for about a 3 percent fuel economy improvement with EPS as opposed to our current hydraulic systems."
She adds, "EPS comes as one pre-tested unit that requires only mechanical mounting in the vehicle and two electrical connections. This is much simpler than assembling a traditional steering gear, hydraulic pump, power steering hoses and reservoirs, and all the connections."
She notes, "This technology, with additional sensors and software, could be linked to multiple safety systems. It really is an enabler for advanced technologies."
That same rationale could mean EPS has a future in snowmobiling. Light, simple and efficient, such systems could help encourage new ways of looking at creating and manufacturing new personal snow vehicles.
Something New
Still, there must be room for something new? What about less conventional snowmobiles?
In reality there already is a company offering a quite unconventional Personal Snow Vehicle (PSV). AD Boivin manufactures the Snow Hawk. It's a snow bike concept that actually works — and seems to be a hit with motorcycle types. In fact, AD Boivin takes its Snow Hawk idea one step further, offering a special 'Explorer Smart All Terrain System' to convert enduro and motocross motorcycles into multi-terrain vehicles.
As the creator and manufacturer of a successful snow bike, Boivin seems to be alone in this niche market. Boivin's unique status may change as the idea of a personal snow vehicle unfolds. In our somewhat infrequent search of snowmobile-related patents, we stumbled across some interesting concept designs. One appeared very close to manufacturing reality — at least the advanced prototype stage!
It would appear that our friends at Yamaha are again conjuring up new snow toys. One we found bore a patent dated this year and is for a snow bike type vehicle that appears extremely well thought out. The drawings show a vehicle that looks as though it could be very close to production.
The concept not only suggests a snow bike with a track and singular ski up front, but a very unique rear suspension. One that we've always felt would be quite workable in a snow vehicle. It's based on a swing-arm design frequently used in off-road motorcycles and performance ATVs.
Personal Snow Vehicles
Yamaha's PSV shows a single strut providing damping on an articulated ski. The rear suspension uses a massive coil-over-spring shock mounted above and outside the track area. The suspension action comes from the slide rail moving up and down on the shock-controlled swing arm. Instead of an ATV's big fat rear wheel, you have a narrow track spinning around a slide rail with wheels.
Just as with a sports ATV or off-road motorcycle, the rider sits over the engine and maintains his position via foot pegs.
In some ways the Yamaha concept appears very similar to the base Phazer. The nose is short, extending just forward of the steering post and main front shock. The body panels look to be based on the Phazer's minimalist style and the seat mimics that from an enduro bike.
Could such a vehicle be in the works? Only Yamaha knows for certain, but we could certainly see Yamaha attempting to explore a new niche. This company certainly has the expertise to produce such a product. From looking at the drawing we could envision a number of power choices. Yamaha has high performance 250s and 450s available from its YZ motorcycles. Then, perhaps a better choice for torque and powering through snow, there's the 686cc four-stroke with fuel injection and quick revving characteristics that get it up to 9,000 rpm. Retune that beast for midrange and low-end control and you might be on to something. Of course, there's the Phaser's high-revving 500cc twin that's already been proven as a snowmobile engine. Selfishly we'd prefer something that revved a bit lower, didn't need gear reduction, and offered great throttle response. Not really sure we want high revs hitting when we try to corner on a single ski vehicle. That's too much like riding a touring bike through a dirt and rock strewn corner. We don't need that much excitement, thank you very much!
As a play toy for wannabe snowmobilers, would such a vehicle turn the trick? We guess pricing, style, weight and intrigue would be the factors for success. The vehicle in the drawings certainly has a great look to it. It's got tech style with an exposed engine cradled under the seat. The rear suspension looks motocross-like. The vehicle gives you a lightweight vibe. And, most importantly, the darn things look f-u-n!
Compared to a basic design we've seen elsewhere in our patent searching, the Yamaha concept wins the style contest. A drawing from 2006 of a BRP concept looks way too much like a toy. It just doesn't have the sex appeal of the Yamaha. But, like the Yamaha concept it uses a single ski, but with spring damping and a very simple rear slide suspension. In fact, the comparison might be of a Cushman Scooter versus a YZ motocrosser. Who wins that one?
Outside The Skidframe Thinking
We stand to win if such engineering thought continues to bring us new snow vehicles. Frankly, even if the Yamaha personal snow vehicle fails to emerge from concept to reality, we really like the idea of that swing arm rear suspension. Good ideas for the future. We are encouraged that the sled makers see a future for out sport and are acting on creating new ideas for future snow vehicles. Maybe some will bring in a crowd that can share in our enjoyment of snowmobiling as our favorite winter sport.