Mountain Snowmobile Gear Review: Part 1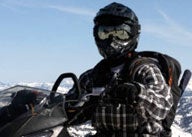 The mountain test crew wears and rates some deep snow gear
This past winter season, the Snowmobile.com Mountain Team tested some winter wear and safety equipment that we believe warrants some reporting. Riding in the real world of high country snowmobiling means that we subjected our cache of personal protective equipment to conditions that reflect all the rotten and best environments mountain snowmobilers ride in.
For our initial report, we give you our view of a Polaris garment intended for serious powder sledders as well as a new 509 helmet and pair of goggles, key items that we wore out this past winter.
Polaris Pure Dry Mountain Parka and Pant
Polaris is involved in the winter wear market to match product (snowmobile) with product (coat and parka), with riding style (mountain). Its line of Pure Dry mountain wear is designed to match the persona Polaris' RMKs invoke. The first time I wore Polaris' Pure Dry coat and parka was on New Year's Eve for a late afternoon and evening ride. The outside temps were very cold with no snow falling. As the sun dropped behind the Rockies – taking the temperature down to zero – the air became exceedingly bitter. When throttling a snowmobile in such cold temps, wind chill factors are harsh. However, the Polaris parka and pant blocked the wind, protecting me from the chilly air. Furthermore, the parka and pant kept my body warm, trapping the warm air within. In short, I learned the parka and pant combo has superb wind and cold protection. Also, its material is flexible, which allowed me to easily move limb and torso.
One test rider, Greg Huntsman said the same, "Polaris' clothing kept me warm and dry. I found its zippers, its pockets, and its comfort to be excellent. I would use Polaris' Pure Dry products for my everyday mountain wear use." Huntsman wore the Pure Dry on day one of our four-day Model Year 2012 evaluation.
On day two, the evaluation day delivered falling rain in the morning (at low elevation) with mixed rain and snow in the afternoon (at high elevation). Another test rider, Danny Stowell, who is a paramedic, as well as a Mountain West race circuit medic, had a wet-body experience. In his words: "I layered with a thin base layer of polyester with mid-weight fleece pants and a light-weight polyester riding jersey; over the jersey was my TekVest. Then came Polaris' Pure Dry Vapor bibs and coat. The design and workmanship looked impressive, plenty of pockets inside and out for extra gloves, snacks, glasses, and a phone. The side zippers on the bibs were long enough to put them on without removing my boots; I prefer zippers that travel up to the hip, but many manufactures don't do this.
"It was raining as we unloaded, continuing until we were up in elevation, then wet snow. I noticed early in the day the coat and pants did not shed water, as I have known other products do. By the end of the day I was wet all the way through. I am not sure if I was wet from the inside due to sweat, or if the wet came from the outside in. It was a cold ride back to the truck. As I took the coat and pant off, I noticed the inside was wet and the entire shell was wet."
Stowell learned the seams/welds in the suit allowed the wet snow and rain to penetrate through the suit's inner (middle) liner (the vapor barrier) and to his inner layer of clothes; the moisture lines on his inner clothes, matched the coats seams and weld lines. My belief is this: the Pure Dry suit, this particular one, may have had less-than-adequate seam and layer welding allowing moisture to seep through. I don't believe Polaris would produce a product that would put a mountain rider in harm's way. Huntsman, on a day when the snow fell in droves, but was dry snow, never had a problem. And on many other occasions when I wore the suit on clear days, or when the falling snow was dry, I never had a problem. Again, I believe this specific coat may have slipped past a quality control inspector.
509 Evolution Helmet and Aviator Goggle
From 509 Films come the 509 Evolution helmet, Aviator and Sinister goggles, which all have gained a following in the West. Many freestyle riders and backcountry experts are using these products; 509 Films is excellent at marketing its products to the hardcore mountain-riding enthusiast and to the general rider.
Our Argyle gray 509 Evolution helmet was light, comfortable and performed well at venting moisture, also it was warm. The helmet did not compress my ears causing them to burn. For me, I recommend the 509 Evolution helmet as a durable and protective helmet for mountain riding use. It did not feel weighty on my head, it did not bump against my TekVest chest protector, and its safety ratings kept me confident. Furthermore, it is killer looking.
I paired the Evolution helmet with 509's Aviator goggle. This goggle, on a clear day, blocked the sun's rays and with its tint, kept bright days in focus. And when the sky was flat (white out), the Aviator goggle kept the terrain and depth-of-field in view. My only complaint is the goggle mated to its companion 509 Evolution helmet fit overly snug to the helmet's foam and the goggle's frame, so much that at times it trapped moisture causing the lens' upper one-third to fog – both the inner and outer panes.
I spoke with 509's marketing folks about this and they said since this occurred, I should pair the 509 Evolution helmet to its Sinister goggle. 509 designs its goggle and helmet combos to fit tight to each other. Yet, knowing foreheads are shaped differently and snowmobilers sweat at different rates, 509 builds different-framed goggles – the Aviator and Sinister. According to 509, the Sinister goggle has more airspace allowing forehead sweat to vent away from the goggle. I give 509 credit for being aware of this. For this upcoming season, I will evaluate 509's Sinister goggle. All in all, I found the 509 Evolution helmet and Aviator goggle to be excellent products. I am a 509er.
Wrap Up
Over the years, we have tried many products, some were a testament to good quality and some were full of excuses. The Polaris Pure Dry mountain line is a good line. The RMK R&D test staff uses this product with great success; no company wants its employees in harm's way. I hold too the belief Polaris' Pure Dry line is solid. The coat we had, I believe, was a quality inspection miscue.
Being a 509er is being in a brotherhood. The Evolution helmet, Sinister and Aviator goggle, are recognizable on the mountain. 509 is righteous.
Related Reading The Look of Participation Snowmobile Helmet Choices FXR Renegade XC Technical Jacket Review 2012 HMK Snowmobile Gear Review Understanding KLIM Snowmobile Gear