Mountain Snowmobile Gear Review: Part 2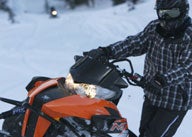 Testing the latest gear from HMK and Klim
In part two of our personal gear product test, we try another set of gear designed for deep snow riders as well as giver our impressions of key footwear used by back country experts.
This past winter we tried out various winter wear and reported good results overall. But, if you read Part One, you know that we found a flaw in one suit. It worked great in "dry" snow, but seemed to have snuck by quality control when snow turned to rain. In Part Two we continue our season-long evaluation of key personal gear in which we subject our cache of personal protective equipment to conditions that reflect all the rotten and best environments mountain snowmobilers ride in.
HMK Hustler Coat and Pant
This HMK coat and pant combo, worn much by myself and various test riders, proved a pleasant surprise; we each had our own combo pair. Over the past few years, when we wore an HMK coat and pant combo on warm winter days, or when wet snow fell upon us, we complained about being baptized. Not so with the Hustler coat and pant. This winter the mountain team discovered that they were stylish, dry, cool and comfortable.
The coat and pant proved to be durable, flexible for our contortionist movements, and useable with its many pockets, fleece-lined collar, boot gauntlet, superb glove-to-cuff fit, and its magnetic zipper-cover to protect the coat's main YKK zipper. The plaid coat claimed many comments, some thought I, who owned it, looked like a moving puzzle or Rubik's cube. For me, I think the black, gray and white plaid is killer looking and I proudly wore it, tapping into my inner teenager.
The Hustler product uses HMK's XR Gold Weatherproofing Technology, which involves microporous coatings and laminations to produce durable, breathable, waterproof fabrics. After a winter of wear, the test team can highly recommend the Hustler coat and parka.
HMK Voyager Lace-up Boot
For season 2010, 2011 and 2012, I wore the Voyager BOA boot, and praised the boot for its comfort and support, and especially, its BOA cable system. For this past 2011-2012 season, HMK sent test rider, Kevin Allred, its Voyager lace-up boot, which he admitted was his boot of choice for the 2011-2012 season. He found the boot's easy access and egress, comfort, warmth and moisture wicking to be on par with the best high-dollar brands out there. When he pulled off the boot, his socks were dry – no longer did I have to look at his prune-looking toes. I know Kevin well, and wet socks and wrinkled toes make him cranky. The lace-up Voyager boot's outer sole was durable, withstanding the abuse serrated runningboard edges can mete out.
To round out our recommendation for this boot is HMK's Summit Thermal sock. No doubling on socks. This sock, coupled with the Voyager boot, creates the optimum foot atmosphere for sick riding in the boonies.
Klim Adrenaline GTX Boot
This is a easy-on, easy-off lace up boot that employs high-tech fabric and shell technology that is specific to any hardcore rider, be it mountain, trail or race. This is the boot that I and photographer/test rider Jake Allred wore for the 2011-2012 season.
The Adrenaline boot uses the latest GORE-TEX and 3M Thinsulate Insulation technology for comfort, strength and durability. This boot has a durable high-grip outsole; a mid-sole that adds cushion; removable insole; kicker toe piece to resist wear from tunnel bolts; moisture wicking inner-liner; and a stiff board to resist shock.
In summation, we learned this boot provides excellent support when tight rope walking a snowmobile's running board, plus it provided warmth when freakishly cold (especially when paired with Klim's sock), and kept our feet dry.
Final Thoughts & Impressions
We admit to being fussy about our gear. We've tried many products over the years. Just as any veteran rider knows all too well, some gear is a testament to good quality while some were full of excuses. We've worn Klim gear over the years, and our conclusion is simple: Klim always delivers on its word. But to the company's credit, when a product goes junky, Klim admits it. Yet for us in the mountain team, Klim has, for the past 15-years, exceeded its claims to quality by giving us unmatched quality.
We've watched HMK steadily move upward. Through our many winters, HMK has been a faithful supporter, and with that, a solicitor – they want to know the truth. We've had some ho-hum winter wear from HMK, but for this past winter season, HMK hit the podium by giving solid-built products.
Related Reading Mountain Snowmobile Gear Review: Part 1 2012 HMK Snowmobile Gear Review Understanding KLIM Snowmobile Gear