Sled Shop Gear: Snowmobile Lift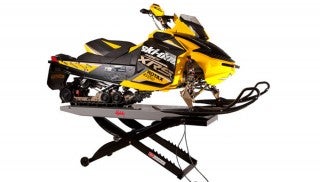 Getting a lift for your sled project
Okay, I've moved my vintage sled project from the "shop" that's one hundred miles away down to my lakeside barn, which is a hundred feet or so from my house. That was phase one. Of course, Phase One has taken about a dozen years to get to as I managed to keep pushing this relic of personal sled history to the back of the shop knowing that I'd get to it "one of these days." Well, one of these days has come and I'm setting about getting my sled shop in order to make this repair and restoration fun, not drudgery.
Fortunately, over the years I managed to collect some helpful odds and ends that make working on sleds a bit easier than just letting them sit on a cement floor. That's where my sled lift with the crank-able hydraulic jack comes in handy. This is a must have.
Although a sled lift has to be considered a shop essential, especially for wrenching on a vintage sled that invariably will offer repair surprises, there are things to think about when choosing a lift. We've done a little online comparison shopping of sled lifts and concluded that functionally most are very similar. You will want a good quality design that can handle the weight of your heaviest sled, plus the occasional torqueing that you'll be doing when bolts and nuts don't cooperate as easily as you see in repair videos.
Our lift features a basic jack to provide lift, but you can find sled lifts that let you power up the lifting feature with an electric drill. Since we're space-challenged in our work area, the base crank lever works just fine. You might also look for extra features that can be added at a later date. Expect a good quality snowmobile lift, sometimes referred to as a work stand, to cost around US$350. Also, buy the right size lift for your sled. For example, Eazymove Snowmobile Carts of Riverdale, Mich. has standard lengths as well as stands to fit long track sleds. Eazymove stands come in black or powder-coated gray.
If you aren't in a hurry to purchase a work stand, watch for "show specials" at various snowmobile shows and other events. We noticed a good number of sled stands being sold at this year's Hay Days event and we'd expect manufacturers and their distributors and dealers would offer similar deals at in-season and end-of-season snow shows with savings upwards of 20 percent or possibly more.
Discover a New Hobby with Vintage Snowmobiles
If you want to upgrade your lift, check out the air-assisted sled lift offered by J&S Jacks of Little Chute, Wis. Simply use your air compressor to launch the lift from flat to its maximum height of 32 inches in about half a minute! This specific lift stand is designed to accommodate a hefty sled of up to a half-ton. According to the manufacturer the unit retails for US$499.95 and can handle all two-stroke, four-stroke, long track and mountain sleds. Check them out at http://www.jsjacks.com/.
Want something in your man cave to "Wow" your friends? Take a gander at the Handy Industries Standard 1000 Air Lift. If you're not into air power, this Sulley, Iowa-based manufacturer lets you opt for an electric lift. Retailing for around US$1000, these are commercial grade lifts built of 12-gauge steel with a floor height of seven inches. Simply access the ramp by driving or rolling your sled up a 30-inch long flush-mount ramp. The working height is 30 inches, but there is a convenient foot-controlled pedal to raise and lower the lift surface.
Equipped with the right accessories this lift will accommodate some of your other power toys, including ATVs, lawn mowers and such. For working on your sled's track you might consider adding the optional "Deck Hand," which bolts on to the Handy Lift and can be used to raise the track for easier access to hyfax, suspension shocks, wheels and more.
Most of the work stands we've seen and the one we use with our restoration project sled come with wheels so that we can move the sled around the barn when necessary. If you will be wrangling your sled a lot or need to do some serious strong-armed wrenching and your lift doesn't have locking caster wheels, you might consider removing them to keep the sled secure. With your sled sitting 30-plus inches off the floor with the lift's arms planted under the outer runningboards, the sled could slip off if you aren't careful. Some lifts offer extra bracing or wing-like devices to add greater support to keep your sled in place when raised off the floor. Also consider a lift that has rubber lift cushions that add a little extra protection for your sled.
One thing we noticed when using our stand is that ski stances on 1960, 1970 and some 1980 vintage sleds are considerably more narrow than a modern sled's 32-plus inches of center-to-center stance. You may need to take that into account when positioning the lift. Not a big deal, but it is worth knowing.
While the more expensive and industrial grade lifts are nice, they can't be stored like the more basic lift, which lays flat and can be wheeled out of the way, maybe even stood on end at the side of the barn. Of course, when you're done using your lift, you still need to move your sled around the shop. That's where a sled cart comes in handy, if you have the room. Up at our shop we have two different carts. You'll want one that slips under the sled's bellypan between the track and the rear of the skis and allows easy movement.
Another idea is a sled cart that allows the handle to slip under the track and can be secured to the rear bumper, creating a wheeled sled dolly. Then again, you can get three-piece universal snow dollies. Two of the dollies will fit under the skis with the third piece designed to fit under the track. There are a number of manufacturers of both sled carts and universal dollies. You can find these items online or at the better snowmobile supply warehouse and catalog sites like Dennis Kirk, Al's Snowmobile Parts, First Place Parts, and more.
Just like many of you, we're finding that there are easier ways to wrench on our sled. It just requires a bit of pre-planning to create the right workspace. Of course, collecting the right tools for the job is fun all on its own. But for now the time has come for getting greasy and adding a supply of shop towels and Gojo hand cleaner.