Testing BCA Backcountry Gear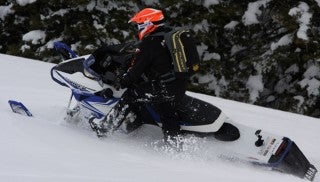 For getting out in to the backcountry you need serious Backcountry Access gear
Backcountry Access, commonly known as BCA, has been around for 20 years now. Based out of Colorado, this company has become one of the most trusted names in the industry as it continues to push technology and engineering to build some of the best equipment on the snow for keeping you safe. This past season, we tried out a few of BCA's newest products and we liked what we saw.
Tracker3
The Tracker DTS came out in 1997 and was the first multi-antenna receiver. BCA has continued refining the Tracker series, recently introducing the Tracker3, which is smaller and lighter than its predecessors. It has a large and bright display that indicates distance and direction from the transmitting source. Battery life is approximately one hour in search mode and 200 hours in transmit mode. This should last the average person one season. However, a wise person in the backcountry would carry a spare set of batteries with them in their packs. The Tracker3 comes with a five-year warranty.
I was able to use the Tracker3 during an Avalanche Level 1 training class taught by avalanche expert, Mike Duffy. We were given drills to learn how to use the beacons. With our backs turned, one to three beacons were buried in the snow and we were timed to find the beacons. I used my personal Tracker DTS, and it worked great but wasn't as user friendly as the Tracker3. The Tracker3 made it much easier to find the correct azimuth from the beacon, thus reducing the time to find the beacon. When it comes to finding an avalanche victim, every second counts. I admit that I had greater confidence in my skills when I had the Tracker3 in my hands. The Tracker3 retails for US$335.
Float Airbag
Avalanche beacons are a great way to find victims after they have been caught in an avalanche, but the odds of survival are reduced if they are buried in six-feet of snow or more. An avalanche beacon paired with an airbag is the safest combination. An airbag is designed to keep you on top of the snow, rather than being buried in the slide. Early packs were very limited on the amount of gear that you could take along in the pack. Today's packs have much more capacity that is rated in liters. BCA offers packs with 22 to 42 liters of volume.
Backcountry Survival in Your Backpack
There are packs are geared toward backcountry skiers and snowboarders, but packs like the Float 22 Throttle and the Float 25 Turbo are geared specifically toward the snowmobiler. The packs have a tool compartment, hip pocket, and removable leg straps. The pack is set up with the deployment trigger on the right shoulder strap so the pack can be deployed with the left hand while right hand is still on the throttle.
Ready to ride, the packs weigh about six pounds. They also have an optional attachment available to mount a snowboard. These packs are filled with a compressed air cylinder with an air pressure gauge installed on the tank. Before heading out into the backcountry, the tank should be checked to make sure it is still pressurized. The compressed air cylinder is not sold with the pack and must be purchased separately.
Suggested retail pricing is: Float Airbag US$499-699 plus US$175 for the compressed air cylinder.
D-2 EXT Avalanche Shovel
The D-2 EXT is a mouthful to say but it is a very innovative shovel. It can be used like a normal shovel or the shovel can be flipped and used like a hoe. A shovel is the most important item when digging out an avalanche victim. This is also great for moving snow out of the way around a stuck snowmobile. The design of the BCA shovel helps reduce snow removal as well as reducing the amount of effort removing it.
A Quick Guide to Backcountry Safety + Video
BCA also offers a D-2 EXT that has a saw in the handle. The shovel is an essential piece of equipment that no backcountry snowmobiler should go without. The suggested price is US$79.95.
BC Link Radio
Riding in the backcountry over the last few years we have found that communication devices, such as two-way radios, not only make snowmobiling easier, but also improve your enjoyment. New this year, BCA introduced its version of two-way radio that operates on the standard FRS and GMRS radio frequencies that is fully compatible with other FRS/GMRS radios. There are 22 channels with 121 sub channels. The radio can be customized with pre-set channels.
The radio is comprised of two parts: the base unit that stores the battery and the mic that is connected by a coiled cable. They both have alligator clips that can be used to connect the mic to your backpack while the base is mounted on your pack or inside it. BCA designed the controls to be used with gloved hands. The mic has a loudspeaker or it can be used with an earpiece.
One innovative feature is that it can be switched from .5 to 1 watt. One watt increases the range of the radio but reduces the battery life. BCA claims the battery, which is a rechargeable 3.7 Volt lithium ion unit, should last 140 hours at .5 watt.
We feel that everyone in a group of backcountry riders should have a radio. Communication is very important, especially in an emergency situation. Last winter while riding with these radios I was able to get the attention of another rider while he was zipping across a ridge. It would be foolish to say that he heard every word I said, however I did get his attention and he stopped so I could communicate with him. If riding with an earpiece you could hear even while riding. Radio communication is a must have in the backcountry. The BC Link Radio retails for US$149.95
In addition to these tested products, BCA makes standard backcountry packs as well as avalanche probes. BCA also has products available to determine the avalanche danger, like snow study kits, snow saws, slope meters, thermometers, and more.
You can learn more about BCA and its products at backcountryaccess.com.