2014 Arctic Cat Snowmobile Lineup Unveiled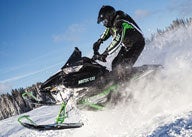 More engine choices, renamed models and the return of the El Tigre
Let's get to it right away. Yes, if Yamaha borrows a chassis for its new 2014 Viper models, what does Arctic Cat get? An engine. More specifically the 1049cc Yamaha high-performance 4-stroke triple. That should be big news, but Arctic Cat blows that away with the introduction – on a limited basis – of its very own, cleverly designed and manufactured 600cc, direct injection two-stroke twin. Oh, yeah, there are still the familiar turbocharged and normally aspirated 1100cc Suzuki-sourced twins.
With all these engine suppliers and choices you can understand why Arctic Cat marketers totally revamped model and engine nomenclature in a manner not seen since Cat had Suzuki manufacture its line of "Spirit" engines in the 1970s.
Arctic Cat sales manager, Brad Darling told snowmobile writers at a preview of the 2014 models earlier this year that Arctic Cat developed an engine strategy back in 2009. "Model year 2014 is the first step," he noted.
Darling also explained that Arctic Cat fully intends to grow the 4-stroke market, where he claims Arctic Cat has the #1 selling 4-stroke. He also explained that the company would cover the marketplace with horsepower choices from 65-hp entry level to 177-hp extreme performance.
Engine Lineup
With all these choices from three separate engine suppliers, Arctic Cat recognizes the need to simplify the performance opportunities for potential customers and offers a totally new "guide" for Cat power packages. In the most basic description, what you'll find is:
5000 Series C-TEC4 – Suzuki-built 1056cc fuel injected twin used in past models
6000 Series C-TEC2 – An all-new, direct-injected 600cc Arctic Cat engineered twin
7000 Series C-TEC4 – Yamaha-sourced 1049cc triple with Arctic Cat fuel-injection intake, exhaust and clutching
8000 Series 800 HO – Suzuki-built 794cc two-stroke twin as before
9000 Series C-TEC4 Turbo – Cat's famed top of the line 177 hp turbocharged powerhouse supplied by Suzuki
Now, that leaves basic power from the two-stroke 565cc fan-cooled twin and the "dirty" 499cc Suzuki twin, which will continue as before into 2014.
With the variety and potential confusion with engine packages, Arctic Cat took advantage to reinvigorate the "tall spindle" models with a new naming protocol. The ProCross models are now simply referred to as ZR. The ProClimb chassis models retain that designation for the powder and crossover versions. For now older F-chassis models such as F570 sport sled, Bearcat utility sleds and touring versions continue on as before. Most likely the utility models can carry on for a while, but as you'll see from what's new for 2014, we expect the older "F-series" to quietly go away within a season or two.
El Tigre Returns
What's new is the return of the El Tigre. Based on the ProCross short chassis and utilizing a 129-inch Ripsaw II track, the ZR 6000 El Tigre will give long time Arctic Cat riders a delightful new model that will be powered by Cat's own direct-injected two-stroke motor.
The C-TEC2 600 features dual stage injection that's keyed by a slotted piston. The piston's open window allows the injection rail to distribute a fuel/oil mix under the piston crown so it can be drawn into the transfer ports. Air also enters the engine via air-only throttle bodies. The claimed results with this design are clean emissions, improved fuel efficiency and greater power per cubic centimeter of displacement than the previous Suzuki 600 twin.
Arctic Cat states that the new direct-injected twin is up to 8.5-pounds lighter than the Suzuki 600, making the El Tigre both light and potent on the trail.
As a new model, the El Tigre is expected to be in short supply. It should be popular as it comes in two versions: base and El Tigre ES (electric start). Fox Float 3 ski shocks will be standard as are a new seat, lighter weight ski spindles, a race-series brake master cylinder for improved braking and updated FasTrack "slide-action" rear suspension.
The ZR 5000 LXR uses the 5000 Series C-TEC4 Suzuki twin in what is essentially a four-stroke version of the El Tigre. It will have a 129-inch track, heated seat, rear storage bag and gas shocks all around.
ZR Models
The new for 2014 ZR models update last year's ProCross trail models. There will be the ZRs in three versions: Sno Pro for sport riders; LXR for long distance cruiser; and the Limited for the riding wanting the best of both models. The ZR 7000 uses the Yamaha triple. The ZR 8000 gets the 800cc Suzuki two-stoke and the ZR 9000 comes with the turbocharged 1100 Suzuki four-stroke.
The Replica Racer (RR) returns with a choice of 8000 Series two-stroke or 9000 Series turbo Suzuki power packages. The RR models come with a larger 12 gal. fuel capacity.
These new models add a very sophisticated multi-function digital gauge that does about anything but play your iTunes music.
Stretched Track
The stretched ProCross chassis underscores the 2014 XF 7000, XF 8000 and XF 9000 models, which all feature the 137-inch Ripsaw II track with 1.25-inch lug profile. There are three versions that include the Sno Pro, LXR and the limited availability Limited model.
Where the ProCross stretch tracked sleds are designed for the occasional off-trail rider, the ProClimb based models use a 141-inch track length and features borrowed directly from Arctic Cat's mountain series. Interestingly, Arctic Cat gives its solo long distance Cross Tour a 141-inch package, but intends it more for high-mile groomed trail running. The XF Cross Country comes loaded for off-trail terrain adventures as witnessed by the taller lug profile (1.6-inch) of its Cobra track.
There are three engine packages – Yamaha four-stroke, 800cc Suzuki two-stroke and turbocharged Suzuki four-stroke – in each series of the Cross Tour and Cross Country. Equipped with a mountain handlebar complete with leverage strap and adjustable riser, these sleds provide serious platforms busting down an unplowed fire road.
Serious Powder
If it's serious backcountry exploring you want, then Arctic Cat's XF High Country models will fit the bill. These sleds come with an 800cc two-stroke or the turbo four-stroke and offer serious grip and go with a 141-inch PowerClaw track sporting a 2.25 lug. Each comes with the telescoping handlebar familiar to Arctic Cat deep snow riders. There will be Sno Pro and Limited editions of the High Country.
Serious mountain snow players have a choice of Cat models. True mountain racer types will opt for Cat's HCR models. These are the lightweight Cats designed for the speed climbers and come in an 800cc two-stroke version with 153-inch PowerClaw track or a 177-hp turbocharged model with 162-inch track. Cat engineers managed to shave weight for 2014, getting a pound out of the spindles and ounces out of the driveshaft, sprockets and some out of the skidframe. Check out the Fox Float EVOL ski shocks and Fox Float 2 controlling the rear suspension arm.
Deep snow riders looking to get away – far away – can opt for M-series powder machines sporting either a 153-inch or 162-inch track and choice of Suzuki-sourced power packages, an 800cc twin or the turbo four-stroke. There will be Sno Pro, LXR and Limited editions for 2014.
The M-series also offers adjustable ski stance from 38-39-inches and select versions feature a vertical steering post for improved control in steep play lands.
F-Models
You'll find few changes in the 2014 Sno Pro 500, F5, F570 and the touring and utility models. The big news lies under the hoods as Arctic Cat enters a new power phase that points to more self-sufficiency in designing its own snowmobile-specific engines with limited dependence on outside sourcing of future powerplants. Plus, the return of the El Tigre and ZR names seems to emphasize Arctic Cat's knowledge of its loyal, base customer. Model year 2014 marks a positive new direction for Arctic Cat.
Related Reading
2013 Arctic Cat XF1100 Cross Tour Review – Video
2013 Arctic Cat M1100 Turbo Review – Video
2013 Arctic Cat ProClimb XF1100 Turbo Sno Pro High Country Review
Yamaha To Supply 4-Stroke Snowmobile Engines to Arctic Cat
2014 Yamaha Snowmobile Lineup Unveiled