Yamaha Snowmobile Gear and Accessories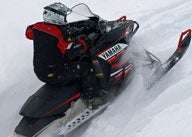 Yamaha offers its own nifty must-have gear options
It just seems odd that the newcomer marks 45 years in the ranks of the surviving snowmobile manufacturers. That's quite a stretch of time to be the new guy in the business, but compared to Polaris, Ski-Doo and Arctic Cat, Yamaha ranks as the newbie. The company has enjoyed a distinguished history starting with its original SL351, which was introduced as the company's first full production model back in 1969. That introductory snowmobile brought both oil-injection and slide valve carburetors to the market as standard features.
Over its 45-year history Yamaha enjoyed the status of being the industry's top selling snowmobile brand. From a performance viewpoint, the Yamaha victory of its 433cc air-cooled sled over a factory-backed 800cc Ski-Doo at Eagle River is still a cherished achievement in World Championship Derby lore. And, in today's market, Yamaha stands alone as the only snowmobile manufacturer to eschew its two-stroke heritage and totally commit to four-stroke technologies, which includes the sport's first and only production one-liter four-cylinder high performance powertrain.
As we head into the 2014 model year, Yamaha again adds to its legacy by entering into a joint business arrangement with Arctic Cat, which combines Arctic Cat chassis development with Yamaha four-stroke power. Along the way, Yamaha enjoys a steadfast cadre of four-stroke performance enthusiasts kept loyal with innovative Yamaha developed upgrades. And, of course, the snowmobile aftermarket provides parts and accessories for Yamaha owners that underscore the loyalty Yamaha snowmobilers have for their rides.
Yamaha Tuner Ski
The snowmobile aftermarket develops pieces designed to fit specific brands, such as the Yamaha four-strokes. That's especially true with aftermarket companies offering improved handling and steering choices. They can target one or two specific models while Yamaha's development engineers work to improve their sleds across the product line. For example, ski makers may tend to settle in on powder sleds with wider, enhanced flotation skis and offer versions to fit more than one brand. Yamaha focuses on its own models and has worked very diligently over the years to design a ski that will serve the needs of Nytro performance riders, Vector cruisers and Phazer sport riders. Until the advent of Yamaha's Tuner dual keel ski, the company's engineering crew had to settle for compromised performance, as no single ski was able to be all things to all riders.
The Tuner ski changes that. The fundamental "host" ski is a plasticized construction featuring a bottom with dual keels designed to hold two individual runners. And that's the key. Shaped at a slight angle to keep trail detritus from getting caught between the keels and positioned to evacuate snow better than previous designs, the Tuner ski allows you to fit distinctively different runners, which totally customizes the sled's front end handling. You can go aggressive with extra length carbide or fit runners with long wearing but relatively low grip attributes. Here's the key; you can essentially chose a huge variety of performance between those extremes.
The basic ski works with a wide selection of runners and the Tuner designs will retrofit most Yamaha snowmobiles back to 2003. What Yamaha's designers achieved is a ski with outstanding anti-darting character, which plays into very predictable handling. Other considerations included giving the skis lighter steering effort, minimize ski lift and straight line stability.  Those goals all sound logically easy enough, but it took a long-term commitment to make it work.
Available through Yamaha snowmobile dealers, the Tuner Dual-Runner Ski comes as standard issue on many 2014 models. But you can upgrade an older Apex, Nytro, Vector or Phazer before the next riding season. You should check with a Yamaha dealer or visit Yamaha online to learn about specific costs for your model.
Yamaha DuPont Slides
About the same time as Yamaha introduced its new ski, the company unveiled a somewhat innocuous replacement slide for Yamaha's various slide rail suspensions. Let's face it; you wouldn't normally work up enthusiasm for hyfax slides. These DuPont brand slides are worth getting excited about. The addition of the DuPont Vespel material not only makes these slides slicker, but they last dramatically longer than stock replacement rails.
Vespel is a space age byproduct consisting of a combination of a polymer composite blend that gives the slide greater strength than hardened steel, aluminum or titanium. The design resists extreme friction and heat. If you have a Yamaha, you have probably experienced "stuck" hyfax that occurs when there's too little lubricating snow and the hyfax virtually glues itself to the track when you park along the trail for a break. The Vespel integration mitigates this, plus it outlasts stock hyfax by a large margin.
The DuPont Slides retail for about US$65 and come in 144-inch lengths that can be cut down to fit slide suspensions from 121-inches and up. Check with your dealer for availability. When this product first appeared dealers were hard-pressed to keep it in stock. Supplies and availability should be good now.
SnoForce
Another Yamaha available option comes from the apparel side of its product line. SnoForce apparel is a Yamaha brand designed to allow its dealers to sell Yamaha quality outerwear to non-Yamaha riders. While the SnoForce Velocity jacket doesn't carry an overt Yamaha logo, you may find similar-looking outerwear at Yamaha dealerships that do carry Yamaha branding. If you like the style, it should be available with and without direct product logo.
SnoForce gear like the Velocity Jacket with Outlast lining to regulate your body heat is a high end product complete with a waterproof, breathable DuPont Teflon finish and 3M Thinsulate insulation.
Although this garment starts at about US$235, since pricing for the garments varies, you should check out the Yamaha online catalog and your Yamaha dealer for styles, colors, prices and availability.
SledStart Remote Start
Arctic Cat has offered remote start for select models for a number of years. Just as with your car or truck, a remote start lets you fire up your sled from the inner warmth and convenience of your house, cabin, restaurant or motel room. It gives the handwarmers a few minutes to warm up as well as having your sled ready for drive-off.
Now Yamaha owners can enjoy the benefits of remote starting. Long time Yamaha snowmobile dealer and aftermarket performance designer Hauck Power Sports offers a remote start kit starting around US$300. This unique snowmobile accessory features a programmable temperature auto start that lets you select a specific temperature for activating the remote start. In addition the SledStart start system continuously monitors the sled's battery and can tell you if the battery is too weak to start. The unit also features a timer start that permits you to select one, two, or three-hour increments for one 24-hour cycle.
For more information, visit Hauck Power Sports online at http://www.hauckpowersportsinc.com/. Or, visit http://www.sledstart.com/ for more information about this and other Yamaha-specific products such as the YAMAHEATER boosted handwarmer controller system and high intensity xenon-type lighting upgrades.