Making Your Arctic Cat And You Look Good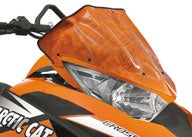 Add-ons for your 2014 Arctic Cat and stylish apparel for you
If you've paid any attention to where snowmobile companies stand to add profitability, you would have noted parts, garments and accessories (PGA) generally tend to reflect well in a sled company's end-of-year bottom line. While Arctic Cat reported overall PGA results that were stagnant for the year as a whole, the company's fourth quarter saw a five percent uptick in PGA mainly due to its snowmobile customers. It should come as no surprise then that Arctic Cat would head into the snowmobile preview season with a bevy of new-for-2014 items to accentuate its newest sleds, especially the return of the El Tigre, which brings model-specific apparel to its legions of fans.
But, of course, the El Tigre with its Made-in-America direct injection 600cc two-stroke twin isn't the only new 2014 model. Cat uses its partnership with Yamaha to reintroduce the "ZR" series of sleds. These 2014 models gain the one-liter three-cylinder Yamaha four-strokes, which are the "7000" designation motors. This effectively kicks the Suzuki one-liter twins down a notch in designation to the "5000" level. In reality the Suzuki-powered Cats haven't really changed and are still the same "600" category models sold previously. But with more aggressive engine response, lighter weight and quicker action, the Yamaha-powered ZR 7000s should attract some serious "look-sees" this fall at sled shows and in dealerships.
But, Arctic Cat won't put all its PGA gear into just one sled or series. Since the Cat line for 2014 shares commonality with previous tall spindle models, you can expect a bit of retrofitting for these parts and add-ons, although we'd suggest verifying that with your local Arctic Cat dealer.
VIEW: The Yamaha and Arctic Cat Collaboration
What's new for 2014 to spiff up your Cat? How about some instant custom looks to set your sled apart from your buddy's Cat?
Stylishly Stout Bumpers
Now that the statute of limitations has terminated, we can admit that we find strong bumpers crucial for our day-to-day riding. Not so much that we hit things on a regular basis, but in days gone by we did like to play on-trail bumper sleds. That's why we can appreciate the front-end protection afforded by Arctic Cat's ProClimb and ProCross Bumpers. Designed to fit all 2012 to 2014 ZR, M, XF and F models, the bumpers are built-up from 6063-T52 aluminum and feature brushed or powder-coated finishes. The ProClimb bumper offers large diameter tubing for strength, but comes in with a low 3.5 pounds of weight. The ProCross series bumper is fashioned as a tube-and-stamped design with a claimed weight of 3.2 pounds. Both bumper models feature four-point mounting for added durability. Available in black, green, orange or white, the bumpers are available through Arctic Cat dealers with suggested retail pricing starting at US$169.95 (CD$196.95).
Custom Screens
Sleds look sleek and low on the dealer's show floor, but that sexy low windscreen may not provide much protection against serious January wind chill. But, maybe you like a low look, or want a customized style to set your sled apart. Knowing that aftermarket companies have been the go-to option for snowmobilers looking to upgrade, Arctic Cat decided to get a piece of that action with a new line of custom styled windshields.
Like the bumpers, these windscreen options have been designed to fit virtually all 2012 to 2014 Arctic Cat ProClimb and ProCross models. Unlike aftermarket windscreens which can't carry official or unlicensed Arctic Cat or Team Arctic branding, these optional designs can carry over the official Cat logos, which come as either Pride or Team Arctic styles.
VIEW: Add-Ons for Your Arctic Cat
Available in five different heights with the screened graphics, these Cat screens mimic the same high quality polycarbonate construction as the original equipment. You can really set your sled apart as these optional add-ons come in a choice of Cat green, orange, white or black. These options allow you to further enhance them with additional graphics or your own customizing ideas. Arctic Cat also offers complementary Side Deflector kits in a choice of Pride or Team Arctic styles. The kits add a little extra wind protection if you are using a low windscreen.
As with the bumpers, the windscreen options are offered through Arctic Cat dealerships or you can shop at Cat's online store – http://www.store.arcticcat.com/. Windscreen options carry pricing starting at US$39.95 (CD$46.95).
El Tigre Style
Cat's El Tigre model carries a certain legendary presence that dates back to 1970s models powered by Kawasaki free-air twins with dual-spark plugs per cylinder. Those sleds were light and potent and earned a reputation for outstanding performance. Today Arctic Cat hopes to recapture that presence with its 2014 El Tigre built around its first-ever Arctic Cat engineered and manufactured direct ignition 600cc two-stroke twin.
While the new for 2014 El Tigre will stand out on the snows, Arctic Cat's apparel designers wanted its riders to stand out as well and created a brand new El Tigre Jacket. Like the sled, the jacket features high-tech elements beginning with its A-TEX waterproof and breathable fabric. For lightweight warmth, the jacket comes with a full 100 grams of famed 3M brand Thinsulate insulation. There is also accommodation for zip-in Flex liners. The underarm areas are zippered and vented. The sleeves feature windproof and waterproof neoprene cuffs.
Created with style and warmth in mind, the designers added versatility with two large external pockets plus an inner accommodation for an MP3 player. To add on-trail nighttime visibility, the El Tigre jacket adds 3M's Scotchlite reflective materials.
VIEW: Inside Arctic Cat's 6000 C-TEC2 Engine
A must-have for serious and proud El Tigre riders, this jacket comes in sizing from Small through 3XL, including some Tall sizing availability. Pricing starts at US$269.95 (CD$309.95) and is currently available through Cat's online store or at Arctic Cat dealerships.
With these new selections, Arctic Cat anticipates continued growth in its snowmobile parts, garments and accessories division. While sales of sleds and Arctic Cat wheeled products vary, the PGA income stays relatively consistent as a percent of the company's overall revenues. As aftermarket competitors have noticed, the sled makers are very serious about keeping accessory and apparel sales in house. These items designed specifically for the latest litter of Cats are fully intended to keep Arctic Cat customers Arctic Cat PGA buyers.