New Goodies Suit You and Your Sled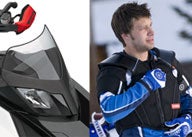 Custom-fitted accessories let you personalize your 2011 sled
Snowmobile manufacturers learned long ago that offering special accessories and sled wear to match their newest models not only let snowmobilers build close ties to their favorite brand, but it resulted in a healthier bottom line. In the case of Arctic Cat, the parts, garments and accessories (PG&A) business meant $109 million in sales, or approximately 19 percent of Arctic Cat's total sales. For Polaris Industries PG&A represents 20 percent of total sales, or more than $300 million in revenues.
It becomes easy to understand why each sled maker offers a variety of options for its models. There are choices to be made for tunnel bags, optional windshields, or even colorful add-ons for your suspensions. While we snowmobilers see these accessories as unique ways to personalize our sleds to make a mass-produced product stand out on the trail, to the snowmobile manufacturer these items represent high margin sales.
But, regardless of our position — snowmobiler or manufacturer — we do enjoy the benefit of accessories designed and engineered for our specific snowmobiles. The parts fit and have a sled maker's backing. The same with the garments. They are designed to match the graphics of a specific model or series of models and they, too, have a certain pedigree that we can count on when we purchase them. Of course, we can only get these items at the snowmobile manufacturers' outlet — their dealer network. To get the latest gear and "look" we must shop the manufacturers' catalogs and buy from an authorized dealer. They have the true gear. We have searched each sled makers' PG&A line to preview some of the "hot" goodies for this coming season. Here's a peek.
Arctic Cat
Although there was no real breakthrough sled for this coming season, we did see some gear and clothing that we'd like to put on a 2011 demo sled or two. After all, this is the company that brought us telescoping handlebars, infinite ride positioning and bold, turbocharged torque.
Arcticwear — While the "Cat" hasn't been as successful as motorcycling's Harley-Davidson with its garment line (but, who has?), the designers at the Cat lair in Thief River Falls, MN understand this "attitude" thing better than most sled makers. And they offer equal attitude for both male and female snowmobilers including an attention getting "hot pink" Pro Flex two-piece suit. As one of the pioneers in snow wear, you rightfully can expect form-fitting quality with top materials like warm and low-loft Thinsulate and fabric coatings that let body moisture escape while keeping winter wet from getting in. There's even a matching full-face helmet in the same bold pink, black and white styling. Or, there is a bright Cat orange option as well.
Arctic Gear — There is a fresh new line that let's you fly the "colors" of the top Team Arctic racers with suits styled right down to the racer logos.
Western riders can fit their older sleds with the latest Arctic Cat Mountain Seat that will cut 3.5 pounds off your sled's weight right now. Touring riders will enjoy adding storage for tools or other gear with a new underhood bag that keeps things out of sight. But a form-fitting Windshield Bag will add space for cell phones, keys and those extras that you might need at a pit stop.
Cat riders are proud and broadcast their support of their favorite sled by placing a big bold Window Skin in the rear window of their pickups. Cat fans are not shy.
Polaris
Arctic Cat may have the lime-green enthusiasts tied up, but Polaris offers its own choices with everything from "retro" decal packages to pink Diva-wear guaranteed to stand out on the trail. As you would expect, with its storm of new sleds for 2011, Polaris supports its new lineup with plentiful accessories. Here are a few that make being a Polaris rider more special for the winter ahead:
Personal Gear — New for 2011 is a rolling bag made by Ogio and styled with Polaris logos. We can personally attest to the value of the Ogio for travel. Capacious it is. But more importantly these Ogio bags were designed with the powersports enthusiast in mind. There is space for riding gear complete with separate areas that separate your dirtiest stuff like wet or muddy snow boots from your "formal" T-shirt and cap collection that you'll wear to dinner. With easy rolling wheels and a pullout handle this bag can be tossed in back of your pickup or carted through an airport with equal ease. The zippers are manly with goodly sized pulls. We've used an Ogio rolling duffel for years and just recently retired it for a new Polaris model, which we expect to serve us as well as our old one.
For the Diva rider, Polaris designed a pretty in pink Diva jacket that's warm, comfortable and dry. It's also fitted to accent a Diva's figure to make it obvious to even a caveman that this is a 100 percent lady Polaris rider. The pink is more subdued than the Arctic Cat color, but the statement is the same. Women riders have their own style. There are gloves and pants to go along with the Diva pink design.
Sled Gear — Brush running comes with the territory for Assault and Switchback riders and is exactly why Polaris offers back country accessories to fit that riding style. Engineered to fit the new RMK-style front end, the front guard adds protective bars forward of the radiator to ward off random tree limbs from causing puncture damage. There is also a wide range of riser bars, designed windshields from low to tall for both on and off-trail usage.
And you won't believe the wide range of bags and storage gear custom fitted for your Polaris. There are handlebar bags with map pockets and form-fitting tunnel bags, packs and saddlebags that make weekend or month-long touring a reality. Made of tough ballistic nylon materials, this Polaris-specific gear offers space for everything from your cell phone to a weekend's worth of clothing.
Ski-Doo
Right from the company's very beginning, Ski-Doo promoted snowmobiling as a "lifestyle." While the snowmobiles were important, so was the gear that the sport required. This company has always had a European flair for style backed with quality that set its apparel ahead of the pack. While function is critical to us snowmobilers, Ski-Doo clothiers took that a step further by adding a certain "je ne sais quoi."
In the 1960s Ski-Doo nearly overwhelmed its dealers with about 100 separate snowsuit styles that ranged from the obligatory one-piece black suit to the colorful and unique "Marionette" two-piece designs for women. Today Ski-Doo has learned to moderate its volume while still offering uniquely styled and functional apparel. For 2011 the pioneering snowmobile style leader offers its Absolute jacket with special features expressly suited to snowmobilers.
Absolute 0 Series — Styled in black or red, this new jacket looks rather basic, until you examine its construction. That's when you notice it features a Sympatex membrane that outdoes Gore-Tex by being 120 percent more breathable and able to out-stretch the famed standard. The lining of Primaloft One insulation offers the highest warmth-to-weight ratio of any synthetic insulation currently on the market. This includes adding extra insulation in key parts of the jacket to maximize body warmth. Plus you'll have the advantage of four overlapping flaps to keep out wind and cold. The seams are sealed with special Sympatex tape to keep out moisture and cold. To balance body warmth, the garment features a zip-out lining and underarm vents. As you might expect this garment can be accessorized with high pants, gloves or mitts and vest.
Windscreens — Because Ski-Doo has taken a bit of abuse over the years for having windshields that were showroom handsome but marginal on the trail, the company has made a point of highlighting its windshield assortment for 2011. Now you have a vast variety of wind breaking options that feature styled elements to make your sled stand out. Tall screens come with sport flares to redirect snow when running in deep western powder. There is an assortment of fixed windshields with bold "X" graphics to match your sled whether it's an MXZ or Renegade. If you check out this year's Ski-Doo accessories catalog, you'll find six pages of windshield options.
Yamaha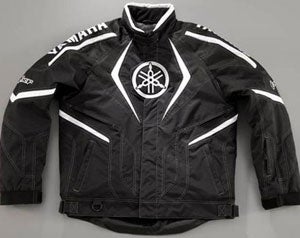 Yamaha has partnered with top aftermarket companies like FXR to create special gear like the new Torque jacket by FXR.
When we got to West Yellowstone for the annual snowmobile ride & shoot session, we couldn't miss the pink Yamaha. It was a bold way for Yamaha to showcase its accessories line. The Yamaha crew had fitted a Nytro with its camouflage pink panels, a pink front accessory bumper and pink runningboard supports. Regardless of your pink preferences, this sled stood out and imprinted on your psyche a visual that would stay with you well past the end of the test session. Frankly, after seeing the "pink" Nytro all dolled up, we have to admit that, perhaps, pink isn't just for girls anymore. But, we're not really saying.
Personal Gear — Yamaha broke the mold for relying on its own in-house styling crew to come up with annual accessories and garment offerings. The company struck deals with leaders in the apparel and aftermarket business to partner with them. One of the partners, KLIM, is renowned for its high-quality, snowmobile-specific powder riding gear and now you can get Yamaha authorized KLIM gear that maintains KLIM's quality but sports Yamaha branding.
Torque Jacket by FXR — Yamaha and FXR share a similar partnership with gear and this new black and white FXR Torque jacket is a result of the new partnership. This styled zip-up jacket features a water resistant nylon shell with double placket closure and adjustable wind skirting feature to keep snow from blowing up your back while trail riding. You'll enjoy the added pocket – sized just right for a cell phone or MP3 player.
Freestyle Safety Vest — If you ride with Yamaha personnel, you'll discover that company policy calls for them to wear a safety vest. You can have your own Yamaha-endorsed TekVest to use on the trail this winter. It can be fitted with optional shoulder pads. Wearing a safety vest provides an added level of confidence as well as giving you extra wind protection and insulating warmth.
The Bottom Line
These are a few of the latest offerings in PG&A from the original equipment snowmobile manufacturers. The benefits of OEM gear include knowing that the gear is designed for proper fit and carries official logo and branding.
Related Reading Arctic Cat Bolt-Ons Add-On Pieces for Your Polaris Get Your Yamaha Ready This Summer Add-ons for Your Ski-Doo DRIFT Racing Apparel New Products from Boondockers and SLP Products: Then & Now New Ideas in Riding Gear