End of Season Powder Review: 2011 Yamaha Nytro MTX 153 & Polaris Switchback Assault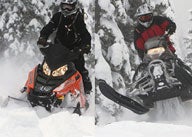 What we found living with two very different powder players
The 2010-2011snow season has come to a close. Our powder playtime ends as we offer our final impressions of two quite different powder players. Neither model fits a convenient conventional niche. One is a four-stroke that falls between the 600cc and 800cc conventions and the other is a "crossover" that aspires to powder busting greatness.
We've had to carefully consider our final impressions as we weighed these two sleds less on conventional wisdom and more on their own individual merits. Neither fits the existing "powder" niche perfectly, but both left us impressed with their characteristics and capabilities.
Yamaha FX Nytro MTX 153
This snowmobile delivered all its intentions. No, it's not an 800, but a capable 130-horsepower, triple-cylinder four-stroke that, at times, left its 130 ponies behind and acted tougher and stronger. We give kudos to Yamaha for the 153, for us, it was an excellent powder player for the 2010-2011 season.
First, the four-stroke three-banger with electronic fuel injection (EFI) is an economical 1049cc. Its bottom end torque, we learned, kept the mountain track hooked to the snow instead of building trenches. One must understand, when taking on mountains with the MTX, work your patience and let the MTX work its torque. For us, sashaying right and left gives the MTX the muster to climb 800 class mountains. We like taking on mountains in old school fashion, earning it.
The Nytro MTX, as reported by our test riders, had excellent fit and finish, which we strongly agreed with. With four-stroke technology comes weight. With that technology, mountain men have come to accept the MTX's weight, just as off-road bikers accepted it with four-stroke dirt bikes.
The MTX is well balanced, is light on its feet as it adeptly performs well in Rocky Mountain powder. The MTX is built to fill a niche and it does that very well.
A few more thoughts. First, the MTX has, in our opinion, the best powder ski mated to a front end. Second, its fuel economy is a welcome relief to the debit card as gasoline nears $4.00 a gallon. Third, as a four-stroke, it does not consume $30.00 to $40.00 a-gallon two stroke oil. Nice. Fourth, on the snow it is sinister looking — tough and sassy.
But, not all creatures are perfect. First, we ask for a larger capacity fuel tank. The just over seven-gallon capacity cuts a day's ride short. Pack extra fuel if riding WOT all day in the deep. Second, the Fox Float air shocks are stiff at first and second ride, very little absorption is pulled through the shocks, mostly we felt mogul shock. Take some time to learn the Floats and take time to bleed off some air, test the shocks on some high-speed whoops, and bleed off more or add. But, from the factory, the shocks are stiffly set. We recommend a softer shock, one that has coil over springs. Third, we'd like a kill switch housing like that on Cat's M8. We often knocked down the red button when smacking tree swells and narrow ravines. Coming to a quick stop with a dead motor is irritating.
As mountain men, we gravitate to long tracks, the 150-somethings (and longer). However, being crossover evaluators too, we push the crossers through their design intentions and beyond. We learned the powder track-infused Assault was a "beyond" sled.
We admit the Assault's 144-inch track with two-inch paddles was, at times, at a disadvantage. But was it really? The Switchback Assault was not designed to wrestle the steep-and-deep like an RMK Pro, Summit X or M8, but we took the fight to the mountains. The Spring Buy Orange Madness Switchback Assault with optional RMK track performed within 95% of an RMK Pro, Arctic Cat M8 Sno Pro or Ski-Doo Summit X. So, it out-performed its design expectations.
The shorter chassis 144, for the most part, slightly eclipsed the longer mountain sleds when navigating through the trees and in and out of narrow gullies. The shorter-than-RMK Pro Ride chassis is an all-out quick chassis.
Some riders who spent time on our Assault complained about the missing mountain handlebar strap. Though the RMK Pro and Switchback Assault share the same Pro Taper bars, we did not miss the mountain strap. Why? Because the shorter chassis needed minimal hand, shoulder, leg, and foot input to lay it on its right- or left-side. (Mountain straps are considered "cheater straps" as clinicians teach riders to maneuver without these; some driving schools remove the straps from its fleet of drivers' ed sleds.) Also what amplified this quick chassis' flick-it-there and flick-it-here personality was its lower mounted Pro Taper handlebars (over that of the RMK). This is counterintuitive to mountain rider thought, but when schooled by Polaris tech riding masters, Dan Adams and Chris Burandt, low bars maximize leverage with body positioning that is more centered over the track drivers. The Switchback Assault improved our tech riding skill by a substantial percentage, which carried over to the longer tracked snowmobiles. Simply, our 2011 Assault served as a confidence builder.
Like the RMK Pro, we found the thumb warmer to be less than stellar. Also like the RMK, we throw kudos to Polaris for the Assault's rear snow flap and bumper, which are properly spaced and ergonomically designed for gloved hands to fit nicely between bumper, flap and snow to lift the sled's back end.
Some of our guest test riders said the wider-than-RMK runningboards hung up the chassis when clawing up a steep slope in deep powder. Perhaps. Some also said the wide boards lift the track out of the snow when laying down a sidehill cut on a steep slope. Perhaps. Some have said the snocross style boards were no hindrance at all. We make no judgment on the Assault's boards, as the sled was not designed to be an all-out mountain sled, though we demanded it to be one.
We have been asked by Polaris' corporate PR, marketing and media types, why we praised the Switchback Assault so much. Well, in short, it was reliable, comfortable, freakishly "flickable," a climber, a nimble tree runner, and a believer in its soul and energy.
Final Words
Nytro MTX — A crowd and naysay silencer. A true I-can-hold-my-own snowmobile. We found the MTX to be a mountain snowmobile that faced tests and challenges with remarkable poise.
Switchback Assault with the RMK Track — A snowmobile not intimidated by its rival 800 mountain-specific snowmobiles, or the Rocky Mountains' steep-n-deep. It is a snowmobile worthy of having its own Facebook fan club.
Related Reading
2011 Yamaha FX Nytro MTX SE 153 Review
2011 Yamaha FX Nytro MTX SE Review
2012 Yamaha Nytro MTX 162 "Boosted" Review [Video]
2011 Polaris 800 Switchback Assault 144 Review: Mountain Test
2011 Polaris 800 Switchback Assault 144 Review
2011 Polaris 800 Pro-RMK Preview
2011 Polaris RMK Review