2011 Polaris 800 Pro-RMK Preview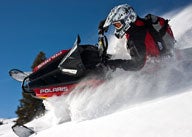 Polaris adds a more powder-friendly 800cc RMK to its deep snow lineup
Even though overall snowmobile industry sales appear lethargic, the west and its specialty niche of deep powder sleds continue to be a sales bright spot. A sled maker can see nearly instant sales growth with a popular and credible deep snow model. Just witness the effect Arctic Cat's new 800cc-powered M8 model had on its sales. While not specifically stating that its popular M8 overachieved in the western market, Arctic Cat personnel readily smile when stating that they've seen a gain in market share in some areas. That would be the western deep snow market and the sales leader would be the Arctic Cat M8, which, depending on specific areas, might reflect better than a 60 percent share!
What drives the western market? Weight and power. Combine solid power with lightweight and you have the makings of a very salable snowmobile. Add in nifty powder handling and consistent maneuverability and you can have a big sales winner. But, don't plan to live off last year's success. Like the high-performance motorcycle market, sales success may only be as good as the current season. It can be a fickle market as serious powder hounds, while brand loyal to a degree, are very willing to consider other models and brands if they are lighter, more powerful and can shred a mountainside better than the last "great new model."
Cat Killer?
All four snowmobile manufacturers know and count on this "love-em and leave-em" attitude. That's one reason Polaris, a former steep-and-deep king, doesn't take kindly to Arctic Cat claiming a big chunk of powder sled sales for the past few seasons. That's one reason you'll find powder all-star Chris Burandt switching from Arctic Cat green to wearing the Polaris star and a strong reason you'll find him aboard what Polaris hopes will be its M8-killer, the 2011 Polaris 800 Pro-RMK.
This coming season you're going to see Polaris pushing its 800cc Cleanfire Twin cylinder engine more and more as its tries to counter Arctic Cat's success with the 800 Twin it redesigned last season. That may be a hard sell in some respects as the Cat 800 dynoed out at 160-plus horsepower in independent testing, has a year's worth of solid performance, and has been a big hit with western riders so far. But the Polaris Cleanfire 800 can muster 150-plus ponies and has proven popular in powering Polaris' aggressive Assault backcountry model.
If there is one current manufacturer of sleds that seems to have a serious plan to grab sales, it would appear to be Polaris. The irony is that although Polaris started building sleds more than 50 years ago and found economic success as a "snowmobile" company, today snowmobiles account for only 10 percent of the company's sales. Parts, garments and accessories generate 18 percent of corporate sales; almost double that of the sled group. But snowmobiles represent a "heritage" segment of the company and its personnel would like to get back to that 12-year stretch of time where Polaris was Number One in the sled business.
Recovered Nicely
Recovered nicely from the "Fusion Fiasco," Polaris' snowmobile group seems to be a much stronger division because of it. While the Fusion engine was a write-off, other components served as a solid foundation for today's new models. The IQ A-arm front suspension grew out of the Fusion experience. New concepts in chassis design and bulkhead materials evolved into last year's Rush. And that Rush front end now evolves into a new for 2011 800 Pro-RMK, the sled Polaris will put up against the Arctic Cat M8. Only time and overall sales will say how well Polaris has done its job, but Polaris powder riders now have a new choice to get in and out of the deep snows.
Polaris spokesmen reminded the media at its recent product launch of the 2011 800 Pro-RMK of how the first RMK series sold more than 15,000 units beginning in 1997. Polaris claims the guiding principles behind that sled's success were balance and control. The goals for the 2011 version were to get the sled light, keep it simple and make certain that it works as promised.
When you see the new for 2011 800 Pro-RMK you will be struck by its "Rush-look" front end and long, purposeful runningboards. And it's a fact that the latest version of Polaris' Cleanfire injection 800 Twin has 40 fewer pounds to carry into the backcountry. The target weight is 431-pounds, much of that shed by going to the Rush-style frontispiece, but arrived at as one Polaris engineer admitted "…one ounce at a time."
New Tech
Just as with last year's Rush, the RMK's new front end uses an exclusive-to-Polaris bonding technology that eliminates excess welds, rivets and many other ounces of hold-it-together technology.
Wide cutouts in the runningboards make it easier for snow to evacuate in powder running — and since holes weigh nothing, there is a reduction in overall ounces. You'll note all the "right" components of a powder sled are here. There's the mountain strap on the handlebar. The handlebar riser. The adjustable ski stance that can be changed from a narrow set of 39-inches center-to-center out to 41-inches. The over-engine steering that allows the 800cc twin to sit low and centered so the rider can "flick" the sled over and around for maximum maneuverability.
You'll also note upon a close inspection under the lightweight Freestyle seat that this sled uses a new Pro-Ride coil-over rear suspension that features Walker Evans shocks with an internal floating piston to control a full range of travel. The new suspension eliminates torsion springs and has redesigned torque arms that cut seven pounds versus last year's Dragon RMK rear skid. The new suspension was designed to provide a smooth ride as well as creating a new level of control that goes along with changes made to the front suspension.
The overall package is claimed to make the sled more "flickable" as it's easier to steer, more responsive to lateral movements and enjoys an improved power-to-weight ratio thanks to removing ounces. Some of those ounces came out of the rear bumper that is now carbon fiber. Ounces came out by doing a myriad of things that result in a lightened brake disc, seat support, snow flap, exhaust silencer and jackshaft.
Sales Star
Polaris is very serious about taking sales away from its competitors. Of course, the other three snowmobile manufacturers intend on making this sales niche a very serious battleground, too. While we were privy to what's new — and the 2011 800 Pro-RMK is very new — Polaris had not totally determined the final make up for its newest performance RMK, so some dimensions were not finalized. But rest assured that the 2011 800 Pro-RMK will be ready to confront the latest Arctic Cat M8 when next winter's mountain snows drop. That 800 Pro-RMK model will come in full battle dress with a 155-inch Series 5.1 track sporting 2.4-inch lugs.
Polaris intends to woo lost customers with what it hopes will be a killer app for serious powder riders. Check it out.
2011 Polaris 800 Pro-RMK 155 Specs
Engine
Polaris Liberty 795cc twin cylinder 2-stroke; liquid-cooled; Cleanfire fuel injection;
Horsepower
150-plus
Drive
Polaris P-85 drive; Team LWT
Front Suspension
Polaris Pro-Ride Adjustable — 9-in maximum travel; Walker Evans shocks
Rear Suspension
Polaris Pro-Ride Coil-Over slide rail; Walker Evans adjustable shock on the rear arm
Length
TBD
Width
TBD
Height
TBD
Ski Stance
Adjustable from 39 to 41 inches
Track
15 x 155 x 2.4 Series 5.1
Weight
431 (claimed target)
Brake
Polaris Phantom hydraulic
Features
Electronic reverse (PERC)
Fuel Capacity
11.5 US Gal
MSRP
N/A
Related Reading
2011 Polaris 800 RUSH Pro-R Preview
2010 Polaris RMK, Dragon & Assault Review
2010 Polaris Rush Review
Freestyle legend Chris Burandt joins Polaris
All Things Polaris on Snowmobile.com