One Year Later: The Arctic Cat/Yamaha Deal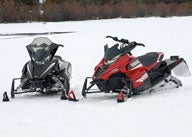 How's the partnership working out?
If you believe the snowmobile-marketing executives from Arctic Cat and Yamaha, and we do, then you know that the partnership between the two companies is going well. Arctic Cat's Brad Darling, vice president and general manager for the snowmobile group, called the arrangement a "great and true partnership." Yamaha's North American snowmobile chief, Peter Smallman-Tew says, "Arctic Cat are great people to work with" and that Yamaha is learning from them.
One year ago, the picture was cloudy. Probably only partly cloudy in Thief River Falls, MN, where Arctic Cat was set to add extra manufacturing volume by adding production of 2014 Yamaha Viper snowmobiles along with its Arctic Cat line. It was sunny, too, for Arctic Cat as the company not only gained the extra manufacturing of Yamaha sleds, but added Yamaha's proven 135 hp four-stroke triple to its model mix, augmenting the Suzuki four-stroke twin that it had been using.
Yamaha, on the other hand, faced sleepless nights as it worried that its snowmobile dealer network would reject the idea of selling what they might see as simply Yamaha-powered Arctic Cats. But the announcement at the annual snowmobile dealership meeting of the Arctic Cat and Yamaha "hook up" went well. Smallman-Tew noted that 80 percent of the Yamaha dealers bought into the program right away, recognizing the new Yamaha Viper as a sled that they could profitably sell.
Read our about the The Yamaha and Arctic Cat Collaboration
That was the point: dealer profitability. Smallman-Tew notes that Yamaha needs product in the dealerships that are profitable for the dealer. "We have to get our dealers profitable," he explains, adding. "The Vipers are doing well in the market and the dealers are profitable with them."
One of the keys for Yamaha was to differentiate its Viper from the Arctic Cat. In Year One, Yamaha insisted on retaining its own clutch system. As we've experienced with our long-term test Viper, the Yamaha drive system definitely has a Yamaha "feel" to it with an almost direct drive response that features stronger engine braking than what you'd expect from an Arctic Cat, even a Yamaha-powered one. There was a styling nuance as well. As a result, Smallman-Tew says Yamaha grew a bigger percentage of a trail sled market that was up 75 percent.
While Yamaha dealers accepted the new Viper, there was concern about consumers. But, at least for model year 2014, Yamaha's product development manager, Chris Reid noted "…30 percent of Viper buyers bought because of the Yamaha brand."
"Everyone we sell a snowmobile to has usually had other sleds and are now back to Yamaha," commented Reid. This fits with Smallman-Tew's view that "…brand loyalty is thinning." He feels that the bigger influences relate specifically to the product itself and the dealer's professionalism.
Read our 2015 Arctic Cat Snowmobile Lineup Preview
For model year 2015, the Yamaha and Arctic Cat models will continue a nuanced separation, including one or the other brands offering a Yamaha-powered model not yet shared with the other. For example, while Arctic Cat has created an all-new Pantera powered with the Yamaha four-stroke, there is not a shared version with Yamaha branding. You will, however, find a limited edition Yamaha Viper R-TX LE version of Arctic Cat's ZR 7000 RR. And there are now powder-specific 2015 Viper M-TX models, which parallel Cat's M7000 series.
Reid points out the ability and advantages of Yamaha and Arctic Cat to combine their resources of engine and chassis. Still, it is necessary to do enough volume to get a return on the dollar investment. That's where a partnering concept can reduce the time and cost efficiency in getting a new sled to market.
Unveiling the new plan may have caused some early concerns for Yamaha, but the results from Year One seem positive, as the company has added more Viper models for 2015. One of the most critical new sleds will be the Viper M-TX that's based on Arctic Cat's "M" series but featuring Yamaha's four-stroke 1049cc motor to spin either a 162- or 153-inch PowerClaw track. The Viper M-TX is viewed as a "must have" by Yamaha.
Product manager Chris Reid acknowledges that Yamaha had nothing new for its western dealers last season. With the western snow areas accounting for more than 20 percent of all sled sales, Reid admits that Yamaha essentially is starting from scratch in 2015, but feels that the Viper M-TX will be a great product for western riders. "Our targets for the Viper M-TX were to make it light, maneuverable and reliable with 'boost potential.'"
That boost potential comes in the form of a factory-warranty MPI Turbo option if you buy a Viper M-TX during the Yamaha Spring Power Surge and have the kit dealer-installed. "The Viper M-TX closes the weight gap to two-stroke snowmobiles," emphasizes Reid.
Read our 2015 Yamaha Snowmobile Lineup Preview
From our vantage point, we see the Yamaha/Arctic Cat deal as being good for both companies. But we can't help but feel that it's a better deal for Arctic Cat, while a more necessary one for Yamaha.
Obtaining Yamaha motors means that Arctic Cat can save millions in development and tooling that it doesn't have to spend by creating its own all-new four-stroke. Since the EPA seemingly has backed off its most demanding snowmobile engine emission standards, all snowmobile manufacturers can devote energies to maintaining cleaner burning two-strokes and offering a four-stroke alternative. That means Arctic Cat can develop a new, larger displacement direct-injection two-stroke designed around its current C-TEC2 technologies. Yamaha and Suzuki power satisfy the demand for four-strokes.
Still, Arctic Cat manages to keep an engine sourcing partnership alive with long-term supplier Suzuki, having recently extended its agreement with Suzuki for two-stroke and four-stroke engines. What does that mean? Most likely it's simply a convenience that allows Arctic Cat extra time to develop its own 800cc two-stroke and examine the potential of turbocharging the Yamaha triple as a replacement to power future 9000 series models. Right now Arctic Cat relies on three engine suppliers: Suzuki for its 1059cc four-stroke twins and 800cc two-stroke twins; Yamaha for 1049cc four-stroke triples; and its own 600cc direct-injection C-TEC2 two-strokes.
As we see it, Arctic Cat's new 600 two-stroke will be the company's dominant long-term powerplant for sleds in the 125 hp category. One look at the 2015 model line suggests that the 125 hp Suzuki four-stroke's days are numbered. And, while there are a number of new Yamaha-powered models for deep snow and trail performance, all of those sleds have a sister version that uses Cat's own 600 two-stroke. It's almost as though Arctic Cat offers a Cat version of the Yamaha as a platitude, expecting Cat buyers to go for the lighter, two-stroke Cat-powered versions of the Viper M-TX and Race Replica Viper spin-off.
Still, a year after one of the biggest reveals in snowmobile history, the Yamaha and Arctic Cat arrangement remains healthy and beneficial for both parties. Yamaha and its dealers gain a series of lighter weight, sporty handling models and Arctic Cat gets a proven and reliable four-stroke engine that is more powerful and lighter in weight than what it had. Both brands have extended their product partnership with new for 2015 models, giving both Yamaha and Arctic Cat buyers more choices and dealers more profit potential. The deal remains a win-win after a year.
Of course, it helps that snowmobile sales were incredibly strong this past season, which should mean continuing strength heading into the next sales cycle.